Things to do in Austria in winter
Things to do in Austria in winter
Winter walking is wonderful in Austria. Some trails are cleared or rolled after snowfall, so you can stride out simply in walking boots, and if the snow fails to fall altogether, hiking remains a viable outdoor option. Other routes require snowshoes, which are easy to use and your ticket to places normally only accessible to off piste skiers.
Take to skis. There is downhill skiing aplenty in Austria and, if you visit from January, the snow is more likely to have come from the sky and not a snow cannon, meaning it's more environmentally responsible to ski on. However, pelting down the piste is not the be all and end all, as Austria has hundreds of cross country skiing tracks. Small group holidays introduce you to cross country skiing, sometimes in combination with other activities, plus experienced skiers can learn its faster variant, skate skiing.
The joy of a winter break in Austria is that you're not confined to an anonymous resort, but staying in the heart of the Tyrol, often in a quiet mountain village. To experience true Tryrolean hospitality, look out for hotels and inns that are members of the Tiroler Wirtshaus association, which guarantees a down to earth Tyrolean atmosphere, authentic food and great hospitality.
Things not to do in Austria in winter
Come too early in the season. Winter activity holidays in Austria rely on real snow, rather than fake snow which is environmentally damaging to produce, making them a responsible way to enjoy the winter landscape. It does mean you can't turn up in November and expect to snowshoe and cross country ski. These trips run at times when natural snowfall is most likely and while snow often falls in the Austrian Alps from December, it's more reliably present from January until mid-March.
Be on a diet. You'll need plenty of calories to fuel active days out in the chilly winter landscape, so now is not the time to cut out carbs. Classic Tyrolean food isn't exactly low cal either. A favourite dish is Tiroler Gröstl, made of roasted potatoes, speck and onions topped off with a fried egg. When you return from exploring outdoors, cake and hot chocolate are usually on offer, too.
Ignore the wildlife. As well as getting active, keep your eyes peeled for birds and beasties that make the Austrian Alps home. The region is home to populations of majestic golden eagles, plus bearded and griffon vultures, while ibex and chamois live on the slopes.
AUSTRIA IN WINTER TRAVEL ADVICE
Claire Ouditt from our activity holiday experts Exodus knows Austria well, and has advice on packing, eating and trying cross country skiing:
Thoughts on what to pack
"Layers are the key! Especially for active trips where you might start off feeling quite cold but then warm up and later cool down again. Having many layers enables you to adjust as needed. I would also recommend shoe grips such as Yaktrax to wear over your shoes. These are particularly great if you are winter walking, but actually they have saved me from some potentially bad falls just walking around town when the pavements get icy in cold temperatures."
If you'd like to chat about Austria winter or need help finding a holiday to suit you we're very happy to help.

Tips on tasty food to try
"There is so much… it is hard to choose! Apfelstrudel of course is a must. And I think Kaiserschmarren is also something to have for lunch, not for dessert; these are sweet pancakes, but they tend to be huge! I am a big fan of Groestl as well, especially when having lunch in a mountain hut: onions, potatoes, bacon, all fried up together. It is deliciously filling. Finally, I personally love a Jaegertee (hot tea with rum and spices) to warm up after a day outdoors."
Advice on cross country skiing for the first time
"If you are a newcomer to cross country skiing, Austria is a great place. Make sure to book on the right grade (i.e. a beginner's week). Cycling can be a good preparation in terms of fitness and so can cross trainers at the gym. You don't need to be extremely fit to take up cross country skiing, just have a reasonable level of fitness (it will make your whole body work out) and a little bit of coordination!"
Snowshoeing tips
Tom Wilkinson, showshoeing expert at our adventure specialists, Exodus:
"If you can walk, you can snowshoe. There are of course techniques and tips for going up and down, and through deeper snow, but really this is the winter sport that anyone can do. With snowshoes a beginner can access places usually reserved for red hot off piste skiers – and you're far less likely to crash into a tree! Aside from thinking you'll be using tennis racquets (modern snowshoes are sleek and light), people can forget that if you're walking in deep snow, walking in single file means the person at the front does all the work breaking the trail, though good etiquette is to take turns doing that!"
More Austria winter articles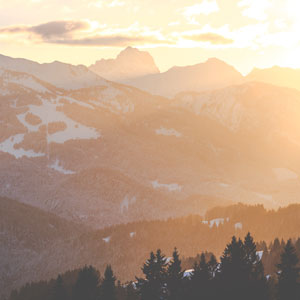 If you think winter in Austria is only about skiing, this Austria winter holidays guide has news for you.