Bali travel guide
---
2 minute summary
You can smell the surf from the moment you touch down in Denpasar with Bali's beaches boasting consistent swells, soft sand and colourful outriggers adorning the shores of fishing villages. Swap surfboard for snorkel and head north or east for coral reefs and WW2 wrecks; or forget the beach and uncover the artistry of Ubud as well as the UNESCO rice terraces that wash over the central highlands to offer cooler alternatives. Bali Aga villages, Trunyan and Tenganan, invite a sense of indigenous Bali, before Dutch trading ships arrived, whilst, in the distance, volcanoes, Batur and Agung, simmer and silhouette opposite the equally active Mount Rinjani, across the Lombok Strait. Way out west, the marine reserves and mangroves of Bali Barat National Park allow exceptional hiking and snorkelling and possibly the best place to discover the real Bali, just as nature intended.
Bali is...
as diverse on land
as it is under the ocean waves
Bali isn't...
just about rice terraces and Hindu temples
, although they're a good place to start.

Hello.
If you'd like to chat about Bali or need help finding a holiday to suit you we're very happy to help.
Rosy & team.
01273 823 700
What we rate & what we don't
---
Our best & worst of Bali holidays
Underrated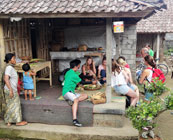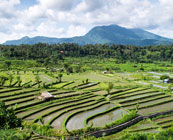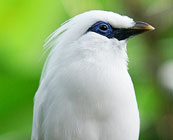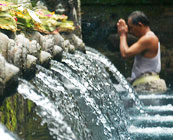 Homestays
Being invited into a local home for coffee can be a really memorable moment and although the host may not speak English, a nod and a smile is all that's required to feel well and truly welcome. Homestays allow you to gain an even deeper understanding of Balinese life, with work and play carrying on regardless as you discover cultural traditions without feeling voyeuristic.
Munduk
Rather like the British in India, the Dutch in Bali weren't big fans of the heat. Villages like Munduk, in Bali's central highlands, made the perfect hillside retreat with cooler conditions surrounded by tropical forests also ideal for spice and coffee plantations to thrive. Set out on trails through terraced rice paddies en route to the local waterfall before finding the best spot in Bali for sunrise and sunset.
Bali Barat National Park
Occupying Bali's northwest, Bali Barat National Park provides protected habitat for macaques, muntjacs and the critically endangered Bali myna bird, amongst an incredibly diverse range of tropical forest, mangrove and coastal habitats. Nature trails and mountain treks take in some serious scenery whilst Menjangan Island, just offshore, offers some of Indonesia's best snorkelling.
North Coast
In between Singaraja and Lovina there's a series of fishing villages hugging narrow strips of volcanic sand, which invite travellers to experience a pace of life that's the polar opposite to the south. Water visibility is excellent, accommodation and food are affordable, and local attractions, including Bali's biggest Buddhist monastery and the thermal springs at Banjar, offer ample alternatives to the beach.
Rated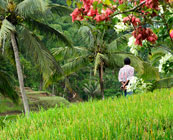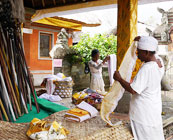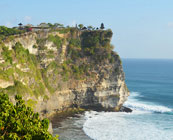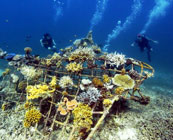 Rice terraces
20 minutes north of Ubud, the rice terraces of Tegalalang provide plenty of excuses to go for a wander or explore by bike with decent paved roads leading through rice paddies, from one village to the next, flanked by sweeping hillsides dotted with coconut palms. Sit back and soak up the scenes as you spare a thought for the workers and contemplate the price of rice.
Ubud
Bali's artisan capital has an abundance of art galleries, weaving workshops and handicraft stalls tempting travellers to buy a bigger rucksack. Explore outside of Ubud and you'll find smaller villages, like Nyuh Kuning, where wood carvers, faith healers and yoga ashrams sit side by side as smiling Balinese mingle with equally happy travellers.
Bukit Peninsula
Head 45 minutes south of Kuta, as quickly as possible, and you'll find what could almost be a separate island. It's not, however; it's the Bukit Peninsula that boasts, perhaps, some of Bali's best beaches. Laid back and sandy best describes Bukit where beers on the beach at sunset are about as wild as things tend to get other than the fire dances which are held every evening around Uluwatu temple.
Snorkelling
All that volcanic sand practically guarantees crystal sharp visibility with manta rays, clown fish, and barracuda all known to inhabit the coral gardens and the WW2 wreck just off the northeast coast. On the northwest coast, snorkelling sites around Menjangan Island are just phenomenal with protected shallow reefs attracting white tipped reef sharks, eagle rays and sea turtles.
Overrated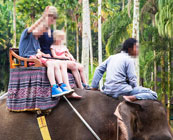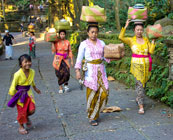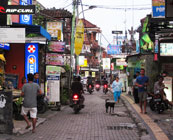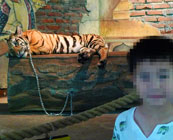 Elephant rides
Elephants are not indigenous to Bali so all the elephants you'll find on the island have been brought there to be held in captivity and used for work or entertainment. Don't even think about visiting one of the elephant parks around Ubud or Denpasar as they are designed for humans to take advantage of imprisoned animals no matter how much you might hear to the contrary.
Stripping off
It may be hot but baring too much flesh is totally disrespectful so think thin cotton, long sleeves and trousers if you want to step out with cultural confidence. Although Bali is one of the more liberal islands in Indonesia, be sensible when visiting temples and rural areas if you're keen to respect local etiquette and avoid any unwanted attention. When in doubt, wear similar attire to local people.
Kuta
Although Kuta may have started off life as, arguably, the best beach in Bali, it's become more akin to an Aussie version of Ibiza with fast-food chains, shopping malls and poorly conceived hotel complexes placing ever-increasing strain on insufficient infrastructure. Kuta's less a haven for surfers looking for the next wave, it's fast becoming more like an unsightly blight on Bali's butt.
Zoos
Bali features several zoos, including the safari and marine park outside of Ubud, where animals are treated as performers to indulge ignorant gawping crowds who choose to ignore the chains and obvious signs of distress. If you want to see wild animals in Bali, head west into the forested hillsides and mangroves of Bali Barat National Park or dive into the water around Menjangan Island.
Food, shopping & people
---
Travel like a local on your Bali holiday
Eating & drinking in Bali
---
Balinese food is based around a blend of spices as opposed to hot chillies with Chinese, Hindu and Indian influences appearing in chicken, pork, seafood and veg dishes, usually with rice.
Try pepes ikan (steamed fish in banana leaf), nasi campur (Bali's answer to tapas), gado gado (boiled veg and satay sauce) and bubur injun (black rice pudding with creamed coconut).
Warungs are small, affordable, family-run cafes/restaurants/shops found all over the island. Note which warung attracts the most local people as this will usually sell the best food or tastiest fresh juice.
When visiting a Hindu temple or ceremony make sure you don't sit higher than the flowers, rice and fruit offerings and don't walk in front of anyone praying.
People & language
---
Bahasa Indonesia is the official language and widely spoken on Bali, although around a third of the population speaks Balinese, unique to the island. Although English is widely spoken – often with an Aussie accent – learning a bit of Balinese is always a good idea although, undertaking an agnihotra fire ceremony at sunrise or purifying your soul at a Balinese water temple, such as Tirta Empul in Tampaksiring, can reap equal blessings.

Rahajeng semeng = Good morning
Suksma = Thank you
Wastan tiang... = My name is...
Sing ken-ken = No problem
Tidak terima kasih = No thank you
Gifts & shopping
---
Ubud is an artisan epicentre, with Sukawati art market awash with paintings, carvings, and ikat and batik sarongs, scarves and throws. The main market, opposite the palace, is filled with stalls selling locally made and imported souvenirs – read labels carefully.
For really authentic and ethically-sourced items, fantastic textile centre
Threads of Life
aims to conserve traditional techniques and support independent weavers. Or head to the
village of Tenganan
, where you can purchase Bali's only double ikat designs and watch them being made.
Haggling is part and parcel of a trip to Bali so consider what you're prepared to pay and keep things light rather than going out to drive a hard bargain.
Indonesia's official language, Bahasa Indonesia, is similar to Malaysian, and is one of almost 600 different languages spoken throughout Indonesia.
How much does it cost?
---
Metered airport taxi from Denpasar to Ubud: £12

Flight from Bali to Lombok: £50

Main course and drink at a warung: £2 - £5

Main course and drink at mid-scale restaurant: £5 - £25

Local cup of coffee: 30p – 50p

Note: Waiters earn around £90-100/month so do tip if the 10% service charge is not included. 11% VAT is added to a bill so expect to pay 21% on top of menu prices.
A brief history of Bali
---
Java, lava, and the Dutch East India Company have all played their part in the Bali that you'll find today, although, it has to be said, from the opening of Ngurah Rai International Airport in 1970 to Eat Love Pray in 2010, tourism in Bali has also left a substantial imprint.
Read more ▼