Responsible tourism in Bali
---
Travel right in Bali
As with many tropical locations, parts of Bali have become something of a victim of their own success. Quiet, peaceful beaches have turned into temples to merchandise and big business. Peaceful and unassuming local people have found their cultural identity under threat, with poverty rife in rural communities far from the financial gain of tourism. But don't for one minute think that Bali has succumbed to its fate. Explore away from the brash, built up resorts down south and you'll still find untouched virgin beaches, thriving fishing villages and indigenous communities living in much the same way as they always have. Protected areas, such as Bali Barat National Park, feature a wide range of land and marine environments to sustain a hugely diverse range of flora and fauna to offer responsible travellers a true taste of Bali, the way nature intended. Read on to find out more about Bali, warts and all, as we examine the issues facing the island and what you can do to help.
PEOPLE & CULTURE
---
MASS TOURISM, SEX TOURISM, STREET KIDS & BEGGING
From Hindu culture to prime real estate
---
Soft white sand, laid back lifestyles and Hindu temples always made Bali attractive for cultural travellers; however, the opening of Ngurah Rai International Airport in the 1970s ensured the island became much more accessible, especially for those just a short flight away in Australia. Although many of the Aussies heading to Bali back in the 70s and early 80s were solely interested in consistent waves and affordable digs, the more tourists who came to see what the fuss was all about, the more the money men capitalised on the islandís exotic charms. The coastal suburbs around Denpasar, including Sanur, Kuta and Nusa Dua, all attracted real estate developers, fast-food chains and all-inclusive package holidaymakers with little or no intervention from, at best, a weak government, at worse, a completely corrupt bunch of incompetents. Ineffectual leaders still exist today, a prime example being the proposed Benoa Bay development which, if pushed forward, plans to bring increased numbers of tourists to the already over congested southern Bali in the form of shopping districts, luxury accommodation and a marina, within an area thatís currently underwater. This proposed reclamation project threatens not only the marine ecology and surrounding coastline but also several sacred underwater Hindu sites. Not only does Baliís government need to get its act together in terms of protecting the natural environment and cultural sites of the south, it needs to respect the rights of local people ahead of international corporations before it edges ever closer to the mass tourism volcanic rim of no return.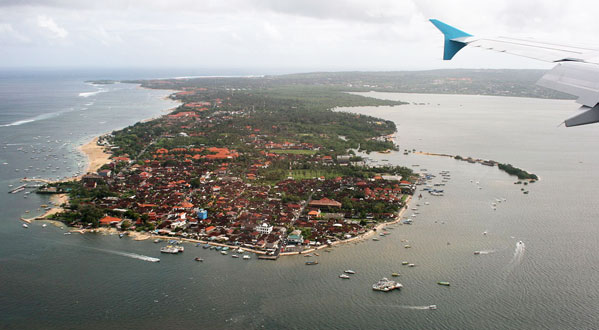 What you can do
Donít treat Bali as just another homogenised hot spot and stay in high rise hotels where English is the only language youíll hear all holiday and all inclusive packages donít require any travelling other than from the pool and back. Go and explore; experience Bali on two wheels through rice terraces or in remote mountain villages, like Tenganan and Trunyan where Bali Aga traditions exist alongside incredible volcanic scenery. Discover the intricacy of ikat textile design and what it means to be invited in for coffee by someone who welcomes you with nods, smiles and twinkling eyes.
Street kids, sex tourism and begging
---
Itís estimated that almost 200,000 people on Bali are living in poverty*, especially within the remote, rural northeast, and through a combination of desperation and naivety, the vast majority of young men and women within Baliís sex trade will have been put there by members of their own family.** Despite the obvious moral and religious contradictions, sex is openly for sale in Bali with busy tourist areas in Kuta, Seminyak and Sanur attracting kids to the bright lights like moths to flames, with the all powerful western dollar often seen as the only means of escaping an endless cycle of destitution. Kids will start off begging or selling trinkets by the side of the road before being drawn into a world where accepting money or anything else of value for sexual abuse isnít considered illegal, even for children, especially if no complaints have been made by the victim. The cycle continues once children get too old to beg or charm Ė because theyíre no longer Ďcute enoughí - with Ďmassage parlorsí, brothels and red light districts beckoning teens deeper into a murky underworld with the threat of HIV/AIDS an ever-darkening shadow hanging over the beaches of Bali.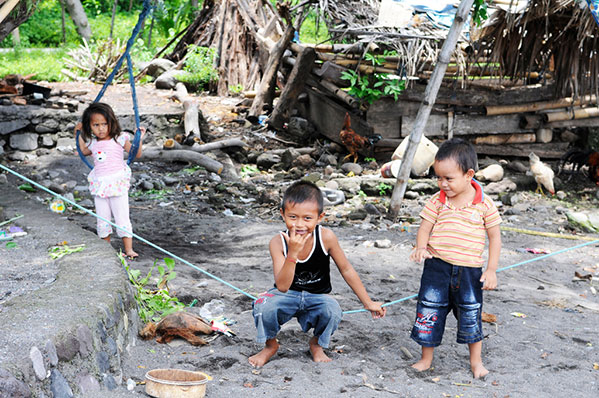 What you can do
If you see kids begging: please donít give them any money, donít buy them anything and donít pay for any 'impromptu' dance performances or shows. By giving begging children money you may well be lining the pockets of threatening adults and perpetuating the poverty trap that is basically akin to slavery. There are several charitable NGOs that have been set up to help kids get off the streets.
Soul Surf Project
is one such non-profit making organisation that aims to break Baliís cycle of street kids and sex tourism, and if youíre interested in helping, please make a donation or find out how you can get involved before, during or after your visit to Bali.
Sources: *The Bali Times; **The International Labour Organization
For more information on how to help kids in Bali, please read these
ChildSafe tips
before you go.
WILDLIFE & ENVIRONMENT
---
CIVET COFFEE & DOLPHIN TOURS
Cruel for cats
---
For some, the process of drinking coffee made from partially-digested cherries that have been through a cat's digestive system is unthinkable, for others, itís an expensive luxury that's worth every Indonesian Rupiah. Don't be fooled. This is not just a quirky gimmick to be ticked off a 'bucket list'. Civet cats are mass farmed in appalling conditions and forced to eat, digest and defecate coffee seeds which are then turned into one of the most expensive hot drinks on the planet. Also, be warned, many of the producers of Civet/Kopi Luwak will label their brand wild or organic when it simply isn't the case.
Source:
PETA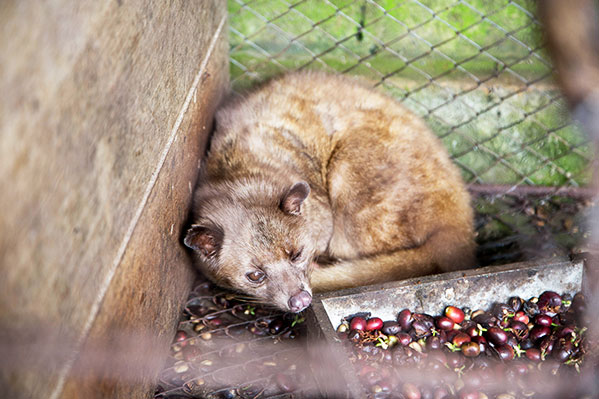 What you can do
The best thing? Just donít drink it. Opt for a locally grown coffee instead. Something that comes from one of the smaller coffee estates surrounding Munduk or in more remote regions like Belimbing.
Dealing in dolphins
---
Lovina, on Baliís north coast, is fast-becoming one of Indonesiaís most popular locations to watch dolphins. Tour operators and local boat owners market tours at sunrise and will often chase or get too close to dolphins with little or no disregard for passenger or animal safety. Although this industry needs regulating, and fast, this is nothing compared to the conditions that dolphins are held in some of Baliís hotels. Daily dolphin shows offer guests the chance to watch dolphins perform or to actually get in a tank of water and swim with them. No matter whether dolphins are kept in chlorinated pools or floating salt water sea pens, in our opinion there are no excuses to put profit before animal welfare.
Source:
Dolphin Project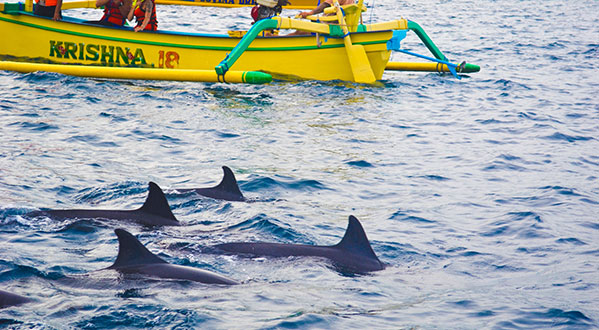 What you can do
Responsible Travel will never recommend accommodations or tours where dolphins or any other animals will be mistreated. Always do your research before going on a dolphin watching tour and ask the skipper about their ethical practices and their policy towards approaching different dolphin species. Good quality, responsible dolphin watching tours will have an expert on-board so the focus is on education rather than chasing for a photograph. Always report any bad practices, such as chasing dolphins, not slowing down, and feeding dolphins, to your tour operator or via social media or online review sites. Itís the best way you can help to make a difference.
Responsible tourism tips
---
Travel better in Bali
Although Bali is slightly less conservative when compared to the rest of Indonesia it's still important to respect local traditions and err on the side of caution in the way you dress, particularly if you're visiting a Hindu temple or religious ceremony. Avoid wearing vest tops or shorts when visiting a temple and although you can sometimes rent or buy a quick cover up before entering a temple it's much better to come prepared with your own traditional Balinese sarong or scarf.
When taking photographs always ask permission first, and respect notices asking you not to photograph in temples, museums or art galleries.
If you want to bring someone's attention to something then use your whole hand, palm side up, rather than pointing with your index finger. This is considered polite in Bali and a less aggressive form of indicating what you'd like without speaking. Use your right hand to shake hands and to eat, and use both hands when offering a gift as this is considered a compliment.
Avoid placing your hands on someone's head, including children, as Balinese consider the head as a sacred place containing the soul, not to be touched by other people.
When meeting local people they may come across as quite direct in terms of what they ask you. Questions about your marital status, your work and where you're staying or going on the island will all be deemed as perfectly normal questions so don't feel too affronted, just go with the flow.
Public displays of affection are not the done thing in Bali, including holding hands, hugging and kissing. However, it's perfectly normal for same sex friends to be quite tactile and you might find local Balinese are comfortable touching you as they speak; it's just their way of being friendly.
Even in the most demanding of situations Balinese will smile to avoid escalating confrontation. This is yet another example of the peaceful nature of life on the island where people would much prefer to nod, smile and welcome you into their home rather than be gloomy and guarded.
When at the beach make sure you take all your rubbish away and use any recycling facilities available or ask your accommodation or tour guide where you can find a bin.