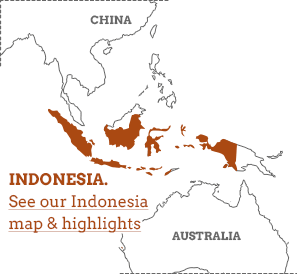 Indonesia is a whopping great sprawl of natural wonder, heaving cities and intrigue. Made up of some 17,500 islands, only 6,000 of which are inhabited, it is a country as wide as the Atlantic Ocean that spans three time zones. It is also the world's only home of the Komodo dragon, the planet's biggest lizard that prowls among the savannah of Indonesia's wilderness islands. Many of Bali's beaches are the stuff of tropical dreams – lush and exotic with a creature comfort slice of grandeur thrown in, but venture further and you'll be rewarded with fascinating wildlife, tall, smoking volcanoes and a deeply ingrained and vibrant local culture forged by tribes and tradition. Don't hang about in the cities; artistic Ubud is very cool and Java's historic temples paint a vivid picture of the country's past, so they are well worth a visit, but Indonesia's trump card is the presence of lesser known islands like Flores and Sulawesi that still offer that rare opportunity to tread where few others have.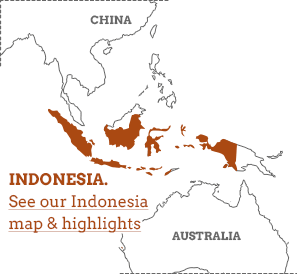 Immense Indonesia is an explosion of rich & poor, calm & chaos, natural & manmade: it has an ancient soul, a wild heart, and a shrewd, insightful skin.

Get lost in a world of holiday possibilities in our Indonesia travel guide
Indonesia is...
an intriguing blend of stereotypically tropical and entirely unfamiliar.
Indonesia isn't...
just about a beach holiday.
What we rate & what we don't
Flores
So-named by crafty Portuguese colonists who spotted its pure beauty in the 16th century, 'Flowers' has leapt out of Bali's shadow and is now Indonesia's 'one to watch.' It's truly beautiful; a tropical-coloured blend of fragrant forest, pristine beaches, rushing river canyons and authentic local life. Transport is improving and tourism is on the up – catch Flores now while it's in bloom, not boom
Sumatra
Peaceful, but with an exciting and unpredictable bite, Sumatra has some unparalleled nature – a lush jungle thick with wild orangutans; bright turquoise volcanic lakes; isolated archipelagos, and barren beaches at every turn. It also has horrendous roads – be brave and patient and you'll explore that longed for adventurer's dream: the road less travelled.
Sulawesi
Sprawling Sulawesi was thrown into the spotlight as the home of the 2016 Solar Eclipse, but has been quietly minding its own business in the middle of Indonesia's archipelago for centuries. An extraordinary land of four separate peninsulas separated by looming mountains, the region is split between the upland wood-carving Torajan people and the lowland Bujis, who fish, farm and hunt.
Java
An Indonesian sleeping giant, Java is often dismissed as too chaotic, but without good reason. Its landscape gleams with emerald green rice as far as the eye can see, peppered with misty mountains and a central spine of smoking volcanoes. Aside from traditional Yogyakarta with its multi-tiered Buddhist temples, Java's heaving cities aren't enticing, so avoid them and indulge in all its best bits.
Rinca
Not to be outdone by Komodo, Rinca (pronounced Rin-cha) is a smaller island, but close to transport links at Labuan Bajo, so can be easily done in a day. It has a denser dragon population and less grassland covering its steep slopes, so spotting dragons sunbathing in the bush is virtually guaranteed; you'll probably glimpse monkeys, buffalo, wild pigs and Timor deer lurking too.
Komodo
You head to Komodo for one reason: to lay eyes on the planet's closest thing to a dinosaur – the Komodo dragon, a giant of a lizard that can measure up to 3 metres long. The island's eponymous national park starts at Loh Liang, a bustling village teeming with chickens, goats and kids. They used to feed them live to the dragons (the goats, not the kids), but thankfully that's now stopped.
Ubud
Ubud is Bali's spiritual heart – a point played up by tourism, but not to the detriment of its spiritual core. A hive of creativity set amongst emerald-green rice terraces, it's known for its artistic outpouring of talented dancers, musicians, artists and craftspeople, the work of which lines its cultured streets alongside holistic healing centres and busy cafes. Organic cafes, naturally.
Tanjung Puting National Park
This national park is one of orangutan conservation's good guys – a huge natural space of over 740,000 acres in central Kalimantan, Borneo, which began as a game reserve specifically for the protection of orangutan way back in 1937. It's the only protected area in Southeast Asia with massive tracts of wetlands, lowlands, mature tropical heath and swamp forest as well as over 400 species of tree.
Kuta
Kuta is possibly one of the least attractive places on Earth, let alone in Indonesia. Like the sleazy remnants of a three-day party, it's a burned-out mess full of people wearing crap-sloganed T-shirts and talking rubbish. Unless you're someone that likes to drop litter on beaches and drink until you're sick, it'll make you feel dirty, and not in a good way.
Seminyak
Alas, the Bali-bashing continues with Seminyak – an uninviting area of steel-grey sand and dirty sea the colour of bruises when they start to go brown. It is quite chic in a sort of splash-the-cash shopping and eating way, but sadly even some of the restaurants are ruined by pretentious expats, many of which have contributed to the areas overdevelopment with shouty, showy villas.
Legian
Completing Bali's triumvirate of tat is Legian, an area favoured by unsuspecting honeymooners. The beaches here and nicer and cleaner than some, but because of the cheap bar scene, attention is drawn away from the golden sand by loutish tourists devouring beer and chips in their masses. Offensive tourists and a shocking amount of drug dealers lining the streets – bad combo.
Feeding Orangutans
By no means the fault of the park, which is in fact very beautiful, the finger of irresponsibility here points firmly at the guides who sell ill advised close encounters with orangutans to ill prepared tourists who think it's cute to feed them. Sadly, the guides are likely doing it out of necessity, but left over nasi goreng does not a healthy orangutan meal make, so the experience is best avoided.
If you'd like to chat about Indonesia or need help finding a holiday to suit you we're very happy to help.

Eating & drinking
Indonesian food is ruled by a taste-bud tingling combination of four 'S's: sweet, salty, sour and spicy

'Pecel Iele' = fried catfish. Its big deep-fried eyeballs might look a bit weird staring back at you, but it's too delicious a street food staple to miss out on.

Sambal: what ketchup is to tomatoes, sambal is to chilies and a big dollop of the ferociously hot, sharp, tangy and sweet sauce will be served with most, if not all, of your food.

Indonesia exports 3,000 tons of frogs legs to France annually.

People & language
Indonesia's population of over 250 million includes more than 300 ethnicities, spread across 6,000 of its islands, though most Indonesians are of Malay or Polynesian descent. Primarily Muslim, Hinduism thrives in Bali, and Christianity has a significant presence on Flores, Timor, and parts of Sulawesi, Central Java and Sumatra. Though numerous languages and dialects are spoken, the common language is Bahasa Indonesia.

You know that feeling when you're half asleep and you jolt awake as though you've fallen onto your mattress from a great height? That's 'sentak bagun', – an Indonesian verb for which there is no English equivalent.

In the main, Bahasa Indonesia is pronounced phonetically. Say what you see.
Gifts & shopping
The best place to spend your money in Indonesia is with the local community and there are ample opportunities to do so:

Alan Wilson, from our supplier, Ecolodges Indonesia, explains more:
"Indonesian arts and handicrafts, especially Batik in Java and Ikat weaving in Flores and Timor, are world renowned and one of the most vital industries for local villages," he says. "The art is extremely varied and reflects the great diversity of cultures in Indonesia and you can pick up beautiful sarongs, carvings, weaving and jewellery."

At the top of the Kelimutu volcano in Flores, there are three lakes that change colour periodically from turquoise to blue to red to black.

How much does it cost?
A beer: £1.20
Train ticket: Java east to west - £15
A brief history of Indonesia
The first known hominid inhabitant of Indonesia was the so-called 'Java Man', who lived here half a million years ago. Some 60,000 years ago, the ancestors of the present-day Papuans moved eastward through these islands, eventually reaching New Guinea and Australia 30-40,000 years ago. Much later, in about the fourth millennium B.C., they were followed by the ancestors of the modern-day Malays, Javanese and other Malayo-Polynesian groups who now make up the bulk of Indonesia's population.
Read more