Palm oil is seen as a one-size-fits-all miracle oil. As the cheapest vegetable oil on the market, it is used widely in food as well as in toiletries - and ironically, it is now touted as a "biofuel". While it may pollute less than its petroleum and coal-based alternatives when burned, cutting down peat forests to make way for palm oil plantations releases carbon into the atmosphere: suddenly this "clean" fuel starts to look rather filthy.
Loggers have moved into the palm-oil business with aplomb, clearing peat-swamp forests to make way for plantations and presently, across Indonesia as a whole, it's estimated that three quarters of the logging that takes place is illegal. Highly destructive logging and clearance techniques are employed by larger companies to reduce costs and maximise profit, while small-scale subsistence farmers use slash-and-burn techniques to make way for their crops, eventually exhausting the soil so that they have to move on and clear new land. The tragic irony here is twofold: not only are western countries touting their green credentials through the use of palm oil-derived biofuels which have been cultivated following the destruction of carbon sink forests, but the nation supplying this fuel is one that – despite struggling to feed its population – has ploughed up fertile farmland to plant oil palm for overseas buyers.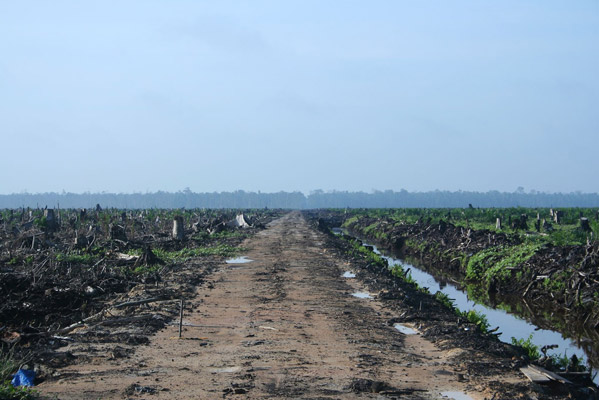 Since oil palms need a rainforest climate – consistently high humidity and temperatures – and a lot of land, plantations are often established at the expense of rainforests. About 90 percent of the world's palm oil is currently being produced in Malaysia and Indonesia, and Indonesia's oil palm plantations alone already cover nine million hectares, an area the size of Portugal, with 26 million hectares projected for 2025. As well as reducing habitat for orangutans and other endangered species, replacing forest with farmland has several other tragic impacts. For example, poaching is more prevalent around palm oil plantations, as wildlife becomes more accessible and innocent orangutans that stray onto farmland may be shot as pests.
It's not 'biofuel' that's the problem – far from it; other biofuels, particularly that derived from waste is a brilliant idea, it's the fact that this particular 'biofuel' is a wolf in sheep's clothing. Fortunately, there is increased stress from well-motivated pressure groups such as The
Sumatran Orangutan Conservation Programme
and
Greenpeace
being placed on the Indonesian government and, crucially, the huge companies that are buying the palm oil to try and rethink their long-term strategies and to stop the illegal activity and though there is a long way to go, the situation is improving. They are clamping down it and the country has made huge strides of progress over the past 10 years - it's hugely transformational what the current government has done, but with 200 million people to feed, it was always going to be a tough job, so they are definitely moving in the right direction.
What can you do?
Visit forests and research stations, pay park fees and spend your money in local communities. This demonstrates that the intact rainforest has a value, which will last for centuries – rather than the short-term gain created by logging and farming.
Palm oil plantations cover up to 90,000km2 in Indonesia – much of this land was once rainforest.
Check ingredients lists – and avoid purchasing anything made with palm oil. Alternatively, look out for products with a Roundtable on Sustainable Palm Oil (RSPO) logo.
Buy Fair Trade, sustainable products from Indonesia's forests that encourage the preservation of the forest,
such as locally made handcrafts.
Find out how else to get involved and support Indonesia's rainforests on
WWF's Indonesia palm oil
pages.