Best time to go to Indonesia

Indonesia is never stiflingly hot, or bitingly cold; an entirely tropical archipelago, the whole country is bathed in a dewy, misty warmth that says 'relax'

The best time to visit Indonesia is between April and October, when you'll find warm and sunny weather for beach-hopping, temple touring and walking, as well as snorkelling and diving. Despite its vast size, the country has a fairly even climate. The rainy season in Indonesia is between November and March, when you can expect sudden tropical downpours most days. For trekkers, especially, we would suggest considering the shoulder months of March to May and October to November as the best time to travel to Indonesia, with temperatures, crowds and prices lower if you're prepared to risk the odd shower.
When to go to Indonesia, Month by month
During the wet season (late November, December - April), roads can be blocked and trekking routes closed for safety reasons, so it's best to double check how much this will affect your chosen itinerary. The shoulder season (March, April, May, October and November) is fairly unpredictable weather-wise, but both prices and crowds drop and temperatures are cool making it a great time for trekking. During December, January and February rain makes areas such as Sumatra and Flores virtually inaccessible due to closed ferries and washed out roads. There are plenty of other places to see at this time though - with Bali and Kalimantan enjoying much more stable climates. If you're heading to the Mount Rinjani National Park on Lombok to see the infamous volcano, plan your Indonesia holiday outside of January – March, when the park closes. If you're heading to Java, avoid the end of July – these are the final days of Indonesia's Lebaran celebrations and transport is utter chaos. Indonesians often choose to take holidays at the end of Ramadan (usually around June or July, but flexible, so best to check according to your chosen year of travel) which can mean more crowds and higher prices. September in Indonesia brings the favourable weather conditions of August, but without the crowds and high season prices, making it a brilliant time to visit.
Our top Indonesia Holiday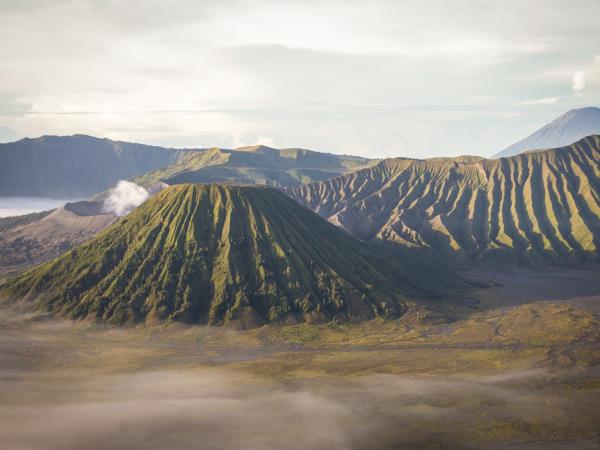 An adventurous tailor-made journey through Java, Indonesia
From £1846 14 days ex flights
Tailor made:
This trip can be tailor made throughout the year to suit your requirements
If you'd like to chat about Indonesia or need help finding a holiday to suit you we're very happy to help.

Responsible Travel recommends
Philip Beale, from our supplier Pioneer Expeditions, shares his advice on the best time to go to Indonesia: "The seasons in the country are pretty clear-cut – anytime from April through to September is generally the best time to visit, but it's a country of three time zones, so it's hard to generalise. The rainy season comes in and conditions start to get worse from October through to March, and although you can travel in the rainy season, you need to be prepared for two or three hours of rain daily plus a bit more wind. From April onwards it gets warmer with blue skies all day and then over our summertime, the weather is hot and sunny and perfect conditions for the wide range of activities that Indonesia offers."
Ubud Writers & Readers Festival
Taking place in Ubud, Bali's artistic heartland, this a five-day party that brings the written word to life through the musings of some of the best Indonesian, Southeast Asian and international voices across a lively programme of book launches, talks, film screening and local workshops.