KOMODO HOLIDAYS TRAVEL GUIDE
---
2 MINUTE SUMMARY
Komodo dragons are just one of many highlights to be had on a Komodo holiday with bat caves, pink beaches and traditional local villages bound to conjure up a few more. Sailing to coral hotspots coveted by clownfish, parrotfish and turtles will send snorkellers into seventh heaven, although it's often the experiences on the driest of dry savanna hillsides that will have adventurers, accompanied by park rangers, quivering in their sandals.
Komodo holidays can be tailored to suit time constraints and interests, or run on a small group basis. Other than on Flores, accommodation will be a small boat with features ranging from en suite cabins to deck mattresses under the stars. Most travellers will combine a tour of the islands of Komodo National Park with other Indonesian islands, such as Bali or Lombok. And the west coast of the island of Flores, around Labuan Bajo, is fast becoming a holiday destination in its own right.
Komodo is…
about
as close to Jurassic Park as you can get
without Jeff Goldblum.
Komodo isn't…
a zoo, there are no cages,
and travellers will be wise to heed the instructions of knowledgeable park rangers.
KOMODO MAP & HIGHLIGHTS
---
MAKE THE MOST OF YOUR TIME
There are around 30 volcanic islands within Komodo National Park. The largest of these, Komodo, Padar and Rinca, are still quite small, with only Komodo officially recognised as being inhabited by around 4,000 local people. The west coast of Flores is also part of the park with the majority of tours starting from the port town of Labuhan Bajo; this boasts its own airport with routes to and from Bali. It's possible to stay on Flores in locally run guesthouses and take boat trips to the islands within the park. Another idea is to stay on -board a small ship and cruise the islands or explore by kayak. It takes about 4hrs to cruise from Flores to Komodo Island and about half that time to get to Rinca.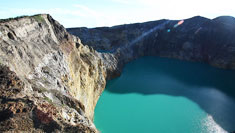 Flores Island
Indonesia's tenth largest island is fast becoming one of those 'in the know' locations that you may wish to visit sooner rather than later. Outside of Komodo, the west coast of Flores is one of the few places to spot wild dragons although ikat weaving in Ruteng, tribal villages in Bajawa and sunrise over Kelimutu Volcano's three coloured lakes will no doubt be just as memorable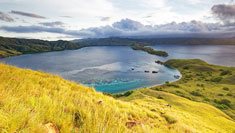 Gili Lawa Darat
Komodo National Park is scattered with tiny islands which are covered in savannah scrub that turns a luscious green in the wet season and a dusty brown in the dry. One such island, just to the northeast of Komodo, is Gili Lawa Darat which is not only an ideal anchorage for dive boats, thanks to its calm, protected bays, but also one of the best spots for sunsets after a short trek to the top of the hill.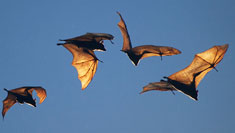 Kalong Island
An hour's boat ride from Rinca Island lie the mangrove forests of Kalong ('Flying Foxes') Island where thousands of fruit bats have set up residence within the trees to magic an incredibly atmospheric experience upon their homecoming at dusk. Similar to starling genies, the sight and sound of bats returning from a day spent feeding on neighbouring islands really is quite remarkable.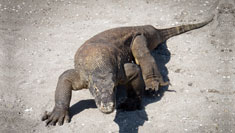 Komodo Island
Although inhabited by approximately 4,000 humans – purportedly descended from convicts – Komodo is also home to 2,500 fairly ferocious dragons which live alongside wild boar, buffalo and deer. The trek to Cape Banunggulung usually yields dragon success although snorkelling off Pantai Merah (Pink Beach) or Manta Point can be equally as exciting.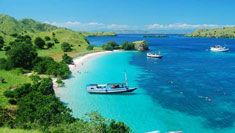 Padar Island
The third largest island within Komodo National Park, Padar, is all but bereft of dragons and much better known for its pink, grey and white sand beaches which make ideal settings for soaking up some sun after a good day spent walking on one of the island's savanna hillsides. Deep bays and crystal clear water clarity makes Padar popular with divers, snorkellers and boat captains anchoring just offshore.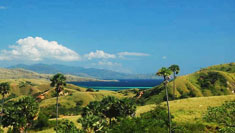 Rinca Island
Although dragons are more commonly associated with Komodo, Rinca still has its own significantly large population and is much easier to get to from Flores if pushed for time. Trekking over the savannah hills with a ranger is the best way to spot dragons. The surrounding seas, renowned for whales, dolphins and sharks, are also well known for fierce rips and currents – snorkellers beware.



Hello.
If you'd like to chat about Komodo or need help finding a holiday to suit you we're very happy to help.
Rosy & team.
01273 823 700