Bali map & highlights
---
Make the most of your time
Bali's capital, Denpasar, is the gateway to Kuta, 40mins southwest, and Sanur, 30mins southeast, as well as just an hour's drive south of Ubud. The central highlands, to the north of Ubud, have a much cooler climate with villages, such as Sidemen and Trunyan on the shore of Lake Batur, representing a side to Bali rarely seen by beach-hugging holiday makers. The north coast has some really laid back beach locations in between Lovina and Singaraja although the coral reefs, mangroves and volcanoes of Bali Barat National Park, in the west of Bali, providing nature lovers with nothing short of perfection.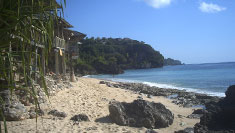 Balangan
This legendary beach still partially retains the essence of the early 80s when inaccessibility and consistent waves made the perfect combo for adventurous Antipodeans. However, you don't have to surf to love Balangan and although there are a few more warungs, purpose-built surfer shacks and cafes than back in the day, there's still a lot to be said for a simple strip of sand, sunshine and swells.
Bali Barat National Park
Extinct volcanic calderas, mangrove waterways, acacia scrub and monsoon forests form the focus of Bali Barat National Park with protected sand and coral reef islands, just offshore, conjuring up quintessential visions of Bali, the way nature intended. Park permits and guides need to be arranged before you enter the park and don't forget to pack binocs alongside snorkel, mask and flippers.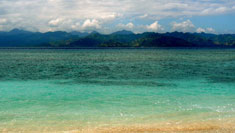 Bedgul
Bali's central highlands feature traditional villages, such as Candikuning, Pancasari and Pacung, as well as the island's second highest mountain, Gunung Batukaru, flanked by dense forests and topped by the sacred Hindu temple, Pura Luhur Batukaru. Head off on hiking trails in search of Jatiluwih's rice terraces, Munduk's waterfall and Lake Bratan, close to the luscious botanical gardens.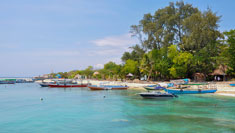 Gili Islands
The car and motorbike free Gili Islands are sandwiched between Bali and Lombok to offer three distinct locations for travellers looking to get off the mainland. Trawangan is the larger, more developed, party island. Meno, the smallest and quietest Gili Island, is much more natural, with fewer crowds. Gili Air is a combination of both with coral reefs and turtles off the east coast.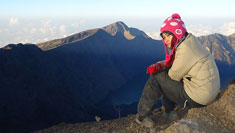 Lombok
Head east to Lombok just for the sight of Bali's volcanoes on your return but just make sure you travel with a reputable boat company, with life jackets, before crossing the Lombok Strait. Lombok's dominated by the forest-flanked slopes of Gunung Rinjani to entice hikers towards the hill retreats of Tetebatu and Senaru, surrounded by fertile farmlands still traditionally ploughed by water buffalo.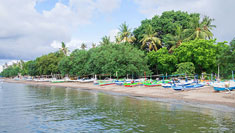 Lovina
Lovina is a wonderfully laid back stretch of Balinese north coast featuring seven fishing villages peppered with prahu sailboats preparing for a good night's shrimping. Mellow waves wash over dark volcanic sand to entice snorkellers and sun bathers to make the most of a much more peaceful and affordable alternative to the busier beach resorts down south.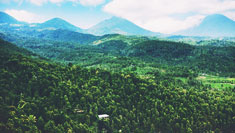 Munduk
Head up into the highlands and follow the single track road to the hilltop village of Munduk to discover a cooler climate and access to waterfall and orchard trails alongside vantage points from where to watch both sunrise and sunset. This is a real break from the beach with the scent of cloves and vanilla floating on the mountain breeze in between sacred lakes and hillside temples.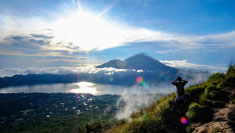 Mount Batur
Erupting as recently as 2000 and rising to a height of just over 1,700m, Mount Batur sits within the centre of two gigantic calderas, alongside the ever-decreasing Lake Batur, to provide remote villages with opportunities for farming and fishing. An early morning trek to the summit of Mount Batur is the only way to see the sunrise over Bali against the ominous form of Lombok's Mount Rinjani.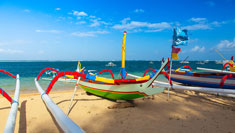 Sanur
Cameras click at the traditionally coloured jukung fishing boats aligning Sanur's paved beachfront and, despite the length of time Sanur has served as a beach resort, it still remains a quieter, more mature, alternative to Bali's brasher resorts. Independent seafood restaurants, spa temples and slithers of sand make Sanur an easily accessible option close to Bali's international airport.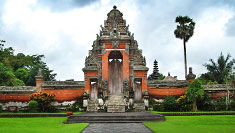 Seminyak
Step away from the spas and shops at Seminyak and you'll find the UNESCO temple complex of Pura Taman Ayun and the sea temple of Pura Tanah Lot both within a 30-40min drive although, be warned, Pura Tanah Lot, especially, does attract large crowds. To the north, Canggu provides a glimpse of what Seminyak used to look like, just make sure you catch Canggu before it follows suit.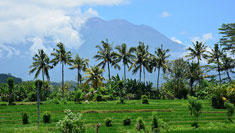 Sidemen
The peace and tranquility emanating from Sidemen is in direct contrast to the foreboding form of Bali's highest point, Mount Agung, that casts its shadow over what is an extremely welcoming hillside village. Come to cool down, stay for the scenery. Sidemen has some gorgeously green rice paddies covering surrounding slopes for easy hiking and cycling trails on paved paths.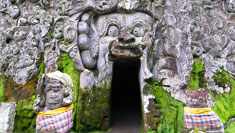 Ubud
Locally-made crafts and small artisan galleries attract an inevitable influx of tourists, certainly not helped by the rom-com book/film Eat Love Pray. Hang out here a while longer and get away from the scooters flanking Monkey Forest Road and you'll find hidden Hindu heritage at the elephant cave of Goa Gajah and sacred temples of Wenara Wana, covered in crab-eating macaques.



Hello.
If you'd like to chat about Bali or need help finding a holiday to suit you we're very happy to help.
Rosy & team.
01273 823 700
Bali itineraries
---
Bali rice terraces & beaches (14 days):
Ubud ► Munduk ► Lovina ► Candidasa ► Gili Islands ► Sanur

Bali untouched (12 days:
Ubud ► Tirtagangga (homestay) ► Lovina ► Munduk ► Bukit Peninsula

Bali adventure holiday (9 days):
Ubud ► Sidemen ► Mt Batur ► Lovina ► Menjangan Island ► Bedugul ► Sanur
Travel times in Bali
---
The following times give you a rough idea of distances between some of the key locations on and around Bali:
Denpasar to Ubud – 45 mins by car
Ubud to Munduk – 2 hours by car
Ubud to Lovina – 2 hours by car
Lovina to Labuhan Lalang (Bali Barat NP) – 1 hour 30 mins by car
Labuhan Lalang to Menjangan Island – 40 mins by boat
Lovina to Lalang Linggah (Balian Beach) – 2 hours by car
Lalang Linggah to Kuta – 2 hours by car
Benoa Harbour (south Bali) to Gili Trawangan – 1 hour and 30 mins by fast boat
Gili Trawangan to Senggigi (Lombok) – 30 mins by fast boat
Denpasar to Lombok – 30 mins by plane