To get your head around
Sabah
you have to think macro and micro. This Malaysian state on the northern end of Borneo is the gateway for most tourists visiting the island. An island that is the third largest in the world, by the way. So, that is one big gateway, and although Sabah is only the size of Ireland, its importance on the world map of wildlife and rainforest conservation is immeasurable.
Sabah is home to the Bornean
orangutan
, the largest tree climbing mammal in the world, which is critically endangered, mainly due to the destruction of its habit. And that is the macro mama of them all – deforestation of Sabah's rainforests for timber and palm oil production.
Zooming into the micro level, grassroots ecotourism, community tourism and wildlife tourism are all making a difference. Because in a stunning state like Sabah, with a wealthy history that has depended on gas and oil exploitation, the economy has gone from being one of the richest states in Malaysia to the poorest. Responsible tourism is, thankfully, bringing the country's natural riches to the foreground, and communities who once exploited the natural resources in order to survive are now realising that riches can come from nurture, not annihilation.
Rich rainforest
In eastern Sabah, over 250km2 of rainforest has been protected as the Kinabatangan Wildlife Sanctuary, which is where a lot of the tourism is focused. There are ten primate species here alone, and it is one of the few regions where you can observe orangutans in the wild with the help of expert trackers. You can also see crocodiles, proboscis monkeys, hornbills, river sharks and pygmy elephants.
In 2017, Sir David Attenborough appealed to the Sabahan authorities to stop plans to build a bridge across the 560km-long Kinabatangan River, as it would further endanger the region's endemic and rare wildlife, particularly a corridor followed by the endangered pygmy elephant. Given that this is one of the most spectacular places to visit in Sabah for full on immersion in rainforest, it's a relief that his and other activists' voices were heard. To make the most of Kinabatangan's extraordinary nature, take a boat trip along the river and through the mangrove swamps, or go on a guided hike through what Attenborough describes as "one of the most unique and biodiverse places on this planet".
Kabili-Sepilok Rainforest Reserve is a wonderful place to visit with the Rainforest Discovery Centre at its hub. An important contributor to conservation and education, not only for visitors but also local youth, it boasts a 28m-high canopy walkway from which you can spot one of the world's largest trees, the Mengaris, at over 80m, along with the many creatures that inhabit these treetops. Further south, Danum Valley is a stunning virgin rainforest, famous for its wildlife safaris to seek out endangered orangutans, proboscis monkeys and pygmy elephants. There is a lot of monkey business going on here, in fact, with primates including gibbons, langurs, macaques, tarsiers and nocturnal slow lorises.
Rich mountains
Sabah's summit of all summits is Mount Kinabalu which, for mountain climbers and serious trekkers, is an official four-thousander, peaking at 4,101m. The good news is that you don't need climbing skills and expertise to summit, but you will need determination and fitness to trek through the tropical, montane and cloud forest trails, to be rewarded with sub-alpine vegetation at the top. Most hikes take you to a mountain hut en route, so that you can complete the last 8.5km in the middle of the night and take in all of Sabah from the summit at sunrise. It is also home to Asia's first Via Ferrata or 'iron road' which takes you to 3,200m up the mountain with the help of metal cable systems.
From the summit, you will have stunning views of the protected landscapes of Kinabalu National Park and UNESCO World Heritage Site below, where flora includes not only 500 orchid species but also the Rafflesia, the world's largest flower. And there's plenty of stunning birdlife. A top place to go after trekking is Poring Hot Springs, to relax those climbing muscles.
Our top Borneo Holiday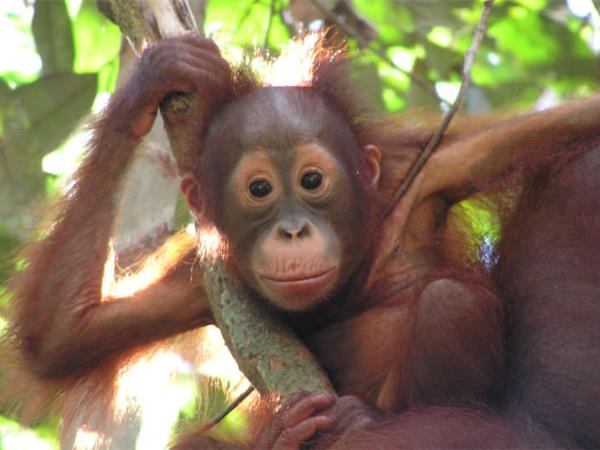 Explore bustling cities, lush jungles and paradise beaches.
From
£1845
9 days
ex flights
Tailor made:
Everything is tweak-able, giving you the freedom to build your own unique and meaningful trip. Slow down the pace with few extra nights here and there, add a few more active adventures along the way, upgrade your accommodation for that extra bit of luxury – it's up to you!
If you'd like to chat about Borneo or need help finding a holiday to suit you we're very happy to help.

Rich coast
Given that this small state has coastline on three different seas, the South China Sea in the west, Sulu Sea in the northeast and Celebes Sea in the southeast, there are some spectacular beaches, islands and all round marine marvels. Most of the coastline is covered with mangrove and nipah palm forests which lead down to blissful beaches and seaside hideaways.
Head to Tunku Abdul Rahman National Park, just minutes from the state's capital city of Kota Kinabalu, where three reef-rimmed islands are home to idyllic beaches where you can snorkel, kayak or seek the islands' resident bearded pigs, monitor lizards, pangolins and macaques. Culturally it is also wonderful, with villagers living in traditional stilt houses interconnected by wooden walkways.
Further south, Pulau Tiga National Park is a jungle-covered island with everything from mineral mud pools, thanks to its volcanic origins having erupted just over a century ago, to proboscis monkeys. The north coast is favoured by hawksbill and green turtles, which lay eggs on nearby deserted islands such as Lankayan. Turtle poaching remains an issue, which is why Turtle Islands National Park in and around Selingan Island was set up to protect them. However, it does get packed with visitors, and you have to book well in advance to get an overnight visit. Do look into other smaller islands along this 'Sea Turtle Corridor' with marine marvels such as whale sharks and yellow tail barracudas. And bring your snorkel.
You will also need your snorkel if your journey takes you to Sabah's east coast where island idylls like Pom Pom and Sipadan are divers' dream territory. The former's reefs attract manta rays, sea turtles, cuttlefish, sea turtles and even the odd whale shark and the latter is famous for its "tornadoes" of barracuda as well as parrotfish, white-tipped reef sharks and sea turtles.
Rich culture
It is hard to comprehend that there are 32 ethnic groups in this little state, speaking over 80 languages. The rice-farming and rice spirit-honouring Kadazan-Dusun is the largest group, followed by the seafaring Bajau. These "sea gypsies" are famous for their stilt houses in the shallows, and rarely venture onto land. Apart from visiting markets or going to cultural events during your holiday, you can also choose a homestay. The MESCOT community along the Kinabatangan River has a wonderful set up for this; guests can stay with local families in a Rungus longhouse and learn all about local cuisine and traditional practices such as tea picking.