There is a beautiful traditional craft in the Malaysian state of
Sarawak
, in Borneo, of weaving backpack-style baskets, called
tamboks
. They look stunning, they are durable, very sustainable and you can fit a lot in them. But they are also in danger of dying out, as the indigenous people who make them, collectively known as the Bidayuhs, are upstaged by less natural and more commercial products. No one wants to stop progress, of course, but in terms of Sarawak tourism, preserving its timeless qualities and natural ways is what it should be about. Because just like the beautiful baskets, this is a stunning state, with some of the most durable and dramatic landscapes, sustainable and community led tourism projects and, if you spend even a week here, you can pack a heck of a lot in.
The state of Sarawak is just one of several regions on the island of Borneo but is actually the same size as England. It was also founded by an Englishman, James Brooke, the first of the British dynasty of White Rajahs who ruled the state between 1841 to 1946. The state gained independence in 1963 when it came under Malaysian rule. Its history is, therefore, somewhat complex and important to understand, because it emphasises the fact that this is not just another part of Borneo but, in many ways stands alone, with so many stories to tell.
Sarawak's nature stories
It is extraordinary to think that, in just one state, there are
30 national parks
. And herein lie Sarawak's nature stories. Protecting its rainforests, mountains and coastline is of such importance here that some of the national parks aren't even open to the public. The ones that are, however, will take you into other worlds. Such as Gunung Mulu which is famous for its geological glories, with limestone gorges, jagged peaks and giant cave systems, as well as tropical swamps and rainforest. The best way to explore it is on guided hiking trips, such as the two- to three-day Pinnacles Summit Trail, or the infamous Headhunters' Trail. Yep, Sarawak has great tales to tell.
Sarawak also has great names for its major players, such as Gunung Gading National Park, with mountain peaks, waterfalls and, most famously, one precious flower that people go on pilgrimages in search of: the Rafflesia, the largest flower in the world. Bako National Park's major player is also pretty quirky: the proboscis monkey. Endemic to Borneo, this bizarre-looking primate has a large, protruding nose and is an endangered species. Just 37km from the state capital of Kuching this national park is home to many other wonderful creatures such as pangolins, wild boar and flying lemurs.
The biggest story in Sarawak, however, is that of the endangered orangutan, which is found only in Borneo and on the Indonesian island of Sumatra. Batang Ai National Park is home to Sarawak's largest orangutan population, and it works in close partnership with the indigenous Iban people who have been stewards of these forests and their most revered creature for generations. Read more about
Batang Ai here
. You can also see Sarawak's orangutans in its exemplary wildlife sanctuaries, created to protect orphaned or injured orangutans, the top ones being Semenggoh and Matang.
Our top Borneo Holiday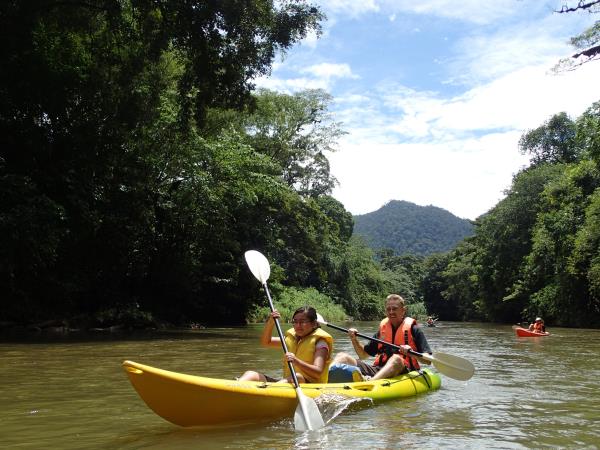 An action-packed holiday got the whole family to enjoy!
From
£995
9 days
ex flights
Tailor made:
Everything is tweak-able, giving you the freedom to build a unique and personal trip for your chosen date. Upgrade your accommodation for all - or just part - of your trip, slow down the pace with few extra nights here and there or add a few more active adventures along the way.
If you'd like to chat about Borneo or need help finding a holiday to suit you we're very happy to help.

Sarawak's real life stories
Sarawakian stories really are page turners when it comes to its wonderful array of people and culture. Half of Sarawak's population is made up of Malays and Chinese, while indigenous tribes make up the other half. The state's largest tribe is the Iban, and there are many opportunities to spend time with the Iban people and stay in their traditional long houses, or canoe the rivers with them, wildlife watching and discovering the rainforests and mangroves. The Iban, along with the Melanau people, comprise the Sea Dayaks who live along the river valleys. The Land Dayaks live up in the hills; most are Sarawakian Bidayuh and Orang Ulu, which include the nomadic Penans.
Then there are
the Lun Bawang people
who live in the Central Highlands and up on the northern borders in a collection of villages known as the Ba'kelalan. The Lun Bawang people are starting to create community tourism projects now, such as birding and hiking tours.
Sarawak's adventure stories
Adventure tourism is still in its nascence in Sarawak, although hiking to limestone pinnacles in Gunung Mulu National Park or staying in an Iban longhouse homestay rate pretty highly when it comes to having an amazing adventure. A family adventure holiday here can cover a wonderful array of activities, from cycling through the streets of Kuching and frog searching in Kubah National Park, to a jungle boat trip on the Santubong River.
Mountain biking is also becoming more accessible in Sarawak, with cycling holidays that take you along ancient trails and back roads through the Penrissen Highlands. These holidays also usually offer the chance to swap saddle for paddle and go kayaking on the Sarawak River, for example, stopping for dips in waterfalls or explorations of limestone caves. They are often guided by the Bidayuh people who have been navigating these waters, jungles and wildlife-filled wonderlands in traditional canoes for centuries.
The proliferation of caves and limestone karst terrain means that caving and climbing in Sarawak are also now becoming very popular. And the Fairy Cave at Bau, just outside Sarawak's capital of Kuching, is one of the most popular spots. Hardly surprising, given its eight vast natural walls boasting over 80 climbs, all monitored and managed by the International Mountaineering and Climbing Federation (UIAA).