Travelling in Borneo with kids

Borneo's abundant wildlife, child-friendly resorts and dreamy beaches have placed it squarely on the family holiday map Ė but remember; it's no zoo.

Malaysia is far more accessible and family-friendly, with easier flights, better equipped hotels and more developed infrastructure.
Sabah
– with its desert islands, orangutan rehabilitation centre and river cruises – is the easiest region to travel round, although
Sarawak
has delightful cultural experiences to entertain and inspire small minds. Indonesia is for the more courageous family only; those travelling with small children may have a hard time due to its inaccessibility, rustic accommodation and lack of English. Wherever you travel in Borneo with kids, preparation is key – bring bug spray, sun screen, on-the-go-entertainment, and a boundless sense of humour.
Our Borneo family Holidays
Learn all about the orangutan
Sepilok Orangutan Rehabilitation Centre is Borneoís orangutan capital Ė and one of the only places youíre virtually guaranteed to see them. Come during the twice-daily feeding sessions to watch them come down from the trees to the feeding platform, and see playful macaques bouncing around. Kids really will learn about conservation in action.
Explore the shallows
Borneo has some of the most hyped scuba diving spots in the world Ė but little ones can make the most of the underwater wonders by snorkelling in the shallows around the many idyllic islands Ė looking out for colourful reef fish, blue-spotted rays Ė and perhaps even the odd turtle...
Turtle hatcheries
The
turtle hatcheries
found on many of Sabah's islands, including Selingan, Pom Pom and Lankayan, protect the eggs from predators until the tiny hatchlings emerge. They are then released onto the beach to make their way to the sea – kids can watch them crawl across the sand, and know these little creatures may be swimming in these seas for another 80 years.
Read up on
how to tell a good hatchery from a bad one; it can be surprisingly tricky.
Our top Borneo family Holiday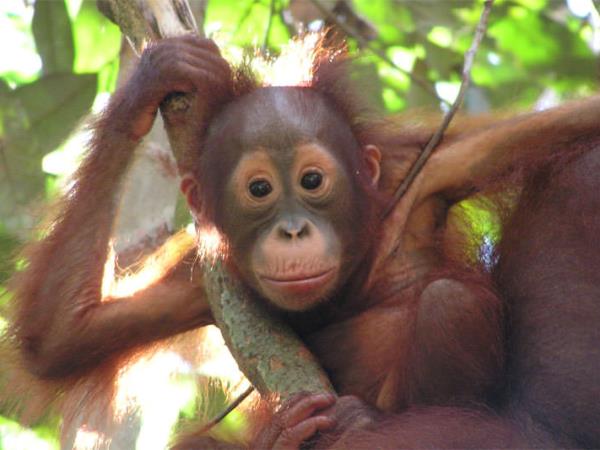 Discover the best of Borneo in just under 2 weeks
From
£2385
10 days
ex flights
Tailor made:
Everything is tweak-able, giving you the freedom to build a unique and personal trip for your chosen date. Upgrade your accommodation for all - or just part - of your trip, slow down the pace with few extra nights here and there or add a few more active adventures along the way
If you'd like to chat about Borneo or need help finding a holiday to suit you we're very happy to help.

Nicki Hollamby is a Borneo expert from our tailor made holiday specialist Audley Travel. Here are her tips on visiting Borneo with kids: ďIf I was doing a family trip, Iíd spend half the time in Sarawak because you can base yourself in Kuching and do daytrips. Itís a brilliant city with plenty of character, and itís more of a cultural capital. Whereas in Sabah, itís all wildlife and beach. In Sarawak you can stay overnight with communities, which Ė when done properly Ė is really great for both the tourists and the tribes. Then you can go kayaking through the mangroves looking for the river dolphins and visit Bako National Park, but itís a daytrip so itís not too intense for kids. Then you come back to your comfortable hotel in the evening, go out and eat some of the local food, go to the markets... but youíre not really isolated in the rainforest, and I think thatís really good for families.Ē
Daniel Waters is a Borneo expert at our friends Wild Frontiers. He offers advice on travelling in Borneo with kids: ďItís a pretty safe destination to travel to; resorts and hotels tend to be kept to a pretty high standard. Itís a lot easier to travel round than you might suspect. There are lodges that look after children very well, and KK (Kota Kinabalu) is a wonderful city for children, itís very inclusive and approachable. In more offbeat areas where there arenít so many facilities it would be more difficult, but on the whole itís a great destination for families. There is a lot of walking involved to get the most out of Borneo, so as long as the kids are able to cope with that theyíll be fine. There are different itineraries though Ė you can do quite an easy Sabah itinerary suitable for any age, but if youíre going into Sarawak, which is a bit more off the beaten path, or into the caves, then young children might be a bit of an issue.Ē