Camino de Santiago walking routes
---
Maps & highlights
Completing the 800km Spanish section of the Camino, all the way from the Pyrenees, means setting aside a good month or two, and walking at a good speed. Fortunately for pilgrims with limited annual leave, or less reliable knees, many tailor made and small group tours start much closer to Santiago and can be completed in one or two weeks, while still making the most of the beautiful landscapes and picturesque towns. Shortening the trip also means your money goes further – so you can stay in hotels rather than dorms, have your luggage transferred for you each day and arrange transfers at the beginning and end of the Camino.

Although there are dozens of different routes – and all walks to Santiago can be counted as a pilgrimage – most walkers follow the popular Camino Francés – the French Way – where lodging, restaurants and facilities are abundant, and you'll enjoy the camaraderie of other pilgrims from around the world.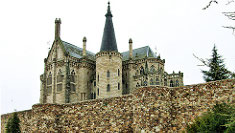 Astorga
Refuel on free tapas with each drink in the pretty town of Astorga, one of the most important cities in northwestern Spain during the time of the Roman Empire. Roman, French, Jewish and Moorish settlers left their mark on Astorga, as did Antoni Gaudi – whose Episcopal Palace here is one of only three of his buildings found outside of Catalonia.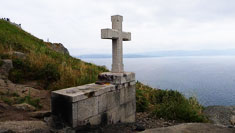 Finisterre
This rocky peninsula was once believed to be the end of the world. Although the Camino ends in Santiago, for many pilgrims there is a great significance in travelling the extra 90km to Finisterre – often by bus – to reach what really does feel like "the end". Some walkers choose to burn their boots here as a symbol of their completed pilgrimage – or you can join a guided tour of this wild outpost.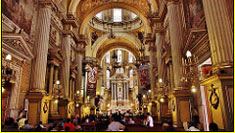 León
A convenient starting point for 2-week itineraries, this majestic city is abuzz with students and pilgrims, and its old quarter and Gothic cathedral feel like appropriate introductions for those beginning their pilgrimage. Get your fix of basilicas, crypts, chapel and the impressive Plaza San Marcos before setting off; some tours whisk you through the less inspiring suburbs to begin your walk in a more rural setting.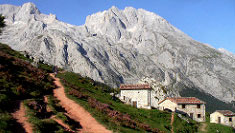 Picos de Europa
This formidable mountain range, which stands squarely on the route of the Camino del Norte, soars up to 2,650m yet is just 20km from the sea. The Northern Way is tough and remote – but there is the option to stay in a traditional village and head out each day to walk different parts of the Camino, taking in the breathtaking scenery without enduring the long, point to point walks of the full pilgrimage.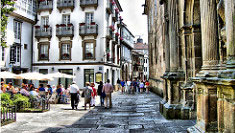 Santiago de Compostela
Taking the final few steps into the plaza in from of Santiago's imposing cathedral is an emotional experience for the pilgrims. This is a fine place to finish your long walk; after visiting Saint James's shrine and refueling with some tasty tapas, wander through the Old Quarter in its UNESCO-rated centre. Don't forget to pick up your Compostela – the certificate of completion – from the Pilgrim's Office.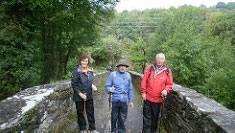 Sarria
Galicia's ancient capital is the starting point for many of the shorter pilgrimages – as it allows you to walk 100km, the minimum distance required to be able to say you have completed the Camino. There are plenty of facilities for pilgrims here. It takes around five days to reach Santiago, leaving Sarria over a Roman bridge and walking through tiny hamlets along the southern slopes of the Sierra del Paramo.



Hello.
If you'd like to chat about Camino de Santiago or need help finding a holiday to suit you we're very happy to help.
Rosy & team.
01273 823 700
Is the Camino de Santiago for you?
---
Responsible Travel recommends
Walk the Camino if...
---
… you want to feel like a pilgrim. It may be hugely popular, but this is no walk in the park. You'll cover distances of 15-21km per day over varied terrain, and the weather is notoriously changeable in northern Spain, so be prepared for sunburns and soakings – sometimes all in one day. It all adds to the sense of pilgrimage though – and this is one of the world's truly iconic walks.
… you want a challenge. Your stamp-filled Pilgrim's Passport, along with the Compostela certificate, are pretty unique as far as souvenirs go. Even more rewarding is the sense of achievement you'll feel on walking into Santiago's cathedral after a week or more of challenging terrain, and sharing the special moment with the other exhausted yet exultant pilgrims.
… you'd like to improve your Spanish. You won't be short of company on the Camino Francés – it's the most popular route, and you'll be trekking alongside others the whole way. It's a great chance to practice your Spanish with other pilgrims – from Spain, or further afield. Alternatively, take a Spanish course in the Picos de Europa – and head out each day after class to walk selected sections of the Camino del Norte.
Don't walk the Camino if...
---
… you're not in shape. You don't need to be super fit to walk the Camino de Santiago, especially if choosing one of the shorter sections – but if you've done no exercise at all, this may not be the trip for you. The hilly nature of the route is a challenge, with knees, feet and toenails all suffering. If you want to enjoy rather than endure your holiday, then planning long walks at weekends, wearing in your walking boots and hiking up a few hills is advised.
… you want to walk in the wilderness. The Camino Francés is a well trodden route passing through cities, towns and villages and lined with albergues and thousands of other pilgrims, especially in summer. This is all part of the experience. If you want to be immersed in nature, try another route – or perhaps forget the Camino altogether and head to one of Spain's many true wilderness areas.
… you're more of a cyclist. There are options to traverse the route by bike instead – covering the route from León in just one week.
Camino de Santiago travel advice
---
Tips from our friends in Northern Spain
Walk your own Camino
---
Rasmus Pedersen, from our supplier Spain is More: "Most people can walk the Camino. Of course you need to be in shape so you'll be able to walk the kilometers, but most people can do a lot more than they think, as long as they walk at their own pace. If you know from the beginning that you can't walk the 'normal' distances, we can split the stages, dividing them into two. Like that, we are able to customise a Camino for almost everybody. If, along the French Route, they want to cross the Pyrenees and see vineyard in Rioja and walk into Santiago in just one week, it's not a problem at all. We will get them comfortably from A to B."
Advice on routes
---

Rasmus Pedersen, from our supplier Spain is More, on his favourite sections of the Camino de Santiago:
"I have several favorite parts. I love the coastal route after Comillas and the five to six stages ahead. The first part of the Primitivo is really beautiful as well. On the French Route, I love the last part – from Rabanal onwards. It's such a cool atmosphere, you meet so many wonderful people and the landscape is really beautiful as well. But I could mention a lot more favorite parts. One of my single stage favorites is probably from Finisterre to Muxia. It's really beautiful."
Advice on routes
---
Ana Rodríguez García, from our supplier Peak Me Languages, which offers Spanish language courses combined with walking sections of the Camino del Norte in the Picos de Europa:
"Don't fully trust the "official" paths. Do a little bit of research before you travel and discover the original routes as some parts have been standardised to prevent people getting lost, but miss some of the most beautiful spots, particularly along the coast. There are lots of reasons, why we recommend the Camino del Norte, but the main three are that it's a lot less busy than the other routes; the landscape is a lot, lot nicer (greener and with a mix of coast and proper mountains); and the weather is a lot milder (not hot in the summer, not as cold as further south in the winter."

Being prepared
---

Saul Greenland, from Responsible Travel's helpdesk team, walked the Camino de Santiago. He shares what he learned:
"I decided to walk the Camino because it was a good way to meet people as a solo traveller. The walk is lovely but it isn't a leisurely stroll like I assumed. I ended up with knee problems on the second day and had to buy a knee brace. I would definitely recommend some walking practise just to get your knees used to it or perhaps some walking sticks for the downhill sections. Also take a good book! I took Nelson Mandela's 'Long Walk to Freedom' and sat under a few grapevines to read in the shade. Although a wonderful book, I would recommend something a little thinner!"
Packing tips
---
Rasmus Pedersen, from our supplier Spain is More: "I normally tell our guests, to wear what they normally would use. If you walk three to six weeks, boots or really good hiking shoes are recommended, but if you walk fewer days, running shoes, trekking shoes or even good sandals in the summer can be as perfect. It depends a lot on the route, time of year, weather and your shape – and if you are a fast or a slow walker."
Camino de Santiago travel advice
---
Tips from our travellers
At Responsible Travel, we think the best people to advise our travellers are often... other travellers. They always return from our tours with packing tips, weather reports, ideas about what to do - and opinions about what not to.

We have selected some of the most useful Camino de Santiago travel tips that our guests have provided over the years to help you make the very most of your holiday.
"Walking into the square in front of Santiago cathedral after walking 111 kilometres to get there, the emotion of achieving it and the realisation there was no more walking overwhelmed me. The square was filled with other pilgrims each one full of the same joys. It is all about the feet and you cannot have too many Compeed blister packs! A good pair of rugged footware and the best hiking socks will repay the investment. Be in the moment, if you think how far you have to go to finish you will be overwhelmed. We stopped every 45 mins for a drink of electrolytes and a shared energy bar. Smile, everyone is on the same walk and all are your companions. The Camino walk is hard but it repays in so many ways. You grow in your belief of yourself. The scenery is stunning and the walks so peaceful. A week where cars were rare and the sound off birdsong was the noisiest part of the day, what's not to like!" – Tony Finn

"Although this was our third time walking the Camino Santiago de Compostela. It was still as fantastic spiritual experience as our first. I do not think that there is a walk like it. Prepare well and walk at your own pace if walking as a group spread out so that everyone can go at their own pace. Do not let yourself be pushed to fast it leads to injuries and possibly worse blisters… this is the most spiritual walks available and having the bags brought from hotel to hotel meant that all we had to carry was a small day pack. We walked the Camino in a holiday mode. The small hotels were a joy to stay in and will give us confidence of arranging holidays in hotels in out of the way places where the locals do not have a lot of English." – David Lohan

"I'd buy and wear in a decent pair of lightweight walking boots. Ignore people who say it can be done in flip flops. The Way is uneven in places and you are dependent on the state of your feet." – Maire Lowe

"Pack lots of layers outside of summer. We were there in late March and although it only rained properly on one day it generally felt colder in the village than the temperature indicated as it was quite damp." – Paula Rutherford in the Picos de Europa

"The afternoon walks along the coast (Camino del Norte) were well organised and brilliant fun. I brought trekking poles for the first time on a walk and found them useful when we climbed one of the Picos. They were invaluable when we climbed La Ruta del Careas." – Helen Kearney, learning Spanish and walking the Camino