Where to go on a Croatia small ship cruise
---
ADRIATIC ANCHORAGES
If counting sheep doesn't help you drop off, then look at the map of Croatia's coastline and start to count the islands. You are unlikely to find them all before slipping into the dreamiest of sleeps. And they are seriously dreamy, all 1,200 of them. Divided into different groups, such as the Northern Islands, including Krk, Croatia's largest, up near the Istrian Peninsula. Or the Zadar archipelago, home to low lying islands like Olib and Molat. The Central Dalmatian archipelago has Brac with the highest peak of all the islands, and Hvar with the highest disposable income per visitor, as this has long been land of the posh and plenty. And then there is the island of Vis. Which is a microcosm of all the islands. And aptly rhyming with… bliss.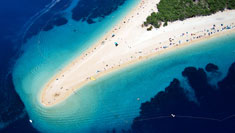 Brac Island
Brac is the largest island in the Dalmatian archipelago with the highest peak in the Adriatic, Mount St. Vid (780m). So hiking here is a treat, through ancient villages some of which date back to Roman times. From here you can get a stunning a view of the island's biggest attraction – the white limestone pebbled peninsular beach at Zlatni Rat. The small fishing town of Bol is also a treat.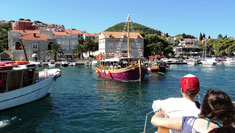 Dubrovnik
One of the most exciting ways to see this magnificent medieval city is from the water, as far away as possible from the obscenely large cruise liners that take over the port. Also your tour operator can organise an overnight stay at the top or tail of your trip so you can take in every aspect of this UNESCO utopia at your own pace, such as the walled city itself or a cable car trip up to Mount Srd.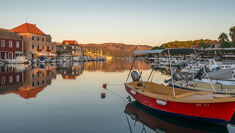 Hvar Island
As well as being the longest island in the Adriatic, it also has the largest collection of wallets, having been the sought after holiday island for the uber wealthy for many years now. Go beyond the main town for natural, 'unworked' beauty, with tiny fishing towns like Stari Grad or Vrboska. Hire a bike to explore, or enjoy the historic highlights of its Renaissance cathedral and 17th century community theatre.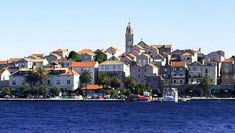 Korcula Island
Part of the Central Dalmatian archipelago, and just off the Pelješac peninsula, Korcula town not only has a fortified centre, ancient tiny streets and traditional houses but also a Gothic-Renaissance cathedral bang in the middle of it. It is said to be the birth place of Marco Polo and, inspired by him, you should explore away from the busy centre out to the pine forests, secret coves and vineyards.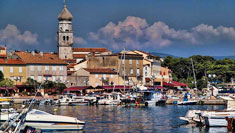 Krk Island
Adjoined to the mainland by a bridge, this island has a strong north south divide, as the north is pretty barren, laid waste by the 'bura' wind, and the south is green and grapevine filled. With rich woodland, there is also a plethora or pathways for taking a walk that leads you to an idyllic waterfront. Or just enjoy the island's tavernas where the local Vrbnicka Zlahtina white wine is always flowing.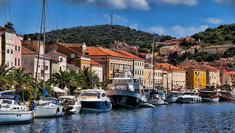 Losinj Island
It sounds like a lozenge and it feels like a tonic too. With healing powers that include the prolific pine trees, extraordinary clear waters and, everyone's favourite form of therapy, bottlenose dolphins, Losinj is a place to lose yourself. There are also over a thousand wild herbs growing here, which you can sample at the Aromatic Garden. Hard to get to without a boat, it gets less crowded than other islands.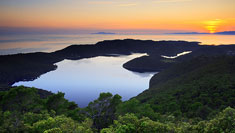 Mljet Island
Mljet has been settled by everyone from the Romans and Byzantines to the Austrians over the centuries. It is now almost wholly protected by national park status, thanks to its eco eclectic landscapes, including two seawater lakes in its interior, created by monks who lived on an islet in the lake and built a tunnel out to the sea. Visit this former monastery at Melita – a perfect lunch spot.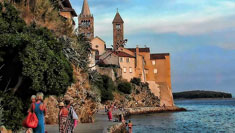 Rab Island
This island is famous for having been the skinny dipping shores of romantic runaways Edward and Simpson and it is still a naturist heaven, with 22 beaches in all (not all nudies so don't worry). It is all round heavenly, a green and pine tree laden idyll in Kvarner Bay between the Istrian Peninsula and the mainland. Rab Town is another stunning medieval walled town, with boutique and café filled alleys.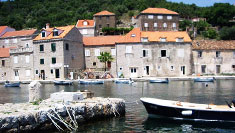 Sipan Island
The largest of the Elaphiti Islands, it was much favoured by Dubrovnik's great and good of the 14th century who built stunning villas among its fecund hills bedecked with olives, figs, vines, oranges and almond trees. A wonderful island for walking, follow the route between the island's two villages of Sudjuradj and Sipanska Luka, looking out for ancient churches along the way. And a few of those old villas too.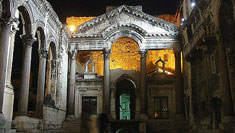 Split
A start and end point for many Dalmatian small ship cruises, but it is definitely worth taking time to explore this ancient city, the second largest in Croatia. It has ancient marvels such as the remains of Emperor Diocletian's Palace, now a hive of café and consumer activity, but also quieter areas such as Getski vrtal Park inside the walls, Varos, the traditional fishermen's area and Marjan Hill, overlooking the city.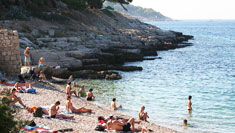 Vis Island
Vis was closed to visitors for years as it was an important naval harbour, and therefore maintained its traditions and unspoilt rural landscapes. Vineyards still thrive (local red is Plavac) and ancient 'villae rusticae' still thrill. Roman remains such as the thermal palace are worth visiting, but best thing to do here, apart from savouring the swimming bliss on Vis, is to eat. The slow food scene is exemplary.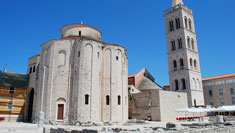 Zadar archipelago
Only 20 of these hundreds of islands are inhabited, with stupendously tranquil spots such as Molat Island, perfect for hiking through maquis and pine forests. Or the Kornati Islands National Park, where karst limestone islands and islets are spectacularly sparse in terms of people and plant life. The mainland town of Zadar is Croatia's oldest, with a Roman forum and pre-Romanesque St. Donat's church.



Hello.
If you'd like to chat about Croatia cruising or need help finding a holiday to suit you we're very happy to help.
Rosy & team.
01273 823 700