Fitness holidays map & highlights
---
where to go on a fitness holiday
When choosing where to go on a fitness holiday, the key is to pick which activities interest you, as each holiday takes place in the most suitable landscape for that activity. Trail running in the Pyrenees, swimming in glacial Slovenian lakes, surfing off the wild Welsh coast and cycling in Girona – one of the world's cycling capitals; each destination is perfectly paired with your exercise of choice. Although some holidays are based in relatively remote regions, an hour or more from the nearest airport, they tend to be small group holidays so transfers will be included, meaning you can focus on fitness, not logistics. And in between all the sprints and circuits, there will be time to explore the surrounding area – from clifftop castles and quaint villages to national parks and Alpine foothills.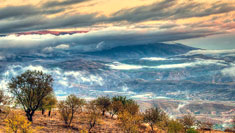 Alpujarras
A fitness holiday the Alpujarras takes advantage of Andalucia's gorgeous climate, the healthy and delicious Mediterranean/Moorish cuisine, and delightful Sierra Nevada scenery that keeps your mind as revitalised as your body. Daily private sessions with renowned personal trainers are tailored to your body and your needs, with intense HIIT and circuit workouts interspersed with restorative hikes in the countryside.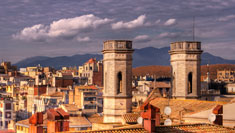 Catalonia triathlon
If the word "triathlon" brings to mind images of superhuman Olympians and unachievable strength, a triathlon holiday in Girona province – beloved of pro cyclists from around the world – may make you think again. Aimed at beginners, you'll be taught cycling techniques, handling and basic maintenance, swim in a lake and learn how to avoid injury – all against a jaw dropping Catalan backdrop.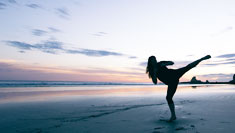 Northern Costa Blanca
The Costa Blanca's hedonistic reputation may be the antithesis of "fitness" – but boot camps, beach circuit training, mountain hikes, yoga and Pilates classes and spa facilities could just change all that. Head here for a long weekend for maximum results with minimum time off work, or immerse yourself in a full week of classes and indulgences – with beach walks and massages to reward you for your hard work.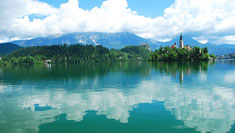 Slovenia lake swimming
Tucked in between the Alps and the Mediterranean, Slovenia's glacial lakes are perfect for a swimming holiday surrounded by pure nature. Triglav National Park, in particular, offers clear lakes (without motorised boats) suitable for swimmers of all abilities, including absolute beginners. Daily swims average 4km, with plenty of time to take in the nearby waterfalls, Julian Alps and clifftop castles.
Pembrokeshire
You don't always need to head to exotic destinations to take part in adventurous activities. A long weekend in north Pembrokeshire offers wild coastline, surfing, Atlantic swimming, coasteering and woodland running trails, which boost fitness levels while enjoying the great outdoors. Based in a cosy ecolodge, you can take dance fitness classes or try yoga on the beach, before a well earned massage and dinner.
Trail running in Spanish Pyrenees
The Pyrenees host some superb holidays with a focus on trail running and hiking. Daily runs take you over mountain passes and along dramatic ridges via dirt roads and single track. Walking options are a great idea for non-running partners, and activities are coordinated to ensure you spend time together. Your home for the week is a beautifully renovated 17th century farmhouse near Ordesa National Park.


Fitness holidays travel advice
---
Responsible Travel
Julie Slade, from our supplier Real Boot Camp Spain, shares her top tips for anyone thinking of going on a fitness holiday:
How strict are the retreats?
---
"Our programs are based on a holistic and supportive approach which gives great and sustainable results; no early starts, no sharing with strangers, no military trainers, no shouting. The food is prepared fresh each day by our dedicated chef and his team; it's super delicious and even includes healthy snacks and dessert. It's important that each guest benefits from great clean nutrition to support a healthy mind and body!"
Preparing for & choosing your fitness holiday
---
"Decide what your personal goals and priorities are and tell the retreat so that they can work with you to ensure that you gain the maximum benefit from your time there. Ask yourself what type of location gives a boost to your wellbeing. Do you love to be by the sea or want to be up in the mountains, for example? And then choose accordingly."
Who comes on these holidays?
---
"Our guests travel to us from all over the world. We see medical professionals, lawyers and barristers, business owners, stay at home mothers, retired professionals, and all fitness levels. There are guests recovering from injury and health issues to triathletes which always makes for very interesting and fun groups! The part we really love? We see amazing friendships made at the retreat."
Food advice
---
Nicole Stone, from our supplier, Yoga Breaks in Spain, explains why she serves vegetarian food for her guests: "Serving a vegetarian diet on a yoga retreat is better for your guests because vegetarian food is less taxing on the digestive system, so it means that people feel lighter and more energised when they are doing their yoga classes. If they've been having heavy, rich food and eating three courses in the evening washed down with wine then they will feel lethargic, which isn't how we want them to feel. Some people will query it and ask for some chicken or fish and we do cater for that because we recognise that not everybody wants to make a total commitment where their diet is concerned."
Julie Slade, from our supplier Real Boot Camp Spain: "If you normally drink lots of caffeinated drinks, cut the quantity down or out beforehand, increase your fresh water intake, try to boost your consumption of fresh fruit and vegetables and to generally improve your nutrition beforehand so that a new super clean and healthy diet is a natural progression on your way to improving your health."
WHAT TO PACK
---
Nicole Stone, from our supplier, Yoga Breaks, on what to pack for a yoga holiday: "Every yoga retreat will have all of the mats, blocks and other equipment you'll need for your yoga holiday, so I think it's a good idea to take some things to pamper yourself with because it's likely you'll have relaxation time off every day. Consider packing face masks, hair masks, maybe some nail varnish for a manicure and a pedicure in your downtime. We don't have enough time for self care in our fast paced lives these days, so bring things that you can reward yourself with – some music, good books, comfy slippers and things that will help you slow down and nurture your wellbeing because that's what a yoga holiday is all about."
Fitness holidays travel advice
---
tips from our holiday reviews
At Responsible Travel, we think the best people to advise our travellers are often... other travellers. They always return from our tours with packing tips, weather reports, ideas about what to do – and opinions about what not to.

We have selected some of the most useful fitness holiday travel tips that our guests have provided over the years to help you make the very most of your holiday – and the space inside your suitcase.
"Pack loads of fitness gear – the apartments do have washing machines so take washing tablets. Go with an open mind and try all the activities. Treat yourself to a massage or some of the lovely treatments on offer." – Sara Burdett on a luxury fitness holiday in Spain
"Stop drinking coffee a few days before arrival to avoid caffeine withdrawal problems. The retreat is very relaxed so no need to pack any dressy clothes." – Diane Tams
"If you like trail running, you'll love this holiday. Hill training is good idea prior, but the guides were able to cater for different levels of fitness and pace without any issues… fantastic guides were able to provide both the local knowledge of the Pyrenees mountains and years of experience of trail running. We were treated to fantastic runs with simply stunning views every day. I'm struggling to pick any one run as the best one, as each one had something a bit special. The word "WOW" was used a lot! Simon and Lucy grew a lot of the veg we were eating, so fresh it was picked less than an hour before we were eating it. Just fantastic!" – Gillian Russell on a trail running holiday in the Spanish Pyrenees
"Buy a Robie, my pal Victoria had one for changing and we all looked on with envy!" – Craig Thomson on a Slovenia lake swimming holiday
"As the leader said 'this is a yoga holiday not a yoga retreat'. If you want asceticism this may not be for you, if you want some comfort with your exercise this is a great combination." – Anna Bradley on a yoga and Pilates holiday in Spain

Hello.
If you'd like to chat about fitness holidays or need help finding a holiday to suit you we're very happy to help.
Rosy & team.
01273 823 700