Mercantour National Park holidays
We all think that we have our geography of France nailed, and yet few people have even heard of Mercantour National Park. Just an hour north of Nice, Mercantour's riches are all natural, boasting over 600 km² of Alpine terrain, sandstone gorges, glacial lakes, ancient shepherds' trails and a few tranquil villages. You can even take a mountain train up there from Nice to start a hiking holiday in and around this exquisite elevated landscape. A landscape where the Alpes-Maritimes segue into the Alpes de Haute-Provence in the most sumptuous way.
Our France Holidays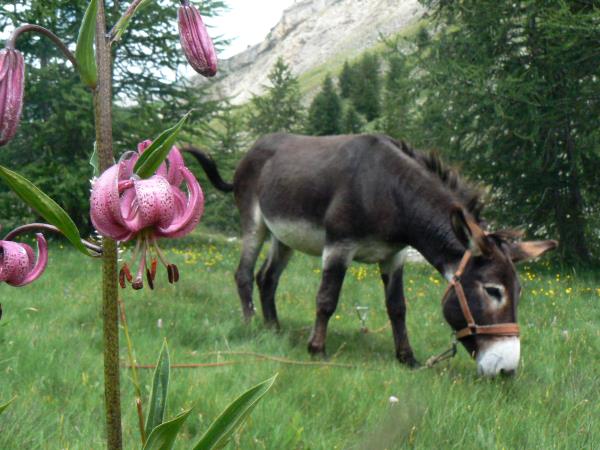 Family walking tour with a donkey in Southern French Alps
From
€680

to

€750
6 days
ex flights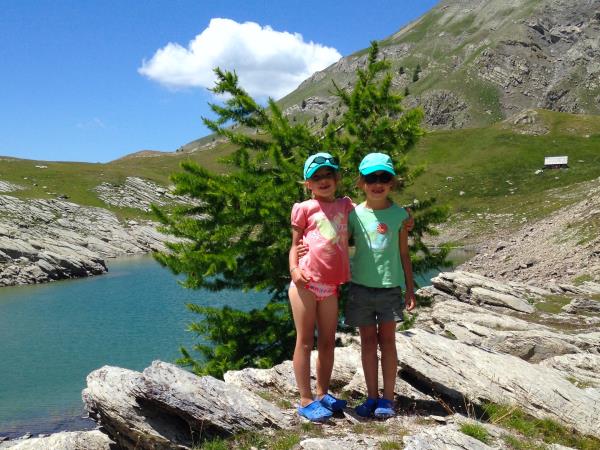 Multiactivities for family, French Alps, ecolodge and yurt
From
€610

to

€710
7 days
ex flights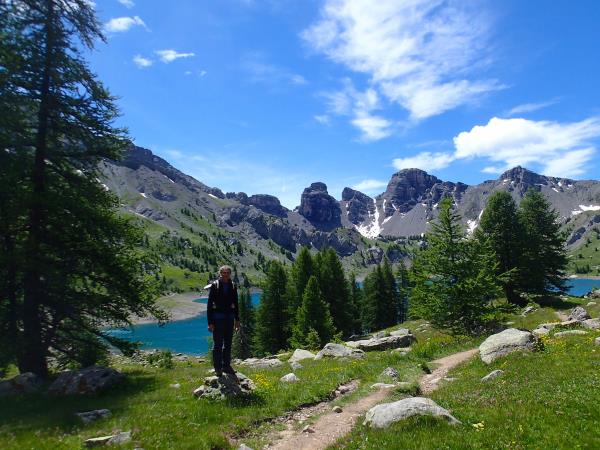 Walking holidays, French Alps, Wild Mercantour national park
From
€680

to

€750
6 days
ex flights
The Mercantour donkeys
One of the quirkiest aspects of the Mercantour is that it has become known for its donkeys. Our favourite holidays in this region include trekking to the likes of Gorges du Daluis, a 6km long red canyon formed by the River Var, or in the shadow of Cime du Gélas – the park's highest peak at 3,143m – accompanied by a locally bred donkey. There are over 600km of walking trails within the park, the most famous being the GR52, one of several walking paths known as Grandes Randonnées (GR) which traverse Europe. Many of these trails have been used by local people with their donkeys for generations, so you will be following in some very well ensconced hoof prints.
These walking trails are waymarked by iconic red and white markers along every route, as well as corresponding numbered signposts, so self guided walking is very much on the cards. And when you have a local donkey to accompany you, you will soon realise that you have a natural guide with you too – if a little obstreperous at times.
Hiking over homework
If ever you wanted to take your children on a walking holiday but know that most kids would rather do hours of homework than hike, then a family walking holiday in the Mercantour is the way to go. Because when you put an adorable donkey into the picture, they are suddenly at one with the mountains. They are Shrek to Donkey, Winnie to Eyeore. If they are young enough, usually under six years old, they may even be able to do some sections on the donkey's back, but it all depends on the amount of luggage that you bring with you, as there is a weight limit that donkeys can carry without kicking your ass.

As well as breeding donkeys, the family who organised our trip and cared for our family are also expert mountain guides, conservationists, chefs and – most of all – hosts extraordinaire.

You won't need much luggage when exploring Mercantour National Park, however, as everything is organised for you. There are also no big resorts or chalet chic scenes to impress with your designer mountain gear. You may pass a few shepherds along the way, taking their livestock up to high ground for the summer, a traditional farming method known as transhumance. You may meet a few climbers taking on the Gorges de Daluis' dramatic drops and sculpture-like rock formations. And you may bump into a handful of fellow walkers at the mountain refuge by Lac d'Allos, but nobody cares what you look like when you crawl out of bed to watch the sun rise over this glassy lake, which reflects Mercantour's mountains magnificently.
Mercantour wildlife
What you will need to pack are binoculars, as Mercantour is not only protected by national park status because of its vertiginous valleys, ancient larch woods and glacial lakes; but also for its wildlife habitats. There are over 50 mammal species that call the Mercantour home, including chamois, red deer, wild boars, Alpine ibex, hares, marmots and, most famously wolves. Thought to be extinct in France since the 1940s, a pair of grey wolves was discovered in the Mercantour in 1992, having wandered over from Italy. The population has grown since then, and you can go on a wolf tracking holiday or just pop into the Alpha Wolf Park in Le Boréon for more information and to see some of the wolves in their care.
Our top France Holiday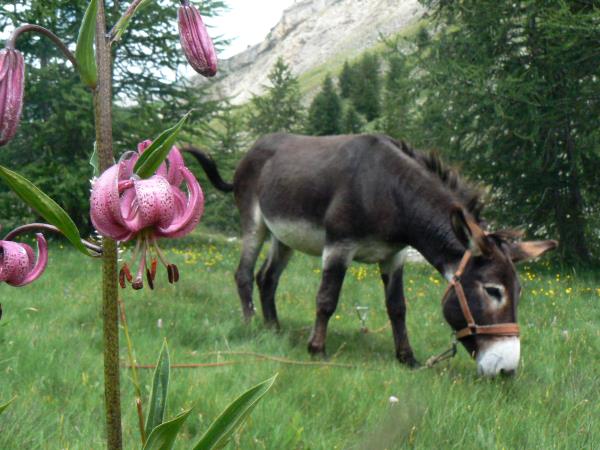 Family walking tour with a donkey in Southern French Alps
From
€680

to

€750
6 days
ex flights
Tailor made:
This trip departs from mid-May to end-September; best time to go is springtime for the flora
If you'd like to chat about France or need help finding a holiday to suit you we're very happy to help.

Mercantour's hiking highlights
If you are hardy, you may want to pack your swimsuit on a trip to the Mercantour, especially if you take on a walking circuit that covers all of the Lacs des Millefonts. These are four stunning glacial lakes named simply Lac Gros, Lac Petit, Lac Rond and Lac Long and like many of the walks in the Mercantour this circuit is not too challenging.
The wonderful thing about walking holidays here is that they are tailor made to suit your walking experience and ability, so you could take on an extra col here or there if you want to. Such as the Col de Valberg at 1,672m or the Col de Barn at 2,452m, with has a superb view across many peaks and over the Italian border. You can base yourself at an ecolodge in the pretty mountain village of Villeplane and just do different walks every day, with or without donkeys, as this a much loved home to many of these pretty pack animals. You can also take on many of these walks on a snow shoeing and winter walking holiday between December and February with the guidance of a mountain expert. The donkeys are resting up at this time of year though; the Mercantour's stars need their rest after all.
Mercantour & the Med
With the Mercantour's proximity to both the Mediterranean and to Italy, there are two aspects to walking here that make it even more special than some of the northern mountain regions. First, the weather. Although the snow may not melt until as late as April, once that Mediterranean influence starts to rise up into the heights, it can get gloriously hot here. Second, the food. On a walking holiday where you go from gite to gite, or auberge to chalet, our responsible tour operators make sure that you get to sample lots of the local specialities, which are hearty mountain fare with an Italian twist. From home made ravioli to local cheeses and charcuterie, and no shortage of local wine. All in all, the Mercantour is a place that would even bring a smile to Eeyore's face.