Travelling with kids in France
A shorter hop from the UK than it is to travel from one end of the tube to the other, travelling with kids in France is a breeze – it's like a giant outdoor playground for all ages. Lots of families get their toddlers out of nappies and onto skis, but the Alps and Pyrenees are prime walking spots too, and then there's all the fun of the off-piste fair: sledging, snowshoeing, hiking to massive ice caves, whitewater sports and mountain biking – the universal language of teenagers, surely? Throw in national park wildlife, coastal toe-dipping in shimmering turquoise seas, and the glorious fact that you can happily wine and dine en masse until gone midnight and everyone's a winner.
Things to do in France with kids
Mountain trekking
Exploring mountain paths and staying in
auberges
or
gites
along the way is popular with families of all ages; some treks are suitable for kids as young as four.
Trekking with a donkey
to help carry your bags is a particular favourite with families - a real adventure that adds an exciting dimension to 'going for a walk', often be met with an unenthusiastic moan at home.
Outdoor sports
Fresh air and adrenalin: the two things guaranteed to transform your teenager from an incommunicative being to a smiling, screaming thing of joy. From simple cycling to throwing yourself down rapids, the options for outdoor sports in France are endless, and a handy opportunity for mum and dad to up their cool quotient too.
Horseriding
The calming clip-clop of hooves, exhilarated laughter from your little ones and the sight of sun-dappled forest are just three of the relaxing perks of horseriding, a popular French pastime for kids ages 5 and up. Plus, you get to see acres of beautiful views without barely lifting a finger. Bliss.
Our top trip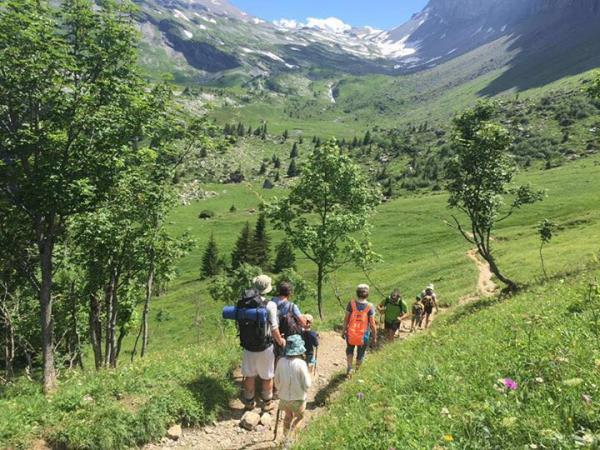 Life enhancing family adventure & yoga in the French Alps
From
£1195
8 days
ex flights
Small group travel:
2024: 20 Jul, 27 Jul
If you'd like to chat about France or need help finding a holiday to suit you we're very happy to help.

Sally Guillaume, from our supplier, Undiscovered Alps, shares her advice on travelling in France with kids:
"In the summer particularly we get lots of families visiting the Southern Alps, especially with teenagers; I would say that France overall is a great destination for families, but the mountains are probably best for children aged seven and upwards simply because children of that age can get involved more with the activities. The most popular activities for teenagers are canyoning, whitewater rafting and via ferrata – often the parents do all of the activities alongside their children, but you don't have to be an outwardly adventurous family to get involved, although part of the fun for teenagers is definitely seeing their mum go down the canyon; it's a great opportunity for family bonding and raises the kudos of the parent in the child's eyes!"
Chloe Knott, from our supplier, Exodus, shares her advice on travelling in France with kids:
"France is very suitable for families. There are a lot of different areas and a very diverse terrain, so where to go depends on what style of holiday your family wants. If you want a multi-activity holiday in the Dordogne for instance, it's best to travel with kids of age five and up because it's helpful if they can swim and cycle to get the most out of it. There are more coastal areas where you could happily take any age child and Provence is great for families who are happy to spend their time relaxing and looking around the fantastic markets there. The characteristics of the Alpine areas are predominantly steep surrounding valleys and even with the more gentle hills, more effort is required, so I wouldn't recommend that for younger kids."