Things to see & do in the Dordogne
Also known by its old name of Périgord, the staggeringly pretty Dordogne is a region of deep forests, spectacular river gorges and honey-coloured bastide (fortified) towns. Not to mention some of the world's oldest prehistoric paintings and a plethora of cave curiosities. And its local produce reflects the down-to-earth beauty of its land too – farmers markets are piled high with cheeses, cepes mushrooms, walnuts and black truffles, while local restaurants cook up some of France's best confit de canard.

Travelling by canoe gives you a front row seat to clifftop chateaux, medieval towns and glorious woodland, all tied together by a rich history and even richer local cuisine.

Dreamy days spent drifting down the Dordogne's eponymous river are what holidays here are all about. Forget hiring a car, hire a bike or hike to reach off-river attractions, or escape into the dense forests and rocky grasslands of the Périgord Vert – where you'll have the Dordogne, and a smattering of tiny villages, all to yourself.

"The beauty of canoeing is that even in the summer heat, down on the river, temperatures are refreshingly lower than on land"

– Donna Webber, from our canoeing experts Headwater
Canoeing holidays along the Dordogne are less intensive exercise and more idyllic drifting. You will need to be able to swim at least 50m fully clothed but aside from that no experience is necessary. Time on the water is kept manageable, covering distances of 15 to 20km (three to six hours of paddling) per day – with plenty of time for swimming, picnicking and exploring the pretty villages you pass through. And with the gentle river current helping you along this is a relaxed and enjoyable way to get your fill of the Dordogne's chateaux, caverns and food markets without the need to hire a car.
What does a canoe holiday entail?
Canoe holidays are self guided, so you'll be in charge of your own craft and travel at your own speed. But don't worry, you won't simply be chucked on the river and waved on your way. Your Dordogne canoe specialist will give you a detailed safety briefing and a chance to practise your river skills on a quiet section of river before you set off, and will provide you with detailed route maps, suggestions for optional activities and transfer your bags between hotels for you. All you'll need on the river will be some lunch – some days this will be a picnic provided by your hotel – and your daily essentials. Sun cream, your camera and a hat are a must!

You won't be canoeing every day either. You'll generally spend two nights in each new town – meaning you spend one day canoeing there and another exploring the area. Rather than hire a car, consider renting a bike to reach off-river attractions. Medieval Sarlat, precariously-perched Rocamadour and the impressive underground limestone galleries at the Grotte de Lacave are all within easy pedalling distance.
Donna Webber, from our canoeing, walking and cycling specialists, Headwater, shares insights on the support you can expect on a self-guided canoeing holiday along the Dordogne: "Support is provided by our local reps, who will provide your briefing on whichever activity you have chosen, running through the routes and getting you kitted out with bikes/canoes/kayaks as appropriate. They also provide any transfers and most importantly, move your bags so you don't have to. They are unobtrusive and work away behind the scenes –but are only a phone call away if you need them."
Can I take the kids?
A resounding yes! As long as your little ones are aged eight years old and above, and like you can swim at least 50m fully clothed. You can either choose to keep your kids with you in two-and-three man canoes, or, if they already have some experience, children aged 12 and over can have their own one-man kayak for the trip. If you're hiring bikes on your off-river days then remember as well that in France it is a legal requirement for children under 12 to wear a helmet. Bring your own as helmets may not be available to hire.
Our top France Holiday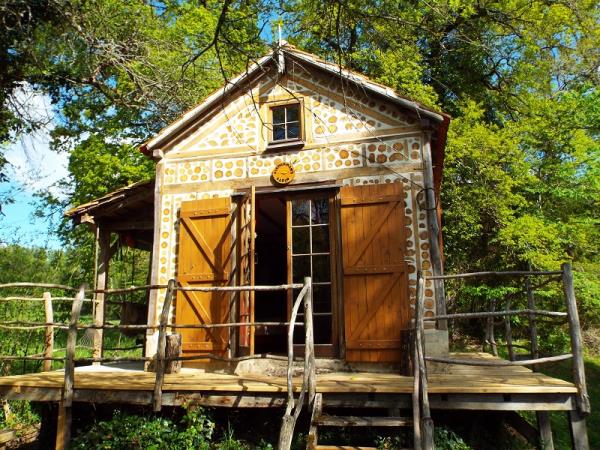 Off-grid, off-beat self catering cabin
From
€690

to

€960
per week (sleeps 2-4)
Accommodation
If you'd like to chat about France or need help finding a holiday to suit you we're very happy to help.

Dordogne River
The Dordogne's pièce de résistance is, without doubt, its eponymous river which in a delightful meandering fashion connects some of the region's loveliest towns. Explore by canoe for the best views of chateaux perched atop steep limestone cliffs and pretty villages carved into the rock face, with plenty of time for swimming at hidden river beaches and stops for picnics of tasty market produce.
Périgord Noir
A corner of the Dordogne named, not for its plethora of delicious black truffles, but for its deep forests which overhang the river and link its honey-coloured towns (medieval Sarlat-la-Canéda is a highlight) and the prehistoric art-filled caverns in the Vézère Valley. If you want the 'Black' Périgord, to yourself you'll need to come out of the summer high season – try December for its famous truffle markets.
Périgord Vert
This is untouched Dordogne at its finest. A world away from the river and the busy cobbled streets of Sarlat, the 'Green Périgord' offers a haven of wilderness, woodland and rocky promontories, interrupted only by a smattering of pretty villages and hill-top chateaux. Stay in an off-grid cabin in the woods for perfect Périgord peace, with local famers' markets a short cycle away.
Prehistoric art
Some of the world's most significant sites for prehistoric art are found in the Dordogne. Don't miss the spectacular Lascaux Caves in the Vézère Valley, discovered in the 1940s by four teenagers searching for their lost dog. Tours now take you through atmospheric reproductions – visiting the real thing has irreversibly damaged the caves' paintings – and can be combined with other prehistoric sites in the area. Visit outside peak season to avoid the crowds and make sure you book in advance to avoid disappointment.
Sarlat-la-Canéda
While the Dordogne has a veritable cornucopia of pretty towns, ancient Sarlat takes the crown. This is a perfectly-restored medieval masterpiece of honey-coloured stone, with a car-free centre and a famously mouth-watering food market on a Saturday morning. Avoid the fois gras though, it may be a Sarlat speciality but production methods are cruel and involve force-feeding caged ducks and geese to artificially enlarge their livers.
The Lot
We use the term Dordogne loosely; the delights of this region aren't constrained by something as trifling as departmental borders. Don't ignore the neighbouring Lot, where the Dordogne River flows through some of the area's prettiest – and most dramatic – towns, like clifftop Rocamadour and medieval Carrenac. Or where a crystal-clear underground river flows through enormous stalactite-filled caverns at the Gouffre de Padirac.
Diane Kirkwood, owner of our off-grid Dordogne holiday accommodation Covertcabin shares her love of the little-visited Périgord Vert: "Tucked away at the northernmost tip of Dordogne, we are far from the 'famous' sights such as the caves of Lascaux, the Dordogne river and the vineyards or Bergerac, but I like to think of our little area as a 'Mini-Dordogne'! Our cabins are all at private locations within the Parc Naturel Régional Périgord-Limousin, this is the Périgord Vert of forests, lakes, rolling countryside, secret valleys but we do have our local caves, chateaux and beautiful, less famous, rivers where we can canoe."
Responsible tourism in the Dordogne
When it comes to responsible tourism France gets top marks. Its plethora of local producers and farmers markets selling fare from just down the road mean, for most holidays, food miles can almost be measured in metres. And with swathes of small, locally-owned guesthouses and family-run restaurants in the mix the opportunities for local communities to benefit fully, economically at least, from your trip is high.

The Dordogne is no exception to this and while there's no doubt that this region measures up in terms of local people feeling the cash benefit of tourism, its beauty comes at a cost. Thousands upon thousands of visitors descend on its pretty towns, caves and chateaux each year, pushing infrastructure (and local's patience) to the limit, particularly during the July and August summer holidays. You can do towns like Sarlat, and attractions like the Lascaux Caves, a favour by choosing to visit outside peak times. Spring and autumn still bring pleasant weather (albeit with a higher chance of rain) as well as a windfall in terms of local produce. If you are tied to the school holidays then consider spreading the love wider through the Dordogne. The little-visited Périgord Vert, for example, offers its own selection of chateaux, rivers for canoeing and caverns to explore – well away from other tourists.
Best time to visit the Dordogne
If you're jumping in a canoe you'll want to visit the Dordogne between June and September. While you can expect warm sunshine and temperatures in the mid-to-high 20s celsius at this time of year, the river will keep you cool. July and August are peak season, when the Dordogne fills up with families enjoying the school holidays. You'll need to book well in advance to secure accommodation at this time of year – or head away from the river to the quieter Périgord Vert. Hiking and biking is best in summer, but consider April and October to avoid the peak crowds. The former brings full-to-bursting farmers' markets while the latter coincides with the grape harvest. Alternatively, in December you'll have the Périgord Noir to yourself – and a chance to peruse the region's famous truffle markets.

Donna Webber, from our canoeing, walking and cycling specialists Headwater has this advice for families in the Dordogne: "If you require triple or family rooms, do book early to avoid disappointment – most hotels only have one room for 3+ people and these are the first ones to get booked out!"