Diving and sailing in Greece
It's funny, but not all sailors like going into the water. Like ships' cats, they prefer staying on the boat and commanding the waves from the helm. But there's a rarer breed of people who happily combine sailing and diving – and even
freediving
. For willing practitioners, sailing and diving go together perfectly. You just need a boat with a scuba compressor installed. Tanks filled, and sails billowing, you can sail smoothly to your first dive site.
Our Greece sailing Holidays
Why combine diving and sailing?
Both diving and sailing can be wonderfully meditative activities. The quiet you get below the water is matched by the ambience you get when you're underway with the engine cut and the sails up. Sailing between dive sites helps you fully relax and 'decompress' between your dives. In the peace and quiet on board there's ample opportunity to chat – not just idly, but about diving theory. You'll find your hosts passionate and well-informed about ecology. As you sail, look out for larger marine life – monk seals, dolphins, and loggerhead turtles rise to the surface. On calm mornings, when the sea is like silk, they're visible hundreds of metres away.

Diving and sailing make for a brilliant combination in the Lesser Cyclades. These scattered islands are Pleiades-like in their proximity to each other and in their remote beauty. It only takes a couple of hours of navigation to get from one to the other, so you can explore a different island – and a different dive site – every day. Unlike busier islands like Santorini, there's little marine traffic, so wildlife is less shy, and more likely to be coaxed out. Visibility is great and you can see up to 40 metres (that's far! For comparison, underwater visibility at the pier in Responsible Travel's awesome home town of Brighton is just two metres).
What does diving and sailing in Greece entail?
You'll be in a small group accompanied by a skipper and PADI diving instructor. Five licensed divers can be accommodated at once. You'll need your PADI Open Water certificate to participate. Trips last seven days, and there will be at least five dives. Every evening you'll stop at a new island for a group meal at a restaurant so local that the food will have come from the garden next door or the sea at your feet. Try medleys of mezze and roasted goat, and you might be forgiven for thinking this is a dining tour, rather than a diving one.

What's it like underwater? Wildlife sightings are never guaranteed of course – but wrecks and reefs are less capricious. There's a classical wreck off Syros which has spilled its cargo of amphorae across the ocean floor, their wine turned back to water. In Alimia you can swim over a wreck of a German plane from World War II – more properly, it's the wreck of a German Arado AR196 shipboard reconnaissance aircraft, sunk to nine metres below. All around, fragile sea fans and anemones shiver in hidden currents. You could also participate in a night dive. Descend into dark depths, and let your torch play across trembling jellyfish, or the form of an octopus, its arms coiling like spilled ink in the water.
Your sailing boat offers cosy quarters. There are snug berths for all travellers: and solo travellers may share their room. Yes, conditions can be cramped inside, but up on deck there's plenty of space for lounge lizards. Climb back on board after a morning swim and you'll find breakfast served on the aft deck, whilst lunches are picnics. You don't need to help with any of the sailing, just sit back and enjoy the breeze.

Dives run from spring until autumn. The most expensive time to go is in July and August and then prices drop in autumn. An October dive might be perfectly peaceful and perfectly toasty, as the water is warmest between June and October. You don't need to bring much with you – equipment: wetsuits, fins, masks, air, is all provided, but eco-friendly sun cream is a must – it stops you burning, yes, but the 'eco' part also prevents it contributing to coral bleaching. You might also want to bring your underwater camera, so people believe you when you say how close a seahorse came to you.

Responsible diving companies do a lot to raise awareness of the plight of marine life. With the help of an in-house environmentalist, they organise marine ecology seminars and run underwater photography exhibitions. When the boat isn't being used for holidays, it's often employed for beach cleans and data collection for environmental research.
Our top Greece sailing Holiday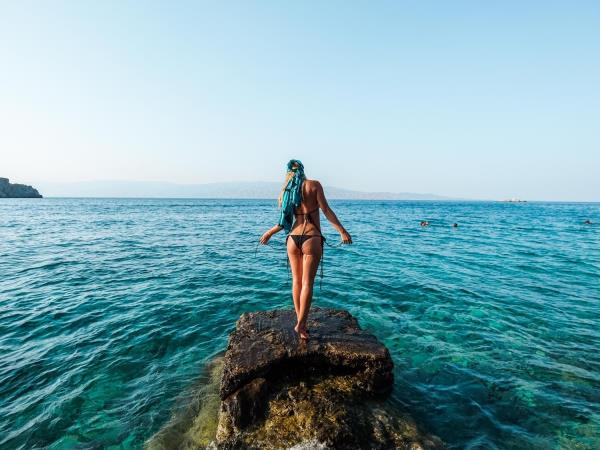 Luxury sailing Greek islands, while reliving mythical tales
From
€2050

to

€2890
8 days
ex flights
Tailor made:
This holiday is chartering the whole catamaran, minimum 6, maximum 10. Sailing Season is from May 28 to Oct 1
If you'd like to chat about Greece sailing or need help finding a holiday to suit you we're very happy to help.

Diving and sailing in Greece advice
Annie Antonatou, from our specialist tour operator Mystic Blue has this advice:
"You need to have a PADI Open Water certificate or equivalent to participate in this trip. The training for the Open Water certificate is quite intense so we have found that there is not enough time for the theory lessons, studying, dive training and enjoying the sailing and exploring the islands we visit. Apart from the excitement of sailing through the unspoilt little Cyclades islands, you will also experience shipwrecks, cliffs, caves, walls, reefs… traces of ancient civilizations… and of course the spectacular biodiversity of the East Mediterranean Sea! You will discover the unique natural, cultural and historical wealth that hides both above and below the magical waters of the Aegean… while sailing from one island and site to the other!"
Lisa Sanders booked a liveaboard diving and sailing holiday in Greece and had this advice:
"Pack light, relax and go with the flow. Annie was fantastic giving answers to very specific questions before we arrived, she'll give you all the tips you need… We supported small, island businesses, sailed as much as we could, dealt responsibly with rubbish, conserved water as much as possible, left dive sites as we found them."
More about Greece sailing