Flotilla sailing holidays in Greece
Want to sail your own boat, but with a little support there in case you need it? Then sail as part of a small fleet. In flotilla sailing, a lead boat looks after you and up to 11 other boats. You can socialise in the evenings with the other boats, but the days are yours to spend as you please – you dont' have to meet up with the lead boat again until the evening. Flotilla sailing is great for families, but you'll all need to like each other enough to spend plenty of time in close proximity. All you need for flotilla sailing in Greece is one person with a RYA Day Skipper licence. Alternatively, you can hire a skipper to accompany you.

See the dazzling, light-struck water of limestone caves and lap up stories about errant nymphs. These islands were made for wanderers, and flotilla sailing makes you the ultimate nomad.

With between four and six hours of navigation every day there's plenty of time to explore the islands in between long, lazy reaches across the blue. Spend your lunch break climbing the hills, crossing salt marshes and treading across beaches of stones as smooth and white as dinner plates.
Our Greece sailing Holidays
What does Flotilla sailing in Greece entail?
Flotilla holidays run in a similar fashion all over the world. They usually last for one week, starting on a Saturday. Boats are modern, fibreglass and very robust, and usually sleep between two and 11 people – your charter company will help pick the right boat for your party. Whether catamaran or monohull, they'll have electric winches, navigation equipment and a tender (a small dinghy for going ashore). You can choose to chuck a couple of paddleboards or a kayak on board, too, for an extra fee. When booking, don't just go for the biggest boat you can. Greek ports are snug, to say the least. It's better to have a smaller vessel which you can comfortably manoeuvre in front of a crowd, rather than something enormous that's great for showboating but impossible to 'park'.
Greek flotillas operate in the Ionian Islands, which means you'll pick up your boat at Lefkas Marina. You'll meet the rest of the group and spend the night in the marina before your first 'skipper's briefing' on the next morning. Provisioning for your boat is an easy task. In Lefkas there's a local Saturday market opposite the marina, several bakeries and fruit and vegetable stands, plus four supermarkets. Whilst you can prepare your own meals on board (cold breakfasts and lunches are best), you can eat as a group in the evenings at local tavernas – and maybe even have a beach barbecue.

How you spend your time on board is up to you. Moor up at lunch and you'll have trouble stopping people jumping off the boat into the irresistibly clear water – plus, it's the best way to wash up if you've just eaten a particularly juicy peach. Swim to the shore and hike up the nearest hill, and discover islands like uninhabited Atokos, where limestone cliffs slope seawards, as crumbly as feta cheese. If you happen to be near Vassiliki on Lefkas, wait for 'Eric', a famous local anabatic wind that rises in the afternoons, to the delight of windsurfers and keen sailors. Eric aside, look out for dolphins and seals as you cruise – you may be asked to help local conservationists by reporting sightings.
Our top Greece sailing Holiday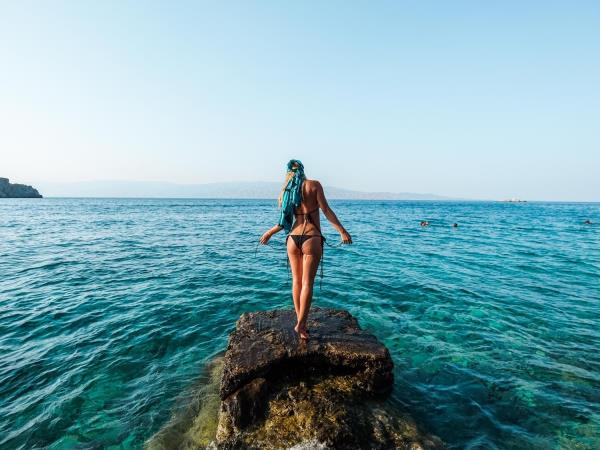 Luxury sailing Greek islands, while reliving mythical tales
From
€2050

to

€2890
8 days
ex flights
Tailor made:
This holiday is chartering the whole catamaran, minimum 6, maximum 10. Sailing Season is from May 28 to Oct 1
If you'd like to chat about Greece sailing or need help finding a holiday to suit you we're very happy to help.

Where is the best place to go on a flotilla sailing holiday in Greece?
Flotilla sailing originated in Greece's Saronic Islands, but the Ionian Islands are even better for beginners. In fact, you can even book onto a learn to sail flotilla at Lefkas and get qualified on holiday. These leafy islands make an attractive backdrop to your solo sailing adventure. Whilst anchorages are very deep (you'll normally need to let out all your anchor chain) it's a very safe cruising area. The Ionian Islands get calm winds, no currents or tides, and the sailing will be at a gentle pace. You'll cruise along at five knots or so, and never be more than an hour away from a beautiful beach. Venturing ashore, you'll find places rich with myth. Most caves come with a legend, and most shores come with a story.
Lucy Wade, from specialist sailing holiday company Sunsail, has this advice on learning to sail on flotilla in Lefkas: "The 'learn to sail on a flotilla' (also known as the flotilla starter/hero) is booked by the whole yacht rather than just the cabin, so it's more suitable for families. They are part of a flotilla on a set route with up to 11 other yachts doing the same itinerary however they will have an instructor on their yacht teaching them how to sail."
More about Greece sailing