Greece sailing holidays tips and advice
Panos Koniavitis from our Greek sailing supplier EY Sailing has this to say about sailing in the Ionian Islands
Why sail in the Ionian Islands?
"We know the area well. I've been sailing here since 2009 and we know both the islands and ports. The other reason to visit is that the area is quite well protected between the mainland and the islands. When it's windy, it doesn't get wavy. Many of our guests haven't been sailing before, and it's good to know that there won't be any rough seas when you set out... and it's also very pretty!"
When is the best time to sail in Greece?
"If you travel in May or October, as you can imagine it's not boiling hot Greek weather. At night you'll need a jacket, and there's sometimes a bit of rain. May is a little bit colder, October is ok. But it's calmer and quieter. For the classic 'sun, blue, hot' that people think of when they think of Greece, that's June to September. As you can imagine, late July and August are very busy. Mid June to Mid July is my favourite time to sail. It's slightly quieter, but it's proper summer – and July for swimming is also great."
Combining yoga and sailing
"It's not very stable on the yacht, so you'll do the yoga on the land with one of our three instructors. Usually there is a morning session by the sea, somewhere quiet in nature. It's a different experience for people used to going to a studio in London. It's a very nice experience as the sun rises, by the sea, in the shade. We have all the equipment, the mats and blocks. You can do a session every day in a different location. Then there's the water massage. We put a rope out the back of the boat and go slow. The sensation of being dragged through the water feels like a massage. Our yoga holidays provide vegetarian food, and you can always find vegetarian choices on the menus in the restaurants we visit. We've also catered to vegans and gluten free visitors."
Our Greece sailing Holidays
Advice from our travellers
At Responsible Travel, we think the best people to advise our travellers are often... other travellers. They always return from our tours with packing tips, weather reports, ideas about what to do - and opinions about what not to.

We have selected some of the most useful Greece sailing tips that our guests have provided over the years to help you make the very most of your holiday.

The spontaneity of the whole trip (was a highlight). Nothing was really planned - the skipper would decide the following day's itinerary each morning.

"Research the area you will be visiting, but also be open visiting new and unexpected places. Understand the differences in the islands, Mykonos and Santorini are larger and more touristy with more amenities while Kimolos and Irakleia are smaller and less visited, but charming. Each person can enrich the experience. Embrace the culture, learn a few words, like Kalimera means Good morning, whereas Kalispera means Good afternoon. Pack lightly, not because you have to, because the boat is spacious, but because you can and it makes the trip easier and less stressful." – Danielle Romme on a Liveaboard diving and sailing holiday in Greece

"Pack half of what you thought you might need; there is virtually NO storage space. Be prepared to live in the same pair of shorts and the same two tops for the whole week. Take seasickness tablets if you're so inclined, but make sure they're the not-so-drowsy type. Try new foods - we had goat and it was DELICIOUS, not what I expected at all." – Carolin Sommer on a sailing holiday in the Ionian Sea

"My most memorable part .... probably our beautiful hike on the island of Amorgos arriving just in time for dinner in a small tavern where the menu selection was made right in the kitchen, and then walking back down to the boat under the moonlight" – Christine Khorsand on a sailing holiday in the Aegean Sea
Our top Greece sailing Holiday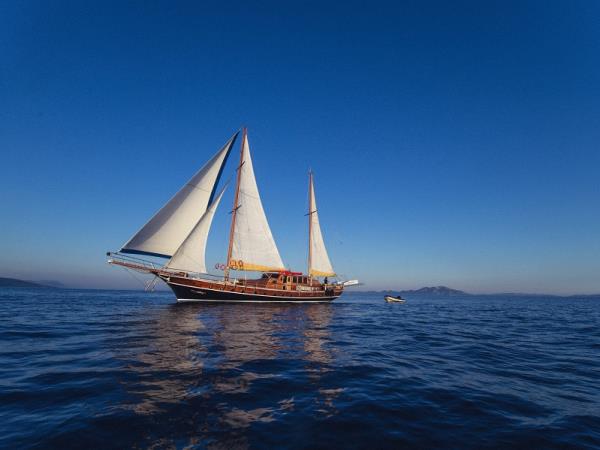 5 star services while cruising the Greek Islands in luxury
From
£1250
8 days
ex flights
Small group travel:
2023: 27 May, 2 Sep
If you'd like to chat about Greece sailing or need help finding a holiday to suit you we're very happy to help.

More about Greece sailing