Menorca responsible travel guide
Your Menorca holidays starts here
The 2nd largest of the Balearics group Menorca is one of the most unspoiled islands of the Mediterranean. Its pristine coastline, with more than 80 beaches, the lovely rolling hills of the interior, and its temperate climate with summer temperatures rarely more than 28 degrees make the island a perfect holiday destination for those who want more than just sun and sea.
This guide will show you how to find the best places to stay, from lovely family run rural hotels set in their own grounds, to self catering apartments in the small resorts along the island's coast. It will help find the most suitable beaches for you, your family and your friends, from nearly three miles of pristine white sand at the resort town of Son Bou to the hidden secluded coves and inlets where even in the height of the season beaches are never crowded.
" When I leave Menorca I count the days until I can return, for I don't like to spend a long time away from my island, its peace, the countryside and above all its traditions, and the warmth and sensitivity of its people. "
Joan Pons, international opera singer, native of Menorca.
---
---
With pristine sea and nature (the island was declared a UNESCO Biosphere Reserve in 1993) Menorca is a perfect place for activity holidays, from sailing, sea kayaking and scuba diving, to walking and cycling. The newly reopened Camí de Cavalls is an ancient bridle path which mostly extends right around the island's coastline. A former coastguard and smugglers' path, the Cami is now a well signposted trail for walkers, horse riders and off road cyclists which is the perfect way to explore the hidden gems of the coast. The guide will point your way to the best places and the best time of year to go.
For nature lovers there are numerous protected areas, a marine reserve, and natural parks where many of the island's endemic flora and fauna can be seen. With a rich and varied birdlife, from the resident Egyptian vulture with its two metre wing span, to the osprey and booted eagle, plus numerous migrating visitors during the spring and autumn, Menorca is a Mecca for birdwatchers.
The island's cuisine, influenced by the many civilisations and colonial occupiers, from the Moors in the 8th century to the British in the 18th, is rich and varied. This guide will inform you of the island's gastronomic traditions and of the history behind them.
With pictures and podcasts of local people telling you about their feelings for the island, the guide will show you how to get the most out of your visit to this wonderful unspoiled island at the heart of the Western Mediterranean.
Responsible Travel would like to thank the Menorca tourist board for their sponsorship of this guide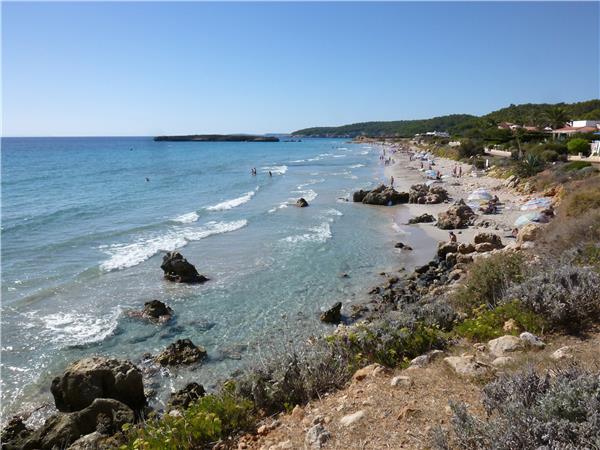 Idyllic golden beaches, hidden coves and deep blue bays
From
£1145
8 Days
inc UK flights