Menorca has a typically Mediterranean climate, and is the most temperate of the Balearic islands, due to the absence of high hills and the cooling sea winds which blow across the island. With an average temperature of 25 degrees in the summer and 12 degrees in winter extremes are uncommon, though in the summer a few days at 35 degrees are unusual but not impossible. The ever present sea breeze though means that it never feels uncomfortably hot.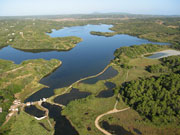 The summer really begins in June, when days are long and temperatures regularly are in the mid twenties. There is an average of 11 hours of sunshine a day and until September hardly any rain falls and as a result the interior of the island can look very dry and parched. These summer months are the best time for the beaches and sea related activities like sailing, diving and kayaking, with the water temperature in August a perfect 25 degrees Celsius. In winter – from November to February - Menorca receives most of its rainfall, which tops up the underground aquifers for the long summer dry months. The landscapes become green and verdant, and the heavy dews brought in by moist sea winds, compensate for the dryness of the summer months.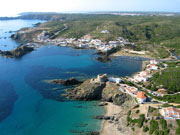 This is a lovely period to come to the island, for there are few tourists and life in the villages and towns runs at its usual peaceful island pace. With mild temperatures and on average 5 hours of sun per day, it is the perfect time for long walks on deserted beaches and through the woodlands and rolling country of the interior. Be sure though to check on the availability of operators and accommodation, for many close from the end of October to until March. Spring, with green landscapes covered in flowers, the woodlands ringing with birdsong, and with mild temperatures in the early 20s is also wonderful time to visit Menorca. The weather is perfect for activity holidays like walking, riding, and cycling, and for the hardy northerners the sea temperature which averages about 16 to 18 degrees is perfect for a bracing dip.
Autumn, in Menorca, is so mild that it is barely noticeable and is known as the primavera d'hivern, or winter's spring. Without much leaf fall, because most trees on the island are evergreen, the only sign of the change of season are the increasingly heavy morning dews, and the scarceness of tourists on the pristine empty beaches.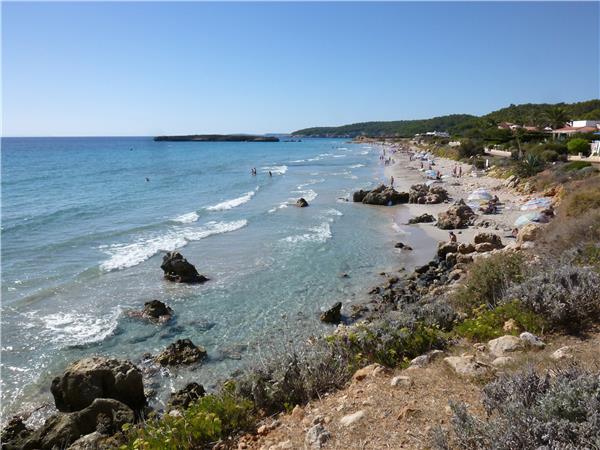 Idyllic golden beaches, hidden coves and deep blue bays
From
£1145
8 Days
inc UK flights