Scuba diving in Menorca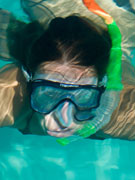 With some of the clearest and cleanest water in the western Mediterranean, and with easy access to dive spots from the numerous ports, fishing villages and beaches along the coast, Menorca has a great variety of dive spots for divers at all levels of experience. Menorca scuba diving is a well established sport on the island, and there are a number of centres offering tuition courses, equipment hire and transport to dive sites by land and boat.
One of the most popular locations for Menorca scuba diving is in the marine reserve created in 1999 on the northern coast of the island off the bay of Fornells. With a substantial no-take area where fishing is totally prohibited, divers now report an extraordinary variety of sea life in the reserve with sea bream, John Dory and barracudas seen on most dives.
The marine reserve now extends from the north-western tip of the island from Cap Gros to the bay of Fornells, including the outlying island of Illa dels Porros. The rocky formation of the sea bottom here has many interesting and diverse habitats, with plenty of drift dives along reefs and walls, with swim throughs in the underwater caverns and tunnels.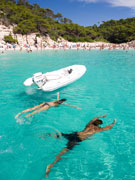 The dive spots, of which there are nearly fifty, are within easy reach of Fornells, taking sometimes barely five minutes away in a fast rib from the dive centres in the village. The shallow waters and the pristine beaches of the bay are also the perfect place for beginners to take their first dives in absolute security and to discover the crystal clear visibility of the sea here, which in summer months is rarely less than 30 metres.
There are dive centres in most of the small ports and towns around the Menorcan coast, and with plenty of places to dive locations are never crowded. One of the major advantages of Menorca Scuba diving is the small size of the island – should the prevailing tramuntana be blowing too strongly on the northern coast the south is never more than 30 minutes away by car, with plenty of locations for beach dives or places to launch a rib.
The larger resort towns of the south each have their own diving centres and small calas and coves here make perfect places to access dive spots close inshore from the beach. There are also wreck dives on both north and south coasts.

Find out more about
Menorca things to see and do
Responsible Travel would like to thank the Menorca tourist board for their sponsorship of this guide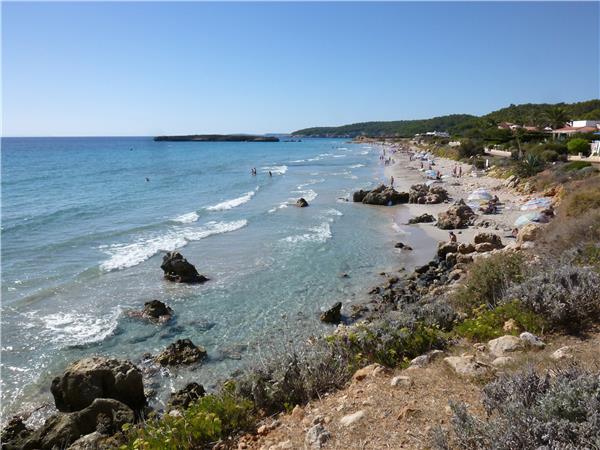 Idyllic golden beaches, hidden coves and deep blue bays
From
£1145
8 Days
inc UK flights