Where to see the Northern Lights
---
WHERE TO GO ON YOUR NORTHERN LIGHTS HOLIDAY
To see the Northern Lights at their best, it's not simply a case of heading as far north as possible. The Aurora Borealis actually appears in a ring around the Arctic, commonly known as the 'Auroral Oval', and the areas under this oval include Lapland, Iceland, Northern Canada and Alaska. Where you choose to go will be affected by weather conditions as well as light pollution – the further away from the towns you are, the brighter the lights will appear.
The map below highlights where to see the Northern Lights on holiday. Click on the map points for more information about each location.
Dividalen National Park
The sharp peaks and thickly forested valleys of Dividalen National Park make for a dramatic backdrop for your aurora experience. Take a magical husky sled ride thorough this northern wilderness during the longer late-winter days.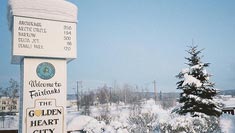 Fairbanks
One of the best urban areas to see the lights, Fairbanks offers a good chance of aurora sightings, along with the Museum of the North, with exhibits on Alaskan nature and culture, as well as on the lights. You can also enjoy the World Ice Art Championships sometime around early March; native Alaskan culture tours, and dog sledding.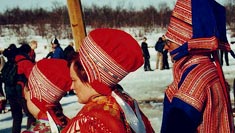 Karasjok
Close to the Finnish border, deep in the tundra, Karasjok is Norway's Sami capital. Almost a fifth of its residents are involved in reindeer herding, and visitors can enjoy the Sápmi Culture Park, the Sami Artists' Centre, and singing traditional joiks with local families, before heading out into the Arctic night to see the lights.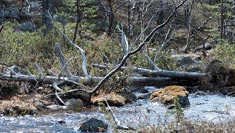 Lake Inari
This is Sami territory, and a great spot to combine local culture with the aurora – including hearing ancient myths from the people who know the lights best. See the swirling lights reflecting on the frozen surface of the lake, or spend a night in an "Aurora Bubble" – cleverly designed pods where you can watch the lights from the warmth of your own bed.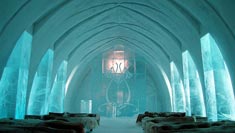 Lappeasuando
This little village is all about ice! Screw holes in the frozen River Kalix for fishing, build an ice cave and sleep in it if you dare – or let someone else do the hard work and visit the nearby Jukkasjärvi Ice Hotel, a frozen masterpiece with carved chandeliers and a chapel. Discover local Sami culture – we recommend sampling tasty reindeer stew.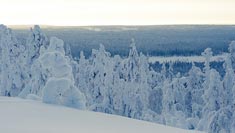 Luosto
Luosto is brilliantly set up for the Northern Lights, which are often viewed from a nearby lake. There are a great range of hotels and more rustic log cabins; many have "Aurora Alarms" to alert you to the arrival of the lights. Nearby activities include cross-country and downhill skiing, reindeer and husky safaris, and a trip down an amethyst mine.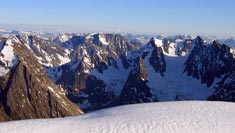 Lyngen Alps
East of Tromsø is a 90km mountain range which extends along a peninsula flanked by two fjords. This unusual landscape can be explored on horse or dog sleds. Photographers will love the mountain views and frozen fjords – as well as the Northern Lights reflecting off them all.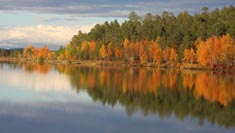 Menesjärvi
Wilderness fans should head to somewhere a little more remote – and Menesjärvi fits the bill perfectly. Special "survival" tours include learning how to track wildlife, light a fire, and navigate your way around Lapland using a compass. Discover Sami culture in their heartland, and join them on ice fishing and reindeer safaris.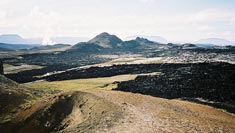 Northeastern Iceland
Iceland's isolated northeastern region is ideal for viewing the lights as there is no light pollution, and the weather tends to be drier – meaning clearer skies. Adults will enjoy the excursions here – snowmobiling, cross-country skiing, lava fields and thermal baths, and there are few other tourists to spoil the silence as you view the aurora.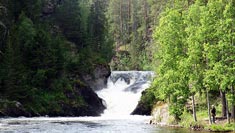 Oulanka National Park
Active aurora hunters will love Oulanka - its pine forests and river valleys offer picturesque snowshoeing and cross-country skiing routes. Renovated, rustic wooden cabins can also be used free of charge – or you can build your own quinzee, a traditional Finnish igloo made from hollowed-out snow rather than from ice blocks.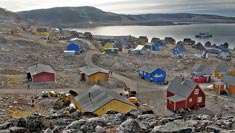 Southeastern Greenland
Reached only by boat, sailing from Iceland, the world's largest island has skies unspoiled by light, and crisp Arctic air. This sparsely populated country still has plenty of cultural offerings – visit the community of Ittoqqortoormit (population 452), or discover the remains of Thule settlements – the ancestors of all Inuit people.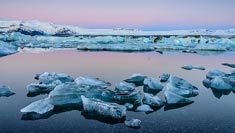 Southeastern Iceland
Jökulsárlón glacier lagoon is a natural wonder, and treat for photographers and active explorers. There are ice formations on black, volcanic sand, mountain scenery, views of Iceland's highest mountain, glacial lagoons, blue-green ice, waterfalls… and of course, the Northern Lights, unspoiled by the city glare.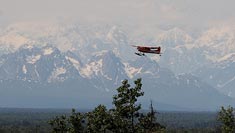 Talkeetna
Talkeetna is the gateway to Denali National Park - 24,200km2 of alpine tundra and taiga forest, as well as Mt McKinley, North America's highest peak at 6,193m. Trek past fjords and unspoiled lakes during the day, and see the lights over this gorgeous landscape at night – but be aware that Alaska is one of the coldest Northern Lights destinations.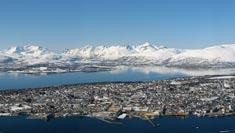 Tromsø
Norway's "Arctic capital" is its leading lights destination. Located in Sámi territory, much of the city is on an island, though you'll need to escape the bright lights and head to the surrounding mountains and fjords for the best chances of seeing the aurora. There is a great range of accommodation, as well as snowshoeing, whale watching and husky and reindeer sledding.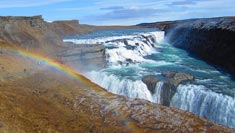 Western Iceland
Around Reykjavik, there is a phenomenal range of daytime activities. Take boats out to see killer whales, drive across surreal lava fields and glaciers, or explore the "Golden Circle" with geysers, the Gulfoss waterfall and Thingvellir National Park, with its tectonic plates. Be aware that the city itself is not the best place to see the lights.

Hello.
If you'd like to chat about the Northern Lights or need help finding a holiday to suit you we're very happy to help.
Rosy & team.
01273 823 700
Northern Lights experts recommend
---
Where to see the Northern Lights

Mikael Kangas, owner and guide for our supplier Aurora Retreat, shares his tips on where to see the Northern Lights:
"I would recommend northern Sweden and Finland. The inland climate is very good for viewing the lights because there's a clear sky, the weather is very stable, it's cold – and mostly when it's very cold, it's clear. I would say the weather is less reliable along the coast."
Juha-Pekka Tuominen on behalf of our supplier, Activities Abroad, on where to see the Northern Lights in Europe: "They say Lapland has some of the cleanest air in the world, so it's a great place to see the aurora. It is the last wilderness in Europe, but it's easily reached and easy to spend time there because you have all the facilities. We've studied it in Finland since the beginning of the 1800s, and our observatory has just celebrated its 100th anniversary."

David Phillips, astronomy expert with our supplier Explorers Astronomy Tours, suggests where to see the Northern Lights in Iceland:
"In Iceland, one thing people need to try and do is not just view the lights from places like Reykjavik, which are easy to get to. The northeast is generally a drier, less cloudy part of the country, so you're more likely to have clear skies. It is a different world; as soon as you arrive there it's colder, it's snowier, it's icier. It's really scenic, but it's much, much less visited. There are a few locally owned hotels and you'll see other tourists coming through, but not on anything like the scale that you'll get in western Iceland. It's a more personal experience."
Photo credits:
[Aurora from space: NASA]
[Western Iceland (gulfoss waterfall): Cali4beach]
[Southeastern Iceland: Francisco Diez]
[Northeastern Iceland: Mei Burgin]
[Luosto, Finland: Ray Garcia]
[Lake Inari, Finland: Pekka Tamminen]
[Oulanka National Park, Finland: Heather Sunderland]
[Menesjärvi, Finland: Hotel Korpikartano]
[Dividalen National Park, Norway: Edgarski]
[Karasjok, Norway: Morten Oddvik]
[Lyngen Alps, Norway: Arnejohs]
[Tromsø, Norway: Ragnilius]
[Talkeetna, Alaska: Frank Kovalchek]
[Fairbanks, Alaska: Charles Atkeison]
[Lappeasuando (ice hotel, Sweden): bjaglin ]
[Southeastern Greenland: Hannes Grobe]