Best time to visit Pench National Park

Peak visitor season at Pench is Nov-Feb when the weather is most pleasant, but for hope of seeing a tiger, come a little later when encounters around dwindling water sources are likely.

As with other parks in central India, the best time to visit Pench National Park is during the winter. Between November and February it's still comfortably warm, around the mid 20°Cs in the day (though you'll still need to wrap up in the mornings and evenings). The park's dense vegetation is thinner, making wildlife spotting that much easier, too. For the chance of seeing tigers however, March through to May is considered best, because in the steaming heat and with less water available there is more likelihood of seeing them around remaining water sources.
Pench National Park, month by month
Pench is thickly forested, mainly teak, with rich vegetation throughout. As a result, it's more difficult to spot the wildlife in Pench than it is in other Madhya Pradesh parks – good news for the animals of course, and also for you if you prefer a greater sense of isolation. Peak season is November to February, the winter.
During winter, vegetation is dying back a little, helpful for wildlife watching, and your game drives will be a lot more comfortable in temperatures that range from 14°C to 30°C, though mornings and evenings can be chilly, especially in December and January, the coldest months of the year.
Over 200 bird species have been recorded in Pench, including colourful peafowl, kingfishers, Indian rollers and crimson-breasted barbets. The best time for birding here tends to be between January and late April.
Tigers are trickier to find in Pench than they are in Kanha or Bandhavgarh, so it's even more rewarding when you do see one. For the best chances of seeing tigers in Pench National Park, come from March to May. The hot summer is on its way, and temperatures can easily climb into the 40°Cs by early afternoon. Prey species gather around the remaining water sources, tempting hungry tigers in and making dramatic scenes more likely. That does of course mean that game drives can be stickily hot and uncomfortable, so there is definitely a trade-off.
It tends to be slightly cooler in June, but the heat can still be exhausting, and generally not many people visit this late in the summer. Especially as by now the rains are on their way, making game drives harder.
All the parks in Madhya Pradesh, Pench included, close for the monsoon season, from the start of July through August and September. October, when they open again, can be a good time to visit, before the crowds, with cool weather.
Pench National Park Weather Chart
Responsible tourism
Wily old Shere Khan does live in Pench, numbering around 50, but of Madhya Pradesh's trio of tiger reserves Pench is the least visited. The reason is that the forest cover is that much thicker here – good for the tigers of course, making poaching a little more difficult, but also meaning you're even more reliant on the skills of your naturalist guides for a sighting. Tourism here is a vital weapon in the fight against poaching, encouraging local communities to protect the tigers.
Many of the tigers in Pench are accustomed to seeing tourists while others will hide or slink away when safari jeeps approach. The fact that they are trickier to find means you're advised to enjoy the other wildlife species, and consider tigers the icing on the cake. Another golden rule here, as in all Indian national parks – try not to make guides feel pressured to track down a tiger, as it can encourage them to take risks such as racing at unsafe speeds to catch a photo, or foster unnatural behaviour in the animals. Given that Pench typically forms only part of a wider itinerary taking in other parks, you still stand a good chance of seeing stripes.
Pench National Park travel advice
Saurabh Agrawal of Chinkara Journeys is an expert on wildlife holidays in the national parks of Central India:
Best time to visit
"October to February is a good time to visit Pench when the weather is pleasant and the jungle looks lush. November and March are the best months for birding when birds come to central India from colder areas to spend winter. At this time deer fawns can also be seen. March onwards the jungle start to change colour as summer approaches. Some of the best sightings happen in summer when grass dries up and wildlife is concentrated around water holes but it is also the hottest time of the year when temperatures reach 42C in May."
Wildlife
"Due to the high density of herbivores other predators along with tigers also thrive in Pench. There are good chances to see leopards and Asiatic wild dogs. Thickly muscled gaur, which is the world's biggest wild cattle and blue bull, Asia's largest antelope, is also found here. Pench River is home to muggar crocodile but the sightings are rare. On the fringes of the forest Indian wolf can sometimes be seen but they are nocturnal."
Benefits of organised tours
"Independently organising a visit to Pench can be a daunting task. Further, during each safari only a limited number of jeeps are allowed to enter to keep vehicles numbers low for a better experience and less disturbance to wildlife. Getting this safari ticket can be a challenge. The park is divided into various zones and booking a safari in the correct place will ensure a good wildlife sighting as some zones are good for tigers, while other are known for birds and other wildlife."
Our top Pench Holiday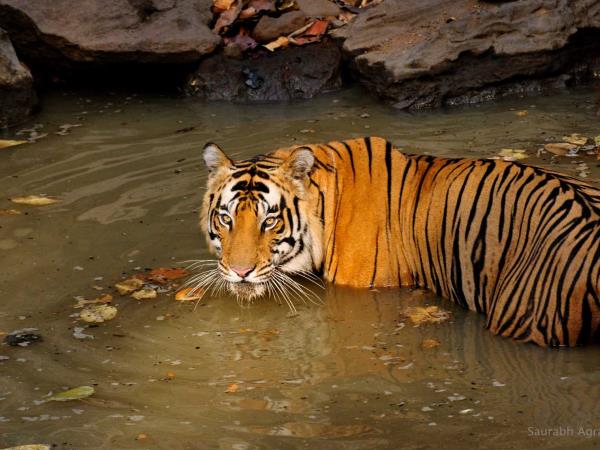 Best of Indian wildlife with tiger, leopard and sloth bear
From
Rupee223000

to

Rupee249000
12 days
ex flights
Small group travel:
2022: 22 Dec
2023: 15 Feb, 3 Apr
If you'd like to chat about Pench or need help finding a holiday to suit you we're very happy to help.

Tips from our travellers in Pench National Park
At Responsible Travel, we think the best people to advise our travellers are often... other travellers. They always return from our tours with packing tips, weather reports, ideas about what to do - and opinions about what not to.

We've selected some of the most useful travel tips that guests on wildlife holidays in Central India have provided over the years to help you make the very most of your holiday – and the space inside your suitcase.

Don't be afraid to try the local cuisine. The food was fantastic

"Try not to focus on seeing one animal - there are so many to see that it is mind-blowing. Every safari is different - embrace that. Give yourself time to relax and absorb the atmosphere and the sounds - you do not have to do 2 safaris each day as there is a lot that can be seen while just sitting on your verandah." – Elizabeth Plomer

"Check the weather temperatures before leaving. At night and in the morning the temperatures were very cold, around 5 celsius at times and in the day up to 16 celsius. This was in January. Have a think how many safaris you want to do. I probably did too many safaris." – Matthew Wood

Try not to focus on seeing one animal - there are so many to see that it is mind-blowing. Every safari is different - embrace that.

"Make sure you have your binoculars and cameras ready at all times. Don't have any preconceived ideas, just go with the flow and enjoy whatever comes your way. Don't expect to see tigers on every outing." – Denise Brooks

"1) Take notice of the guide - when he says it will be "dusty", I promise you it will be dusty. When he says "hold on", hold on tight. 2) Don't be afraid to try the local cuisine. The food was fantastic. 3) You won't see a tiger each time you go to a reserve, in fact you may not even see one, but there will always be something to interest you. 4) Always have your camera ready and take binoculars on each trip." – Jim Snowden
More about Pench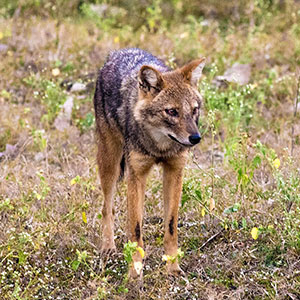 Widely believed to have been an inspiration behind Rudyard Kipling's The Jungle Book, Pench National Park is the least visited of Madhya Pradesh's three national parks.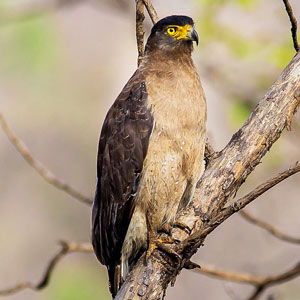 Akela the wolf, Baloo the bear, and wily Shere Khan – all vividly drawn in Kipling's The Jungle Book, written in the late 19th century, and all among the wildlife you may see in Pench National Park.