Wildlife in Pench National Park
Of the trio of tiger reserves located in India's central Madhya Pradesh state, Pench National Park is the least-visited. Much of the park is swathed in dense teak forest, which naturally makes the wildlife here that much more difficult to spot. But those who do visit Pench get a far more relaxed and peaceful experience than in nearby parks such as Bandhavgarh or Kanha – indeed, at times it can almost feel as though you have the park to yourself. Just you, and the thousands of eyes watching you from the forest.
Pench most recently fell under the international spotlight in 2008's
Spy in the Jungle
, David Attenborough's acclaimed nature documentary (tell us one he's made that isn't). Before that, the park was probably best-known as the inspiration for Rudyard Kipling's
The Jungle Book
, published in 1894. In 1992, the park became a tiger reserve under India's successful Project Tiger scheme and across its 758km
²
there are thought to be some 50 or so of the striped stalkers.
The park, located in the southern reaches of the Satpura Range, straddles two states: Madhya Pradesh and Maharashtra. There are 11 gates, and the park is split almost equally in two by the Pench River, which runs from north to south. Its undulating terrain has at its centre a reservoir which during the dry season is often the only reliable source of water in the park, and where dramatic encounters between predator and prey can often be observed.
Our Pench Holidays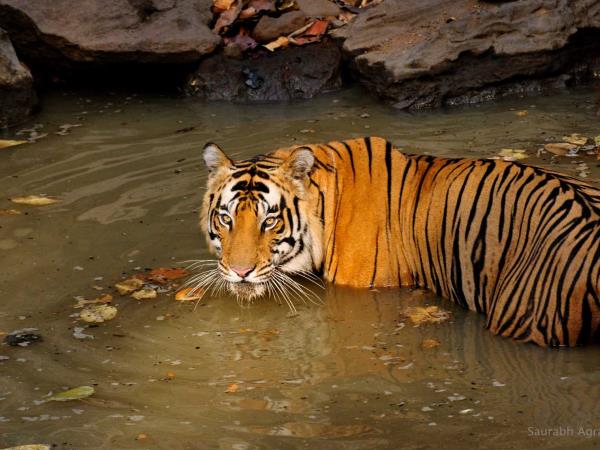 Best of Indian wildlife with tiger, leopard and sloth bear
From
Rupee248000
12 days
ex flights
Tigers safaris in central India with backwaters of Kerala
From
Rupee182000
17 days
ex flights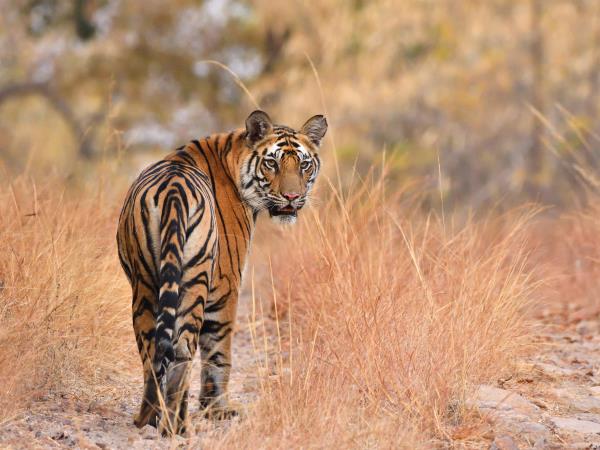 A tour for those who wish to see tigers and other wildlife
From
Rupee175000

to

Rupee180000
10 days
ex flights
What will I see at Pench National Park?
The density of deer and antelope in Pench is among the highest in India, which of course is good news for carnivores. Along with tigers, the park is home to other apex predators including a thriving population of leopards, Asiatic wild dogs and even the rare Indian wolf. On a typical Pench safari you're likely to also see gaur (AKA Indian bison – the world's largest wild cattle), sloth bears, jackals, monkeys, striped hyenas and wild boar.

The birdlife is just as prolific in Pench National Park, with an estimated 210 species of which several are migratory. Waterbirds include kingfishers, herons and egrets, while birds of prey include white-rumped vultures and several species of eagle. You may or may not spot a tiger in Pench, but you can be sure of admiring a thrilling diversity of other wildlife.
What do wildlife holidays in Pench National Park entail?
As with most tiger reserves in India, jeep safaris (open-topped so you can stand up for a better view) are tightly regulated. They operate twice daily, in the mornings and afternoons, from each gate, and last between three and four hours. Safaris can form part of either small group or tailor made tours, which give you greater flexibility on the travel dates, accommodation and itinerary. They are accompanied by professional local guides, as well as rangers and drivers. Given the size of Pench and the fact that tiger sightings are rarer than other parks, most itineraries spend no more than two days here. You may be accommodated in hotels or luxurious tented camps, where large numbers of deer and antelope wander freely.

It's always better to opt for a tour using a responsible operator, ideally one that is a member of TOFT (Travel Operators for Tigers) to ensure that the wellbeing of the wildlife is always put first. Because it is fairly close to Bandhavgarh (eight hours by road) and Kanha (five hours) national parks, Pench is often combined with one or both of them, and although sightings of the most famous resident are not as likely, it offers a distinct and more tranquil experience.
Our top Pench Holiday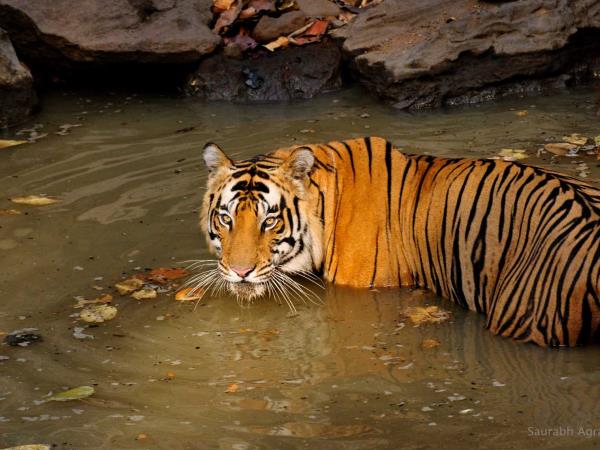 Best of Indian wildlife with tiger, leopard and sloth bear
From
Rupee248000
12 days
ex flights
Small group travel:
2023: 16 Feb, 3 Apr
If you'd like to chat about Pench or need help finding a holiday to suit you we're very happy to help.

When is the best time to see wildlife in Pench National Park?
All of the parks in Madhya Pradesh are closed during the monsoon season, which runs from early July until late September. Heavy rainfall would make many trails impassable. Generally speaking, the best time to visit Pench National Park tends to be in winter, between November and February. These months are usually nice and warm, with daytime temperatures hovering around the mid 20°Cs (though morning and evening game drives tend to be distinctly on the chilly side). Vegetation also thins out, making it easier to spot the animals.
If you want to see tigers in Pench, though, you want to think about travelling in March, April or May. As the temperatures start to rise – it can be in the 40°Cs by late April – both prey species and predators begin to congregate around remaining water sources. Dramatic scenes are very likely. But the heat – and the patience required to sit in it in hope of a tiger sighting – can be exhausting for some, especially families with children. Birding in Pench is optimal between January and late April, when insects are prolific, as are many migratory species.
Holiday tips for Pench National Park
Thrills & spills
"I was looking at a bird through my binoculars, when I hear a sudden call that resonates right through me. Out of the jungle walks a female tiger. I was lucky to be in the only jeep in that area, which made it feel all the more special. Even the guides who see many a tiger were excited. We watched as she scent marked before disappearing back into the forest. On another occasion I was also lucky enough to see two tigers fighting, which demonstrated the power of these awesome animals. A very unique sighting." - Kelvin Lofthouse on a tiger and wildlife holiday in Central India
More about Pench
Learn the best time to visit Pench National Park for wildlife watching and when your chances of seeing tigers are highest.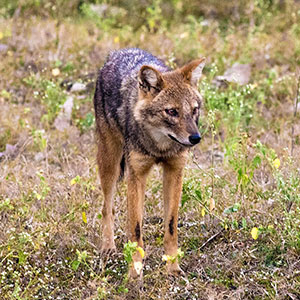 Widely believed to have been an inspiration behind Rudyard Kipling's The Jungle Book, Pench National Park is the least visited of Madhya Pradesh's three national parks.