Holidays in India by train

I had interrailed as a student around Europe and loved it. And so travelling all around India in my 50s by train to celebrate my kids heading off to uni themselves, was the perfect way to celebrate this milestone.

India by train – classic routes, the south & Maharajas
There are several ways to explore India by rail. You can choose a 'tasting menu', which samples some of the most delicious treats from all around the country, India boasting one of the most railway rich routes in the world. Trains and the rail infrastructure are very much part of Indian culture and so, unless you are travelling on private charters, you will be immersing yourself totally. On tailor made trips your itinerary and booking are handled for you, while on small group tours you are accompanied by a tour leader throughout, who can handle any glitches in the booking system. Indian railway journeys can be made all the more gorgeous with glitches, however, if you are a traveller who is happy to go with the flow.
Our Railway journeys Holidays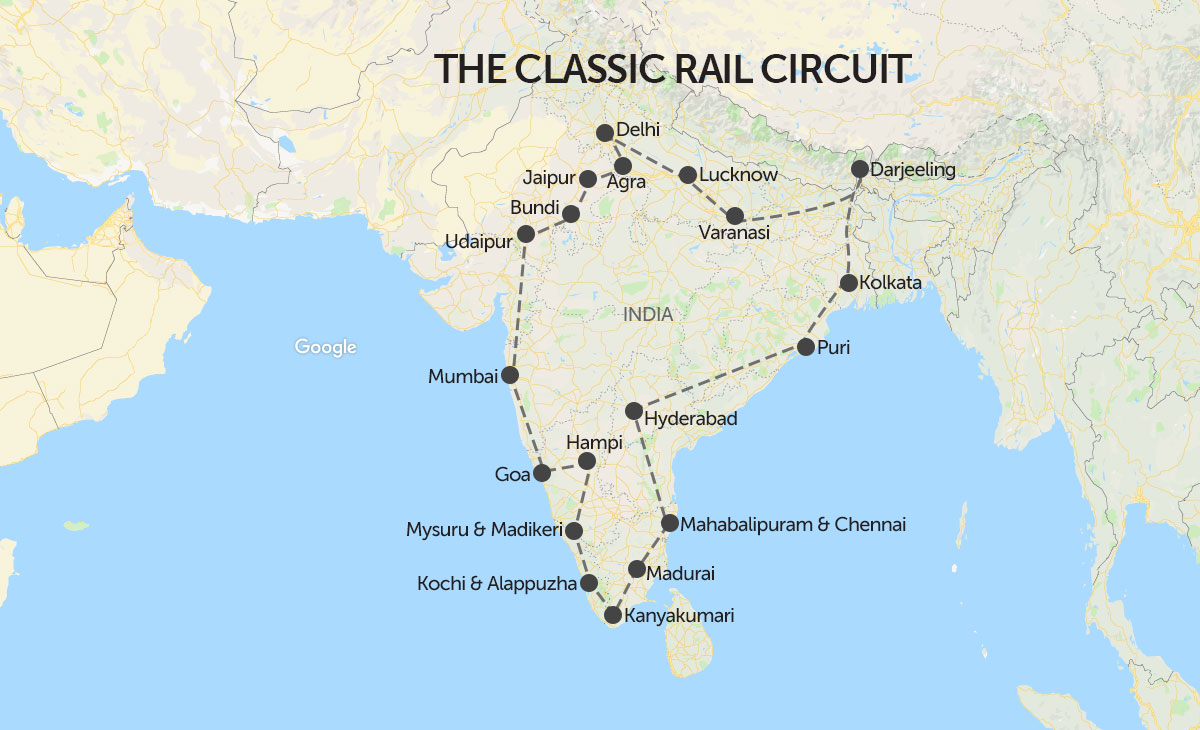 The classic rail circuit
There is the classic route, doing a circuit of the whole country over six weeks, starting and ending in Delhi. Travelling anticlockwise, with many stops along the way, you chug your way through Rajasthan, then transfer by plane from Mumbai to Goa, where beach bliss beckons for a few days.

The stunning state of Karnataka is the next part of this giant railway circuit, a land of sacred sites, luscious Ghat Mountains, hill stations and plantations. Cool off from this tropical part of the journey on the Kerala coast, the main train stop here being Kochi, or Cochin, the historic port and fort city. It's pretty much coasting all the way for the next few days after that, with plenty of stops, but following the southern tip of the country, up through Tamil Nadu, for a whole other side of India's history and most underrated sites to behold.

One of the next big legs is up to Hyderabad, which you reach on a sleeper train from Chennai. Around seven nights are spent on board a train on this circuit, with the rest in local hotels or homestays. So, you aren't going to be on a train the whole time – far from it. There are too many beaches, backwaters and beatific beauties to stop and enjoy along the way.
After a cheeky flight back out to the east coast, you pick up a train again at Puri on the Bay of Bengal, which is a sacred spot for Hindus. Other revered spots await on the last legs of this oriental odyssey, including Varanasi. This is the Sacred City on the Ganges where, just as you will have immersed yourself in a cultural cornucopia on this railway journey, you will see everything from river funeral pyres to wandering cows to cricket games. The perfect place to take stock of everything before heading back to Delhi.
These long railway journeys around India tend to be small group holidays, with a tour leader to help you along the way. There are plenty of independent days built into carefully crafted itineraries, as everyone needs space from time to time, but these aren't holidays to totally hide away and chill out on. This India. It's a busy and beautiful place. And no better way to explore that, than on the trains.
Our top Railway journeys Holiday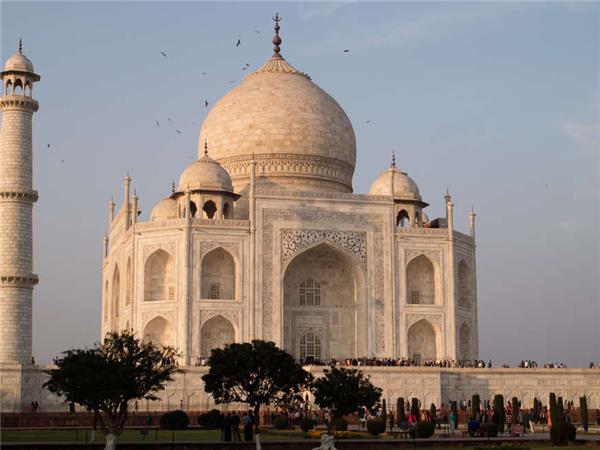 Northern India cultural and wildlife highlights by rail
From
£2355

to

£2756
16 days
inc UK flights
Small group travel:
2023: 4 Mar, 30 Sep, 4 Nov, 11 Nov, 18 Nov
2024: 17 Feb, 2 Mar, 5 Oct, 26 Oct, 2 Nov, 9 Nov
If you'd like to chat about Railway journeys or need help finding a holiday to suit you we're very happy to help.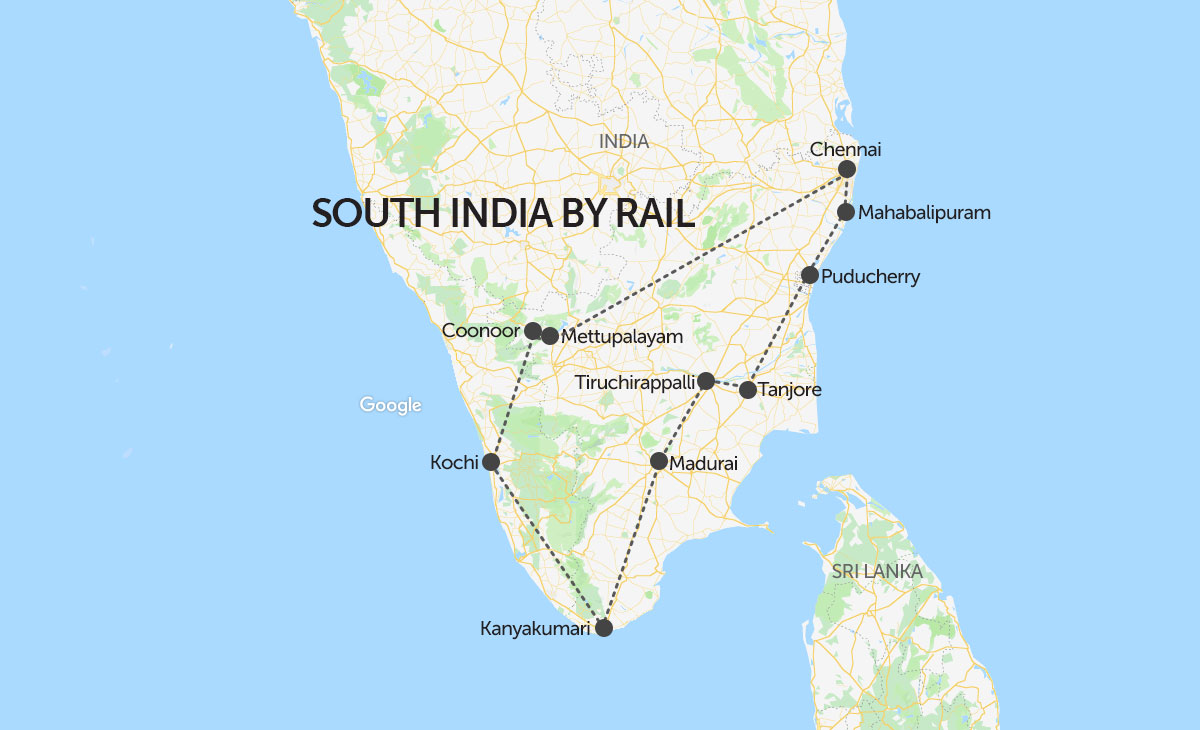 South India by rail
You can cover vast swathes of tropical South India by train in a couple of weeks, although three weeks is ideal if you can spare it. South India railway holidays tend to be tailor made, because the trains are so superb that it is pretty easy to get yourself from A to B, and then transfer with private drivers when there are no direct links along the way.

With your trains all booked for you in advance, these journeys tend to start in Cochin, the historic port and fort town, so you can chill out with a bit of coastal breeze. Then head into the famous backwaters for a couple of days on a traditional houseboat, before taking a train to Kanyakumari in Tamil Nadu. The coastal joys of Tamil Nadu are relatively unknown, as are the offshore rocky islets where ferry companies regularly take tourists. This region of Tamil Nadu is where some of Gandhi's ashes were brought to rest, at Gandhi Mandapam – you don't get a better recommendation than that.
The next leg is by train to Madurai, one of the oldest cities in the world, and a place of pilgrimage for Hindus thanks to its proliferation of temples, the most iconic being Meenakshi Temple, an outstanding example of Vijaynagar architecture. Other stunning religious sites include those in Tiruchirappalli, or Trichy for short. The beaches always beckon in the south, however, so head to Pondicherry or Mahabalipuram for coastal culture and seaside fun.
For a whole other side to South Indian culture, take the overnight Nilgiri Express from Chennai to Mettupalayam. This is the gateway to former colonial worlds of tea plantation towns, mountain steam trains known as 'toy trains' and hill stations such as Coonoor. There are so many aspects of Indian culture to experience in this vast country, but taking a railway journey around the south opens up many different worlds, many of them historic but many more of them totally vibrant and contemporary.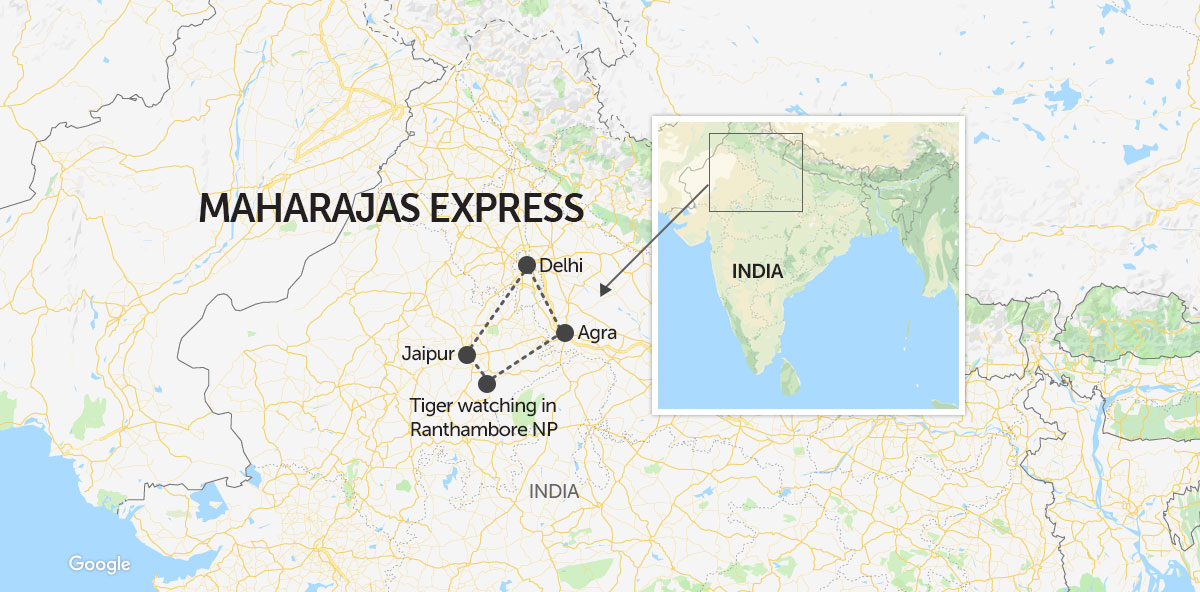 Maharajas Express
One of the most stunning ways to experience Northern India's cultural and natural highlights is to spend a week on board this beauty. This is far from the world of crammed carriages and chaiwalas selling their wares. Think more Marigold Hotel on wheels, with luxurious cabins, panoramic observation compartments, bars and fine cuisine.

These trains were in fact built as bespoke modes of transport for Maharajas and Maharani, so you really can lie back and relax. Or think of England, as they were pretty popular among the colonial elite too. Sleeping on board throughout (and why would you want to leave?), this route covers India's magnificent Golden Triangle of cultural and natural gems, hopping off at world famous spots such as the Taj Mahal, Ranthambore National Park and Jaipur.
Diana Syrett, Managing Director of one of our top South India railway holiday suppliers, Kerala Connections:
Carriage comfort
"When we organise your rail journeys in India, we will book the best seats available which will usually be in an air conditioned (AC) carriage, unless you choose a different option of course. AC carriages obviously need to have glass windows and the downside of these is that they are tinted and also can get very dirty meaning you don't always get the best view. However, you can wander throughout the train. If you do this, we advise you take your valuables with you."
Daypack necessities
"We recommend that you take drinking water, toilet paper (as this is not supplied) and soap or liquid sanitiser. You may also consider taking a packed lunch, although food and tea are offered on most trains and it is also possible to get off the train and buy delicious things at the stations. You usually have time and trains hoot loudly before departure so you are given a warning to hop back on. Note, however, that you have less time at stations on sleeper trains, so we advise you to bring food with you just in case."
Ticket costs & seating
"The service of railway porters is included in the cost of your holiday – so there is no need for you to struggle with your bags at the stations. Please note that the booking of seats/berths on Indian trains is an automated system which sometimes means that the seat numbers are allocated randomly. This may mean that your allocated seats are not always together (or even in the same carriage). But do not worry, this is the same for everyone and there is much swapping of seats to ensure families/groups sit together. Priority is given to children and foreigners."

Rachel Wasser, from our Asia railways expert supplier, G Adventures:
"I love our new rail trips in India. India has one of the largest rail networks in the world and it's used every day by millions of people as means of transport. I love that we get to jump on those trains and travel the same way as the locals. It just feels like you're really getting the true experience of travelling slowly around this massive country instead of sheltering yourself inside a private vehicle."
More about Railway journeys