As the early morning light hits Fez's mosques and madrasas, you board a train bound for Rabat. Four hours later, you're in the capital, lunching on a terrace – someone in your train carriage told you this spot had the best views in the city. As you look over the rooftops and decide where to go next, you think they might be right.
Morocco has a good rail network – trains are air conditioned and frequent, and connect the country's most interesting cities. Whilst Morocco's road safety record remains poor, its trains are comfortable and convenient, often departing from slick, newly built stations.
It's also the first high speed rail network in Africa. High speed trains started to operate in 2018 and halve the time it takes to travel between Tangier and Casablanca. It's great for Moroccans – a lot of whom take the train – but it's great for visitors, too, cutting down long, dull transfers by car. Travel in a small group or go on a tailor made trip, and an experienced train holiday specialist will sort out all the logistics of your rapid rail adventure.
Trains are a wonderful way to meet people en-route on holiday. "In the UK only sections of society use the train, aside from commuters. In Morocco, it's more universal," says Andy Scase, from our Morocco rail experts Rediscover The World. The last time Andy travelled by train in Morocco was during Ramadan. "You do meet a lot of people travelling at that time to see family… Quite often you meet people who want to come to talk to you because they want to practise English."

Too often, tourists return from Morocco having only really met a local in a souk, where they haggled over the price of a trinket. Train travel is a way to meet real people outside of a transactional setting.
Our top trip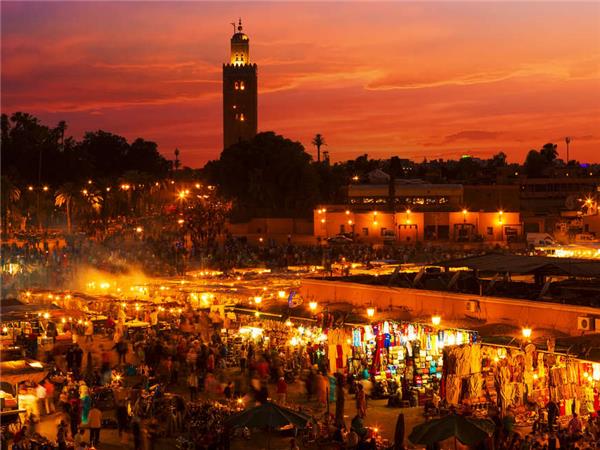 Visit villages and Moroccon cities
From
£1495

to

£1845
13 days
ex flights
Small group travel:
2023: 17 Dec
2024: 7 Apr, 21 Jul, 22 Sep, 20 Oct, 10 Nov, 22 Dec
If you'd like to chat about Railway journeys or need help finding a holiday to suit you we're very happy to help.

Highlights of a Morocco rail holiday
Casablanca
Casablanca was made famous by 1940s Hollywood, but today is Morocco's economic capital and its largest city, making it a popular shopping and social hub for Moroccans. There are few tourist sights, with the notable exception of the Hassan II Mosque. This enormous building jutting out into the Atlantic Ocean contains the work of 6,000 artisans.
Fez
The huge, ancient Chouara Tannery in the middle of Fez's old medina is a reminder of what this city used to be: a centre of medieval might, craftsmanship and influence. Fez might no longer be Morocco's capital, but it remains its cultural heart. It's worth staying in the city for a number of days to explore the surrounding area – the historic city of Meknes, where the tyrannical Sultan Moulay Ismail ruled over Imperial Morocco in the 17th century, is just a 45-minute train ride away. It's just an hour and a half drive to Volubilis, too – a Roman outpost that still stands guard over the rolling hillside. Archaeologists have unearthed several mosaics at the site.
Marrakech
There are few places where the evenings are as electric as in Marrakech's main square. Something special happens in Jemaa el-Fnaa as the sun sets – the lamps are lit, the crowd gathers, and the orange juice stands are doing a roaring trade. The city's medina souks (where authentic artisans can still be found amidst the mass-produced tat), gardens and museums are all worth a visit, too – and the city is near enough to the High Atlas for a mountain excursion. But for many people, it's the city's atmosphere that leaves the most lingering impression.
Rabat
Rabat, Morocco's relaxed seaside capital, sits on the Atlantic Ocean. It's a convenient four hours from Marrakech and 3.5 hours from Fez and, whilst being less renowned among tourists than its neighbours, has a few historic sites of its own that are well worth a visit. There's Kasbah des Oudaias, the fortress on the sea, with its maze of streets guarded by carved gates. There's a small medina for idle browsing, and Hassan Tower, the minaret of a striking unfinished 12th-century mosque
Spain
Under 20km from Tangier across the Strait of Gibraltar, and under Moorish rule for 500 years, southern Spain provides a fitting companion piece to Morocco. Andalucia's Moroccan monuments are found in the southern cities of Seville, Granada and Cordoba, where you can visit the Alcazar, Alhambra and Mezquita respectively. In the countryside, don't miss visits to the white villages. There are many, dotted across the high sierra in unlikely circumstances, their whitewashed walls clustered on the edge of perilous cliff edges.
Tangier
This busy port city has long been the place to meet and mingle, as Europeans pour off the ferry into its streets from across the Strait. Tangier sat under joint international control until 1956, and still feels like the setting for a spy story. Today, you can do less covert people-watching – on a trip down the boulevard, wandering in the medina, or over your sunglasses as you drink hot mint tea on the seafront.
How do I get to Morocco by rail?
If you're travelling from the UK, getting to Morocco by rail involves multiple trains. Generally, you'd take the Eurostar to Paris, then change at Barcelona and Cordoba. You need to ditch the railway to cross the strait of Gibraltar – there are ferries from Algeciras and Tarifa which take just over an hour to cross to Africa. The ferry from Tarifa takes you straight into the Port de Tanger-Ville, the closest port to the centre of Tangier.
What do Morocco rail holidays entail?
Morocco's souks might be maze-like, but its rail system is easy to navigate. You could do a self guided, tailor made trip and explore on your own. Your holiday company will organise all your tickets, transfers and accommodation in advance. Alternatively, you could join an escorted tour. These come with a guide who will accompany you at all times, and you'll travel in a small group of like-minded adventurers.
Where will I stay?
Most journeys are only a few hours long, so keep awake on the train and save your sleep for a family-run riad in town. Traditional Moorish homes are arranged around a central courtyard and feel like private oases, sequestered away from the rest of the city. In busy cities like Marrakech, they can be a godsend. Though there are a few sleeper trains in Morocco, most aren't particularly useful for tourists, except for the sleeper service which runs from Tangier to Marrakech. Book a couchette – a sleeping compartment – and enjoy the ride.
Practicalities
Since most cities in Morocco are less than five hours away from each other, on travelling days you'll generally catch the train in the morning, arriving in the next city in time for lunch. Holiday companies tend to book you into the first class carriage as default. You can expect modern stations and up-to-the-minute travel information. Dress appropriately – you should treat the train like you would any public space in Morocco – and pack a suitcase that you can comfortably carry on and off the train yourself.
Best time to travel by rail in Morocco
Rail trips in Morocco tend to be a series of city breaks, so avoid doing them in high summer. Though there is air conditioning on the modern trains, once you're out and about exploring the Roman ruins at Volubilis or the Majorelle Gardens of Marrakesh, you don't want to be in 35°C heat. October through to March is a popular time to go – though the winter months can be rainy, especially on the coast. Travelling over Ramadan can be a really interesting experience, and towns and cities will be lively in the evenings.
More Railway journeys articles