Take to the skies, Flying Scotsman. Begone, Bernina Express. Rail holidays to the Balkans explore over 1,000km of rail tracks tying together 10 countries. You can trundle along castle-topped Adriatic coastlines and skim past lakes. Dive through 200-plus mountain tunnels before rolling across the Mala Rijeka Viaduct, one of the highest railway bridges in the world. And you'll stay in a different city each night, from leafy Ljubljana to curious Skopje. All in the space of two weeks.

Cities are delivered to you. You don't have to twitch a muscle as the train takes you from Slovenia to Croatia to North Macedonia.

Sound exhausting? Not when you travel the Balkans on an organised tour. Once you've hefted your luggage onboard, you can order a coffee, kick back and spend three hours watching the scenery come to you as a guide translates exactly what you're seeing. A tour guide is invaluable in the Balkans, where the recent rocky history is as fresh as the mortar scars.
That's not to say that you don't get to stretch your legs, though. Any Balkans rail holiday worth its salt includes a walking tour at each city you swing by – and they tend to target the cities that many travellers forget, from Sarajevo to Zagreb. Plus, optional half-day trips take you out into the national parks and islands.
These are places that appreciate your coin and your company. Many cities were devastated in the Yugoslav Wars that ran from 1991 to 2001. You'll see topless houses in Mostar, while painted 'roses' memorialise shell damage on the roads of Sarajevo. Although whistle stop, a great railway holiday to the Balkans doesn't just skim past these cities; you'll hop off and spend time walking – and understanding – the bruised streets and investing in locally run hotels, bakeries and bars.
As for your carbon footprint, it'll be more like a carbon thumbprint. Trains create
up to 90 percent
less CO² emissions than planes. Plus – especially in the Balkans – it's a communal, community-enhancing way of travelling. Consider how you're directly investing in local transport, and it's enough to make you swear off air travel for life.
Our top Railway journeys Holiday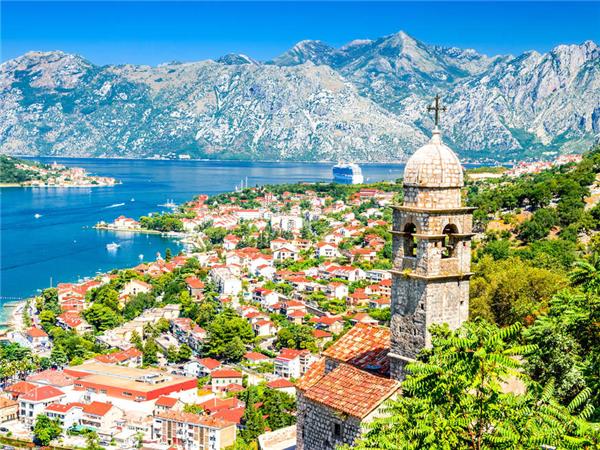 Travel through seven countries in the Balkans.
From
£2699
16 days
ex flights
Small group travel:
2024: 4 May, 18 May, 1 Jun, 15 Jun, 10 Aug, 31 Aug, 7 Sep, 14 Sep, 28 Sep
If you'd like to chat about Railway journeys or need help finding a holiday to suit you we're very happy to help.

What do Balkans rail holidays entail?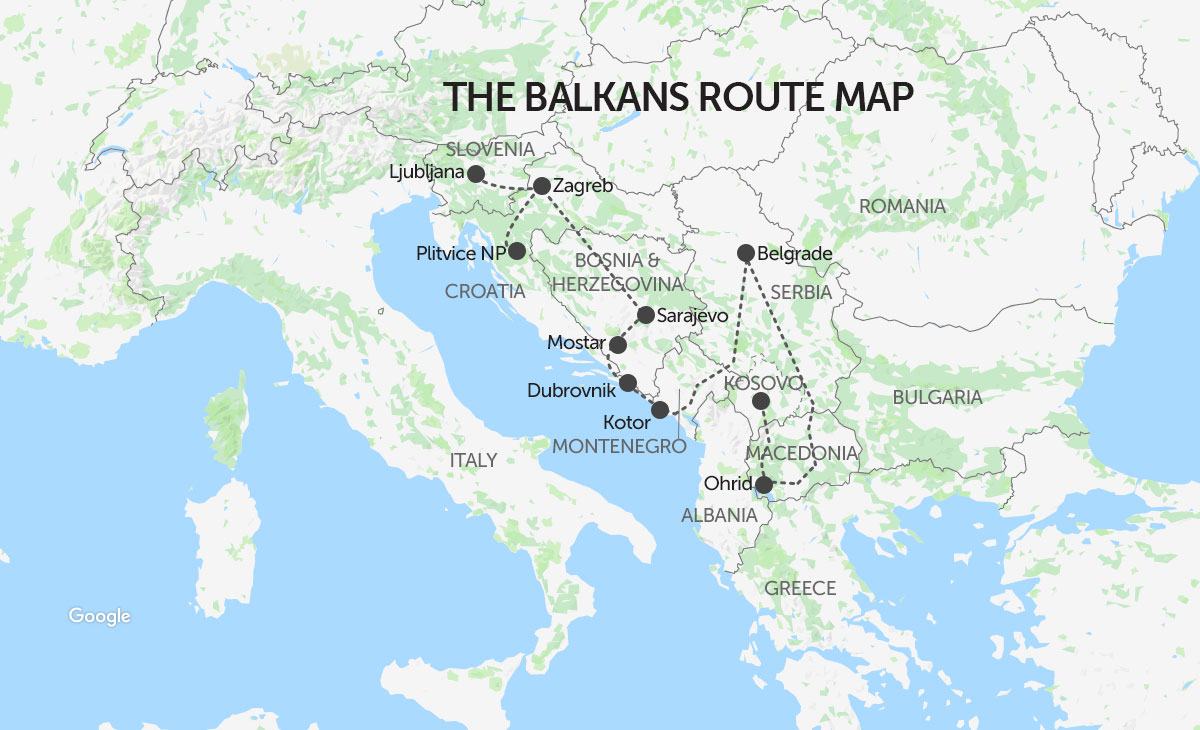 The routes
The Bar (Montenegro) to Belgrade (Serbia) line is the star of any Balkans rail holiday. Covering 11 hours of gorges, canyon-crossing bridges, snow-tipped mountains and startlingly blue lakes, it's by far and away one of the most scenic railway journeys in Europe. You'll also get the chance to jump on a nine-hour train ride through the jagged mountains of rural Bosnia and Herzegovina, and a three-hour train trip from Sarajevo to Mostar that chugs slowly through countryside once occupied by Bosnian Serbs during the Bosnian War.

A series of bejewelled cities pin each route. The leafy Slovenian river capital Ljubljana is usually the starting line. Zagreb in Croatia is a veritable cuspajz stew of elaborate Austro-Hungarian architecture, Gothic cathedrals and behemoth Brutalist towers. And Montenegro's Kotor is clasped by peaks that could be mistaken for a Norwegian fjord.
Sarajevo is less glittering and more cultural gold. Pre-WWI, the minarets, spires and synagogues served a medley of worshippers who now live on separate sides of the river. A three-hour train trip from Sarajevo to Mostar reveals that the beloved humpback bridge has been restored to a shine. The halved houses, on the other hand, are very visible casualties of the Siege of Mostar – a memorial to the hundreds of civilians killed over three years here.
At each stop, you'll get the chance to visit off-rail wonders like Plitvice Lakes National Park, fairy tale Lake Bled and Mavrovo National Park, home to North Macedonia's highest mountain. You might get the chance to drive up to Mount Vodno to see the sunrise light up Skopje below or tread in the sandalsteps of Roman gladiators in the ruined amphitheatre of Heraclea.
Small group tours
Rail journeys in the Balkans are complicated by various variables, from unreliable train services to a history that includes genocide-hit cities and towns still crumbled under the weight of shelling from the decade-long Yugoslav Wars. The Balkans also stretch out for over 1,000km – so how do you know here to start?

The answer is actually pretty easy: join a small group rail holiday to the Balkans. These trips run to a set itinerary designed for a small group, so you'll join 12-18 travellers who just get why travelling by train beats a series of stuffy internal flights. The itinerary will be carefully designed to guide you through the best bits of the Balkans. Our tour operators also know the railways' limitations. On unreliable sections, they'll replace trains with bus transfers that deliver you to your next stop.
You'll be paired up with a guide who knows the Balkans like the back of their hand. They'll search out the bakeries that serve the cheesiest strukli, be at your side for the frequent border crossings, and teach you how to say hello and thank you in the numerous countries you roll through. They can explain how the Balkans are recovering from the Yugoslav Wars – and be honest about the ways some shell-shocked cities are still struggling.
Accommodation will be pre-booked for you on a small group trip – mostly locally owned hotels within walking distance of the train station. Some trips include one night on an overnight train. All breakfasts but just a few dinners will be included, leaving you the freedom to eat where your budget (or taste buds) demand. Keep in mind that you'll be lugging your own luggage on and off the trains; pack light and take advantage of the hotel's laundry services.
Best time to go on a Balkans rail holiday
Rail holidays to the Balkans generally run from May to early October. Summer is straight-up sizzling, with Montenegro and Croatia pushing 30ºC in July and August. Rail car snack bars are more likely to be open in summer, although pickings can be slim. If in doubt, bring your own snacks. Spring is cooler but a little rainier, and you should still see a cloak of snow in the mountains. It's worth checking the weather forecast for each country you're visiting before you go; you'll likely cover over 1,000km, so climates vary from chilly mountaintops to sun-warmed cities.
More about Railway journeys