Scotland by train
---
DISCOVERING SCOTLAND BY RAIL
Seeing Scotland by rail is one bonny and beautiful way to do it. Not least because you don't have to tackle remote drives, meaning that you have all the time in the world to just sit back and take in all that those wild moors and Highland heritage. Also, anyone who has travelled by train in Europe knows that booking can be the work of the devil sometimes. Leaving all that to a specialist holiday company who knows not only how to book the best journeys, but also which hotels and guesthouses to link up with along the way, means that you are relaxed before you even start your trip.
Scotland train routes
---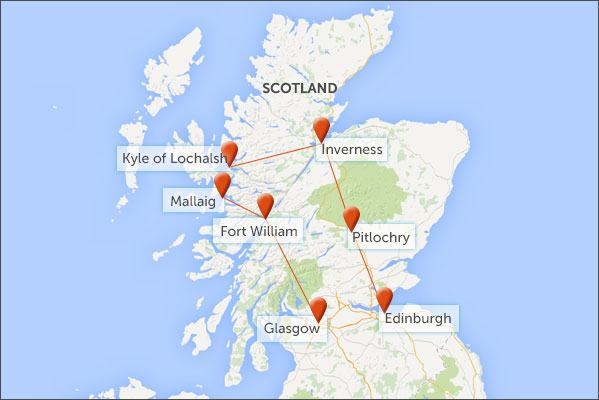 The classic Scottish railway circuit
---
The classic railway journey around Scotland's most stunning natural heritage takes about a week, although because these are tailor made trips you can always extend this and go really off piste. Starting on piste, in Edinburgh, you quickly swap urban for utopia, Caledonian style, heading up through the colossal sight of the Cairngorms National Park, and then the southern Highlands to Pitlochry. Which really is as pretty as it sounds and a wonderful place to spend a night.
From Pitlochry to Inverness, the capital of the Highlands and the gateway to iconic spots such as Loch Ness or the site of the Battle of Culloden. Nothing but peace follows on the railway journey west to the Kyle of Lochalsh, covering over 120km of magnificence as you travel in the shadow of highland greats such as the Torridon Peaks and alongside ancient forests and bogs. Look out for tiny stations along the way, the sorts of places that are so remote that passengers on the platforms put their hands out for the train to stop. The Kyle of Lochalsh is also the jumping off point for the Isle of Skye where it is definitely worth getting your walking legs back and exploring for a couple of days.
Glenfinnan gorgeousness
---
From Skye to the heavenly and historic railway journey from Mallaig, back on the mainland, to Fortwilliam on the shores of Loch Linnhe. It doesn't get much prettier than this, on board the Jacobite Stream train in summer. There are options for other trains during other times of the year, all following the West Highland Line which crosses the famous Glenfinnan Viaduct en route. This stunning piece of architecture was opened in 1901, its 21 arches crossing a 300m span at a height of 30m.
The Great Glen & Loch Lomond
---
This West Highland Line finishes in Glasgow, with a popular overnight spot along the way being Spean Bridge in the heart of Great Glen, and then heading on through one sublime moment after another, hooting your way through the protected landscapes of Loch Lomond and Trossachs National Park. Watch out for eagles soaring, deer darting and hikers exploring. You will need a couple of days to adjust to urban Scotland after that, but do build time into your itinerary to enjoy the cultural highlights of Glasgow or take another train back to Edinburgh. Alternatively, if you want to head south of the border, there is no better way to do it than on the Caledonian Sleeper. Embark in Glasgow around 11am and hear the sound of Big Ben around 7.
You can of course do this trip in reverse, starting in Glasgow and heading up the west coast to end up in Inverness and then back down south through Pitlochry. Or travel further north, extending your trip to far off shores at Thurso and Wick, where you can take ferries out to Orkney and Shetland. Where more bonnie beauties lie over the ocean.
Scotland rail journeys advice
---
OUR SCOTTISH SAGES

Scotland railway journeys travel advice from Robert Kidd, founder of our leading supplier, McKinlay Kidd:
Packing tips
---
"Pack light, because you are getting on and off trains and carrying your own luggage. We do meet guests at each station, of course, but you do need to be able to get your bag off a train and onto the platform. Two huge suitcases can become stressful and take away from your enjoyment of the trip. It's only a week long, so you don't need lots anyway. Some people do this as part of a longer UK trip, and then they store their extra luggage in Edinburgh or somewhere."
Food tips
---
"Sadly the food and drink on the trains are not great, so it is always good to bring your own snacks, especially if you like fruit and healthy snacks. You can usually get tea, coffee and water, but extra snacks in your bag are a good idea."
Fellow travellers
---
"One of the reasons I really like the train is that you are not in your own cocoon of a car, and so you do get to meet the local people. It is a much more social thing and you meet all sorts of characters on a train, sometimes even ones you might not necessarily want to spend time with! Of course, our guests love the views, the skies, Ben Nevis and all those sorts of things, but more than most, like all good travel, they remember meeting the people."
Best time to go
---
"Everyone wants to go on our rail holidays to Scotland in May or June, but actually I think the nicest times are actually in the autumn. The weather can be a bit more mixed, but you get the autumn colours and especially the heather from late August. In September the trees begin to turn, and then later in the autumn when the leaves fall off the trees, the views are much more open. So I think the autumn can be rather beautiful. We don't really organise these trips in the winter, due to train disruption. I wouldn't go in the depths of winter to be honest."

Hello.
If you'd like to chat about railway holidays or need help finding a holiday to suit you we're very happy to help.
Rosy & team.
01273 823 700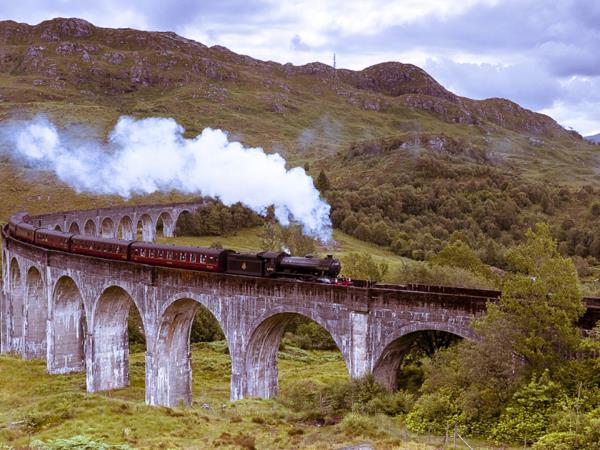 Experience authentic Scotland independently and car-free
From
£1025
8 Days
ex flights