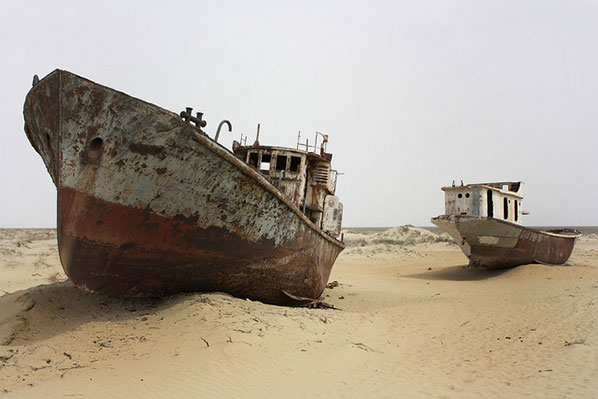 If there is one stand out story that serves as a cautionary tale of water exploitation, it is that of the Aral Sea, an endorheic lake lying between Kazakhstan in the north and Uzbekistan in the south. In the 60s, Uzbekistan, which was then part of the Soviet Union, was installed with extensive irrigation systems to enable a massive increase in cotton production, a plant that is incredibly thirsty and definitely not suited to Uzbekistan's dry climate. To provide more water, two rivers, the Amu Darya and the Syr Darya, which had run into the Aral Sea, were diverted causing it to shrink by over 75%. The surrounding soil, which was already very arid, became over salinised and a huge proportion of land degraded at an alarming rate.
Now, 20 years on from becoming an independent country, Uzbekistan may be the second largest exporter of cotton in the world behind the US, but their agricultural practices have barely changed and more than half of the Aral Sea basin is a dry, salt-encrusted wasteland – areas of the countryside can appear confusingly thick with snow under a blazing hot sun, but the 'snow' is in fact 3cm of salt. Resultantly, the whole area's ecosystem is severely degraded with wildlife habitats destroyed on a catastrophic scale.
Uzbekistan's natural environment has been abused and exhausted with consideration for little else than short-term profit and as most of its land remains state property, the government decides what is grown and by whom. Farmers are also provided with quotas for cotton and wheat production by the state, so if they're going to be able to hit these targets and continue to develop their own small-scale agriculture then more education must be given to them regarding sustainable practice and new ways of water and land use will need to be widely implemented by the Uzbek government.
The Aral Sea will never be replenished, but thanks to organisations such as the Khorezm Rural Advisory Support Service who are collaborating with international partners and the Uzbek Ministry of Agriculture and Water Services to provide local farmers with advice and training in agriculture and the environment, a growing proportion of the country's 80,000 farmers have begun to apply less harmful fertiliser to the land and rotate their crops properly, and areas that were once degraded topsoil covered thick with salt are now fertile and green once more.
What can you do?
This is a tricky one as the problem is deep-rooted and there doesn't appear to be much will to change it. It's unlikely that to cease eating melon – a very thirsty commodity that's grown everywhere – will make a difference to how many are grown and also, the melon in Uzbekistan is absolutely delicious, some of the best you can taste in the world, but it would be advisable to eschew cotton souvenirs in favour of those that benefit the locals directly such as hand-panted silk or glazed porcelain tiles.