What is the Silk Road?
---
The Silk Road in Detail
The Silk Road conjures up evocative images of a fanciful era when caravans of camels, mules and horses transported everything from spices and jade to walnuts and, of course, silk between China and the West along a series of lengthy and complex routes.

Associated with brave adventurers like Marco Polo, romantic poets like Coleridge, and legendary trading hubs, Samarkand and Kashgar, that still bask in their former glory to this day, the Silk Road represents for modern travellers a highway laden with myth. It traverses China's less explored desert fringes, the underdeveloped Caucasus and the intriguing 'Stans', countries that used to be hidden behind the Iron Curtain, but that are now safe to explore.
There is no single Silk Road, but a vast network of routes that connect the edge of Europe with the eastern fringes of Asia and the Pacific Ocean. Trading for over 15 centuries, it was the world's first commercial highway and quickly gained momentum as a means of trading after one man was sent from China's imperial court at Chang'an to explore the world to his west. Curiosity fuelled further expeditions and soon the wheels of trade found themselves firmly in motion: the West brought wine, wool and exotic fruit and nuts, while the East traded in porcelain, paper and the most precious commodity: silk, a mystery to the West and a must-have for extravagant Rome.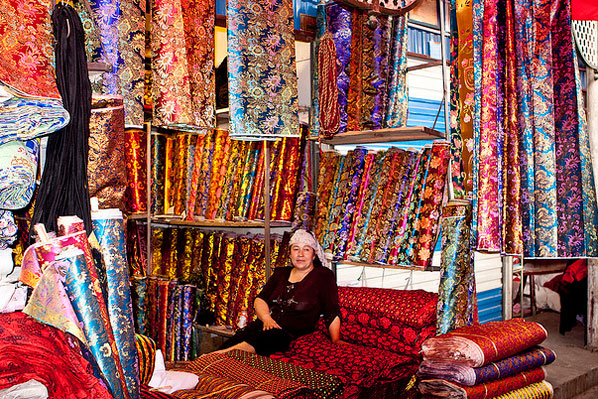 The main artery of the trading route ran from Alexandria on the Mediterranean Coast, through Persia, across the Stans and into China, along which groundbreaking information about art, religion and cultural difference spread back and forth as readily as the unusual produce itself. By the 13th century however, trade along the route dramatically declined; the rise of shipping together with the spread of the plague and the arrival of sericulture in Europe deemed overland travel inefficient and dangerous and the Silk Road slowly became obsolete leaving behind a rich tapestry of history and architecture that still astounds visitors today.

Hello.
If you'd like to chat about the silk road or need help finding a holiday to suit you we're very happy to help.
Rosy & team.
01273 823 700