Wildlife cruising
Taking a small boat through sensitive habitats which are teeming with wildlife feels like an honour. It's like nature opens her doors and lets you glide through for momentary glimpses of gorgeousness. A wildlife cruise on a small boat takes you into the places that the big cruisers can't access, or aren't allowed to go, such as the remote Galapagos Islands, into small bays to see polar bears in Spitsbergen, penguins in Antarctica, dolphins and whales around the Scottish islands, and a wild, wondrous world of walruses, whales and bears in Alaska. The best kept secret wilderness of all.
Antarctica cruises
You need to be a committed explorer for this journey. The Antarctic Peninsula – an extension of the Andes – is the most popular landing spot, as it is the closest point to South America, but still separated by the notoriously rough 1,000km-wide Drake Passage, which takes two days by boat. Cruises often stop off at islands along the way, which helps to break up the long voyage. Those departing from New Zealand will set sail for the distant Ross Sea, pausing to explore the tiny Subantarctic Islands – some of the most remote specks of land on the planet. The great distances here generally require lengthier expeditions. However, the rewards are great on this frozen continent. Baby seals flop across the ice, while comical penguins waddle and dive. Giant albatross launch themselves off cliffs, while the sight of the long-anticipated Antarctic sunrise reflected in still waters will melt your heart.
Expedition cruising
Forget dinner at the captain's table or cocktails by the pool. Often on board former expedition ships, these cruises take you to the earth's extremes – the polar regions of the Arctic, Spitsbergen and Antarctica, and always with expert guides. They will, of course, have good cabin facilities, some may have en suite and others might not. You won't get expedition style food on board though, because all that adrenaline from spotting the likes of polar bears or walruses, whales or penguins, create a healthy appetite. The luxuries on expedition cruises are lectures from guest experts, warm observation rooms, and high quality all weather gear, for people who seek extraordinary wildlife watching, adventure and going with the floe. So to speak.
River cruising
Ideal for those who love water as an element and who want to see landscapes from a fresh and, often refreshing perspective, but who are prone to sea sickness. River cruise holidays often take you into remote spots, allowing you to moor alongside fishing villages in Kerala, for example, temples along the Nile, ancient fortresses along the Yangtze or for rainforest treks along the Amazon. They are also often on traditional houseboats, such as the dahabiya on the Nile, or the famous kettuvallam (or rice barge) in Kerala, India. Rivers have long been the arteries of countries around the world and, as you cruise along them, you get to learn about the life that has grown around them, the people who live off them, and the wildlife habitats that we strive to protect there.
Sailing cruises
It's all clichés on board with sailing holidays, because they really do put the wind in your sails, and will definitely give you that 'wind running through your hair' feeling. Life on the ocean waves can take you to some of the most unforgettable locations too. Sail the Aegean in Turkey on board a traditional Turkish gulet or explore a whole other side of Burma on board a yacht sailing around the stunning Mergui Archipelago. Avoid the giant cruise monsters in places like Norway by sailing around the smaller, quieter fjords. Island hopping with only wind power in the likes of Croatia and Greece are must dos for any sailor, with snorkelling and swimming all part of the Mediterranean mix. And with a skipper and cook to take care of all your fundamentals, you need focus only on the frolics. You will need a few more layers on a Scottish sailing holiday, but watching whales, dolphins and a bevy of birdlife along the Kyles of Bute, for example, are the finest rewards. That and a fine malt whisky with the skipper at the end of the day.
Tall ships

A traditional windjammer tall ship will take you back in time and around the Caribbean. All in all, a bit more 'me hearties' than glitzy parties.

Combine adventure, sailing skills and pure admiration for the craftsmanship involved on a tall ship cruise holiday. And of course, seascapes that you usually only see on escapist screensavers, or ads for Bacardi. Such as Italy, where you can escape the cruise ship giants of Venice and board the traditional, and definitely greener, ruler of the oceans.
Our top trip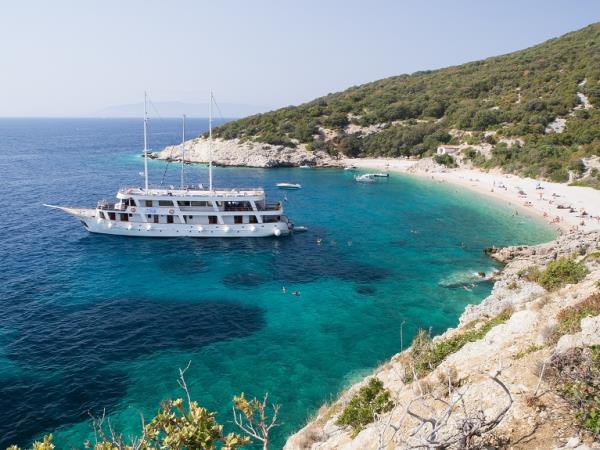 Cruise Croatia's beautiful islands on a small cruise ship
From
£731

to

£946
8 days
ex flights
Small group travel:
2024: 13 Apr, 20 Apr, 27 Apr, 4 May, 11 May, 18 May, 25 May, 1 Jun, 8 Jun, 15 Jun, 22 Jun, 29 Jun, 6 Jul, 13 Jul, 20 Jul, 27 Jul, 3 Aug, 10 Aug, 17 Aug, 24 Aug, 31 Aug, 7 Sep, 14 Sep, 21 Sep, 28 Sep, 5 Oct, 12 Oct
If you'd like to chat about Small ship cruising or need help finding a holiday to suit you we're very happy to help.

Traditional boat cruising
The marinas around the world that are packed with glossy, glitterati filled yachts are gobsmacking to most of us. However, if the sheer craftsmanship of a traditional boat is what really makes you stop, stare and want to climb on board, then traditional boat cruises are for you. You might not find Champagne and caviar on board a Turkish gulet or an Egyptian dahabiya (houseboat), but you will find a wealth of local culture, history and pride in having you on board. Traditional boats are usually skippered by people for whom the water is their life and greatest love, and this passion is infectious when you travel with them. Such as the beautifully crafted wooden hulled fishing trawlers, now tourist vessels, that take you round the Scottish Islands, or a traditional windjammer tall ship which will take you back in time and around the Caribbean. All in all, a bit more 'me hearties' than glitzy parties.
Lara Paxton, at our tour operator The Small Ship Cruise Collection, says:
"I was on a Turkish gullet once, moored in Marmaris at the end of our amazing trip, and one of those giant cruise liners pulled up beside us, and I just thought, I couldn't think of anything worse than being on one of those right now."
Last minute cruise holidays
Last minute spaces
do come up on small cruise holidays, because it is in the interest of the tour operator to fill the boat. So, if someone drops out, grab a space, especially on some of the 'trip of a lifetime' expeditions, such as to Antarctica, which often fill up far in advance. Being spontaneous and heading off to go whale watching around the Hebrides, or practise yoga on board a traditional Turkish gulet boat, instead of another weekend tucked up with a box set, is when you realise that life is for living.
More Small ship cruising articles