The Ganges, Nile, Gambia, Amazon – certain rivers have reached mythic proportions in our imaginations. After all, these rivers and their deltas and tributaries are the circulatory system of their country – or countries. They keep the region revived, keep it moving. People live, work and are laid to rest on these rivers. They're trading routes, spiritual waterways and a lifeblood. They inform how whole nations have developed, from the pyramid and papyrus-loving Pharaohs of Ancient Egypt to the boat makers of Kerala.

I've known rivers: I've known rivers ancient as the world and older than the flow of human blood in human veins. My soul has grown deep like the rivers.

– The Negro Speaks of Rivers, Langston Hughes
A
river cruise
takes you along these culturally important waterways. You might learn about the myths of the Nile, where crocodiles were once honoured as a reincarnation of the god Sobek. Or meander through the tributaries of the Gambia, to pelican-packed national parks like Bao Bolong Wetland Reserve. You could meet riverside silversmiths that make more than tourist trinkets in Cambodia and understand how dams and flood controls have changed the Yangtze for both better and worse.
The best small ship river cruises are unobtrusive and immersive, using local crew and boat makers. And they're an easy way to steer well clear of the rumbling coach tours and packed backpacker circuits. To make sure that all those boxes are ticked – local guides, efficient fuel, responsible ethics – you need to travel with a specialist tour operator.
What are river cruise holidays like?
Organised river cruises come in two sizes: small group and tailor made. Small group trips fit up to 16 people. Or even less – say, eight or four. It all depends on the size of the boat. They might book your group onto a bigger ship, like an ex-steamship. Or you might get a vessel just for your crew. You'll travel on a set itinerary, with accommodation, transport and most meals included.

That's true of tailor made river cruises, too – but they work to an itinerary designed for you. You get to say if you fancy spending an extra couple of days in Cairo, or if you'd rather see Angkor Wat on the edge of the emptier rainy season. And you can choose not to share the deck. Instead, book a Keralan houseboat all to yourself.
The cruise might be a short sailing that's part of a longer exploration of a country (say, a two-day cruise during a three-week tour of China). Or the river cruise might be the holiday; that's the case with most Nile sailings and Kerala houseboat holidays.
You might not be sailing on a choppy sea, but weather and water conditions still hold sway over every step of a river cruise itinerary. So be flexible. Water levels, tides, flood warnings and traffic will all affect a river cruise. Expert tour operators navigate these with ease and rework the days into something just as exciting. Just go with the river flow.
While still disappointingly far and few between, there are some accessible river cruises out there. And the ones that do exist are done well. Nile cruises
for wheelchair users
, for instance, include transfers in private accessible vehicles, a personal guide and thoughtfully chosen hotels. They're also tailor made to your individual requirements. If you're unsure about whether a river cruise matches your abilities, just ask.
Nile, Egypt
Too obvious? Nah. There's a reason why
Nile cruises
have gone down in legend – they explore one of the most important rivers on the planet. A great tour operator will make sure you don't jump on the metaphorical floating bandwagon, but do it the right way – in an Egyptian felucca sailing boat, for instance, or a
wheelchair accessible vessel
, or a five-star boat with a sundeck readied for the watercolour sunsets.
Most river cruises dawdle their way from Luxor to Aswan, where man-sized papyrus sway and temples dedicated to Sobek, the crocodile god, recline on the riverbanks. You'll use your shore leave for guided tours of the Great Pyramid of Giza and Valley of the Kings.
Yangtze River, China
Yangtze River cruises
float downstream on one of the world's greatest rivers. You'll get an unparalleled perspective of limestone rock formations around Yangshuo and ride right through the Three Gorges (water levels permitting). The towns and villages along the way live off the Yangtze; you'll get the chance to stop off and wander among the people who depend on this great artery. It's a powerful river, so expect a bigger boat complete with twin berth cabins and – if you're lucky – en suite bathrooms.
Gambia River, Senegal & the Gambia
A cruise of the
Gambia River
usually winds up being a series of cruises that explores different strips of this 1,120km West African waterway. These shores have been inhabited for roughly 4,000 years, so it's a tour through history that touches on everything from mysterious standing stones and roundhouse villages to the dark slave trade history of French colonialism and the living oyster shell islands of the Saloum Delta.
The best tour operators match you up with a characterful boat like a converted groundnut vessel, where you'll sleep communally on the upper deck, under a wide sky pricked with stars. As you move through Senegal and the Gambia, you'll smooth past bamboo groves, tropical forests and mangrove swamps. This is hippo, croc and monkey country, so keep your eyes peeled and your ears perked. Tributaries like the Bao Bolong Wetland Reserve chatter with over 250 bird species, too.
Kerala backwaters, India
The myriad backwaters of Kerala are the stomping ground of the
kettuvallam houseboats
. The best cruises ease you away from the charmless tourist routes and explore the lesser-visited waterways. The smaller the boat, the better your chance of ducking into the narrow canals and beneath low, old bridges. For that, you'll need to travel with a tour operator that has access to a converted one-bed rice barge. It'll be just you and the expert Keralan crew. If you can, grab the chance to anchor overnight at villages and bookend your Kerala cruise with a homestay.
Mekong River, Cambodia
Everyone visiting Cambodia wants to go from Phnom Penh to Angkor Wat – but hardly anyone decides to ditch the carbon-heavy internal flights and take that voyage by boat. That's terrible news for the environment and people, but pretty good news if you want a peaceful alternative to one of the most well-stomped tourist trails on the planet.

The rhythm of the Mekong River is so meditative that you'll almost forget you have a destination in mind: the matchless Angkor Wat.

Most
Cambodia river cruises
take three days to sail down the mighty Mekong, where lakeside villages meld copper ornaments to designs unchanged by the tourist trade, and Buddhist pagodas like Kampong Tralach rest by the water. Your trusty steed will probably be a 20-passenger riverboat topped with a wooden sundeck and widescreen views.
Our top trip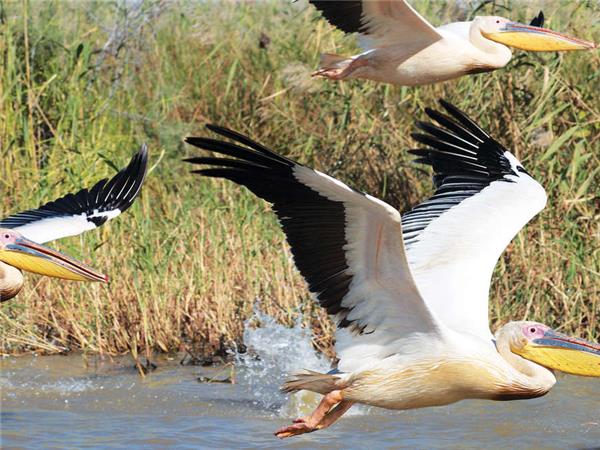 Discover west Africa's wildlife & Senegal's heritage
From
£1995

to

£2319
13 days
ex flights
Small group travel:
2024: 10 Mar, 31 Mar, 14 Apr, 12 May, 2 Jun, 13 Oct, 20 Oct, 27 Oct, 3 Nov, 10 Nov, 17 Nov, 24 Nov, 22 Dec
If you'd like to chat about Small ship cruising or need help finding a holiday to suit you we're very happy to help.

Responsible river cruises
Small groups and small boats have a low impact on the environment. The river cruise specialists that we work with are the opposite of the behemoths polluting the waters and communities they touch. They really care. Choose a tailor made river cruise, and it's often just you and the crew stepping off at every mooring.
Travel with one of our partners – river cruise experts who work with locally owned tour operators that employ staff as locally as possible. That way, your pennies will be invested in the country and people who need it, plus you'll travel with guides who offer enchantingly honest opinions about everything from overtourism in Kerala to the state of Brazilian politics today.
All inclusive dining doesn't mean what you think it means. Your ship's cook will often stock up on ingredients in the floating markets and waterside villages along the way. Expect doughy pitta bread, fried aubergine and falafel on the Nile, Gambian okra stew, or veggie Keralan curry.
Chances are that you'll sail through national parks, so make sure you use a river cruise company that minimises their imprint on the natural environment by sticking to very strict wildlife watching and waste disposal guidelines. The best tour guides put the wildlife's comfort above yours and look to preserving the future of their watery backyards.
You'll hear stories abounds of the congested waterways of Kerala. Refuse to contribute to this by travelling with a tour operator that'll help you explore the waterways that the bigger boats can't touch. It's better for you, the environment, the wildlife, and the people.
Responsible river cruising is reviving a once dying boat-making industry. Take the kettuvallams in Kerala that were once country boats used for trading goods: tourism has breathed life back into the workshops and dry docks of artisan boat makers. Just make sure you travel with a company that gets and maintains its boats in the country you're travelling in. Traditional, local woods and top-notch craftsmanship turn a mere mode of transport into a work of art.
More Small ship cruising articles