Small ship sailing cruises
Sailing holidays are for voyagers who want to understand what's going on behind the scenes of a cruise. Experience required ranges from absolutely zilch to Day Skipper qualifications that allow you to steer a yacht solo. Many small group sailing holidays can handle all types of abilities. Perpetually patient skippers will show complete novices the ropes, while letting sailors with some experience focus on perfecting their port manoeuvres. Each sailing will always begin with a safety and mission briefing, so you'll get a handle on what's required each day.
Sailing cruises that let you earn qualifications like the Competent Crew or Day Skipper along the way are more rigid in their approach. Itís hands-on stuff, with minimum textbook theory involved. If you donít want a qualification, youíll just get the pleasure of ending up with a sea miles log form that you can hang above the mantelpiece. A small ship cruise specialist will be able to find the right sailing holiday for you based on your capability, preferences and crew members (children are usually welcome).
One thingís for sure: go small ship sailing, and youíll be among fellow explorers and an international crew that really knows how to spin a yarn. After working, eating and living together for a week or two, youíll have (ship)mates for life.
Our Small ship cruising Holidays
Bareboat sailing
Bareboat sailing
is for the experienced sailor. Youíll get to charter your own boat for a week all for yourself, so if you donít want a skipper on board then youíll need a Day Skipper qualification. Most holidays head for the Mediterranean (Croatia and Greece) or the Caribbean (Antigua and Barbuda, for example). In fact, some would say that bareboat sailing is one of the best ways to see these heavily visited spots. Youíll experience them by blink-and-youíll-miss-Ďem beaches and population: 3 islands.
Itineraries are often tailor made, so you can take them with a generous pinch of seasalt. Boats come stocked with books with tips on the most beautiful bays to moor in or snorkelling spots where there are more turtles than people. Berths donít tend to be pre-booked, so youíll need to take special note of the tour operatorís advice about high season in your wish-list ports.
Flotilla sailing
Flotilla sailing
is exactly what it says on the tin. Youíll sail as part of a fleet of boats, so your yacht is just for you and your friends or family. You can opt to have a skipper or not, depending on your level of experience. Whatever you choose, thereíll be an experienced guide leading the way. All you have to do is make it to that dayís meeting point by nightfall Ė be that the Amalfi Coast or the wide, flat bays of the British Virgin Islands.
Tall ship sailing
Make like Hornblower and sail the seven seas in a
tall ship
. Youíll get to muck in with a good-sized experienced crew, so itís a great environment for learning how to sail. Have a go at climbing the rigging and unfurling the sails Ė even scrub the deck (but try to avoid walking the plank). Youíll be among likeminded people after a Napoleonic adventure Ė and thereís often room for a shipís dog.
Our top Small ship cruising Holiday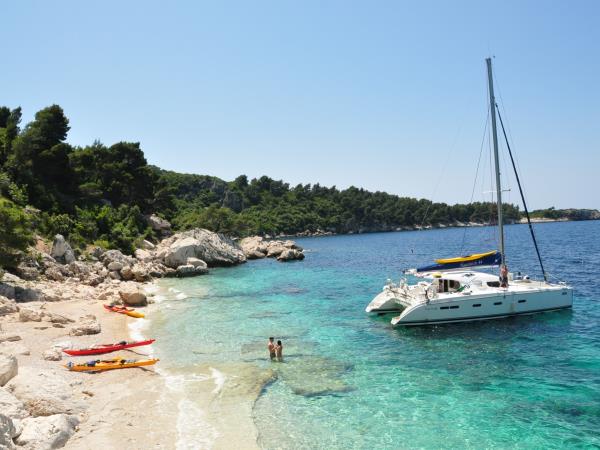 A multi-activity adventure sailing cruise in Croatia
From
Ä580

to

Ä790
4 days
ex flights
Small group travel:
2023: 15 Apr, 16 Apr, 17 Apr, 18 Apr, 19 Apr, 20 Apr, 22 Apr, 23 Apr, 24 Apr, 25 Apr, 26 Apr, 27 Apr, 29 Apr, 30 Apr, 1 May, 2 May, 3 May, 4 May, 6 May, 7 May, 8 May, 11 May, 13 May, 14 May, 15 May, 16 May, 17 May, 18 May, 20 May, 21 May, 22 May, 23 May, 24 May, 25 May, 27 May, 28 May, 29 May, 30 May, 31 May, 1 Jun, 3 Jun, 4 Jun, 5 Jun, 6 Jun, 7 Jun, 8 Jun, 10 Jun, 12 Jun, 13 Jun, 15 Jun, 17 Jun, 19 Jun, 20 Jun, 22 Jun, 23 Jun ...
If you'd like to chat about Small ship cruising or need help finding a holiday to suit you we're very happy to help.

Sailing is usually in small boats, so thereís limited space. Pack minimal luggage in soft bags that are easy to haul up and down ladders. If youíre travelling solo, youíll usually share a cabin with someone of the same sex. If you want a private cabin, a single supplement will likely apply. You donít have to be super fit to go on a sailing holiday, although activity levels all depend on the type of trip. You might have to set a sail or be awake for a night watch, so ask your tour operator if youíre unsure. Anyway, thereís always a team of willing shipmates to lend a hand.
More about Small ship cruising