Responsible tourism issues
---
TRAVEL RIGHT IN TASMANIA
Tasmania is, in general, a great success story when it comes to responsible tourism. There are two big positive players: the national parks movement and local food producers. Fine, local food is so readily available, itís one of the most deliciously sustainable ways to be immediately active in supporting the local economy. Tasmania had its dark years in terms of conservation, however, with the logging and mining industry virtually at war with environmentalists during the 1980s and 90s in particular, as swathes of rainforest were being wiped out forever. It was only as recent as 2012 that a peace deal was reached, and now things are very much on the up, with a contested area of Tasmania's forests granted official World Heritage protection by the UN World Heritage Committee in 2013. Below are some of the issues you may want to take into account to support the ongoing and impressive responsible tourism movement in Tasmania.
Environment & wildlife
---
Cruising for a bruising
Large cruise ship tourism is full steam ahead in Tasmania, almost doubling in 2016 from the previous year. Most of the large ships come into Hobart and Port Arthur, with stop offs in Burnie and Wineglass Bay. Although Tasmania still does not receive the mega ships, hosting thousands, they do receive ships that have over 2,000 passengers on board, and a lot more crew. And although they bring tourism income to the towns, they also bring pollution. According to Climate Care, a cruise liner such as Queen Mary II, which visits Tasmania, emits 0.43kg of CO2 per passenger mile, compared with 0.257kg for a long-haul flight. Also, on average, large cruise ship passengers create three times more waste than people on land. (Source:
Our Planet
). And even worse, Friends of the Earth
research
from 2013 revealed the drastic issues relating to sewage being released into the oceans by cruise ships. A cruise ship with 3,000 passengers generates 150,000 gallons of sewage per week Ė which can be released into the ocean past the three nautical mile mark from land. As the Friends of the Earth research mentioned above shows, some cruise companies are being more transparent about their environmental practices, while others are keeping that bathroom door tightly locked.
What you can do
Read more about our stance on
large cruise ships here
. Not just on environmental issues but on economic impacts and human rights ones too. So, of course we are going to recommend that you opt for a responsible tourism holiday in Tasmania, not simply a cruise shipís day trip, where the average consumer spend is half of that spent by a tourist staying overnight on land.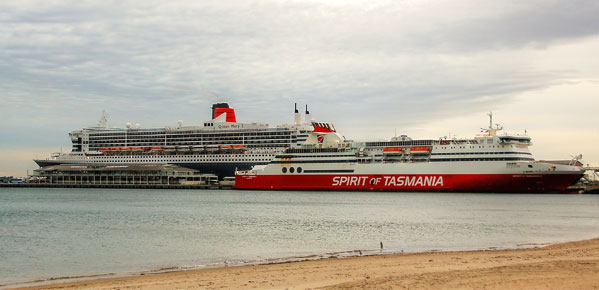 People & culture
---
THE CULTURE OF BUSH SAFETY
Letís not beat about the bush. This is not just a little olí island, with a few nice walks in the park. This is glorious wilderness, with walking trails that can take you into the bush for weeks. Or you can just choose to hike or bike for a few hours, but either way you are hitting the wilds pretty quickly. And in Tasmania, weather has that habit of changing every five minutes. And so mountain or bush safety is like a religion for Tassies. Tourists can, however, be guilty of turning a blind eye to the harsh realities of trekking in Tassie, but the experts will always warn about the unpredictability of these landscapes.
Here are some of the basic tips on how to stay safe, most of which are common sense, but it is worth taking note in case there is one box you donít normally tick. That box could save a life.
When possible, if going into the depths of Tasmaniaís wilderness, travel with an expert local guide, check their credentials and enjoy their knowledge and wisdom. If not, try to avoid trekking alone.
Always note your walk in the national parks or trail log books, and tell your accommodation providers where you are planning to hike, or mountain bike. And donít forget to sign it again when you complete your trek.
Always check the meteorological reports. The national parks often display these at point of entry, but otherwise check out bom.gov.au/tas. The Tas Emergency Service is also a great source of info.
Bring a basic first aid and survival kit, layers and waterproofs, plenty of water and a compass. Also, in extremely remote areas, take a PLB (personal locator beacon). Rather brilliantly, you can hire these from Parks and Wildlife Service from shops in Hobart, Launceston, Burnie and Devonport; phone 1300 135 513 for more details, and book ahead during busy periods.
Know your limits and check that your routes match your fitness levels and abilities.
Dress wisely and bring layers, sun cream, waterproofs, the lot. This is four seasons hiking territory. And always wear strong, stable footwear that is suitable for hiking. Parks and Wildlife Service have produced a good checklist here.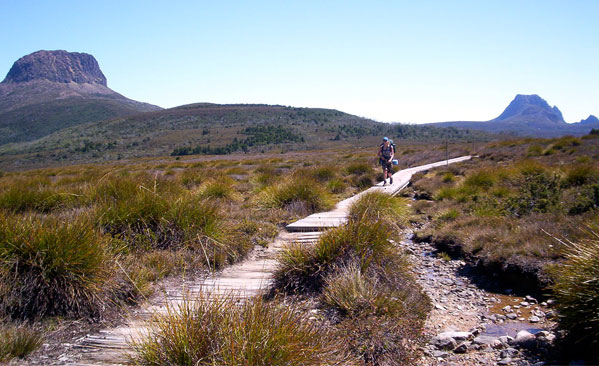 Responsible tourism in Tasmania
---
Travel better in Tasmania
Surfing is a growing sport in Tasmania, but there is also great awareness about surfing responsibly, which also means surfing safely. You often have to traverse untouched dunes and beaches, so always ensure to adhere to Leave No Trace practices, including cigarette butts. Note that the Bass Strait can be one of the roughest stretches of water in the world, so always seek expert surfing advice. And donít even think about taking on Shipstern Bluff, or Devilís Point, in Southern Tasmania, near Port Arthur on the Tasman Peninsula without a lot of experience and experts on hand.
Kayaking is now huge in Tasmania, and it is important to do so responsibly and safely and, ideally, paddle with expert, qualified guides. A good kayaking company will always state their qualifications and responsible tourism practices. For example, lightweight boats such as sit on kayaks can be blown by the wind easily Ė so always check conditions. The Marine and Safety Tasmania is a great source of information, with up to date news on conditions but also very useful video advice. Wearing a lifejacket or Personal Floatation Device (PFD) is law now in Tasmania. So is carrying an Emergency Position Indicating Radio Beacon or EPIRB and a flare if you are paddling offshore.
Watch this great video below for more details.
Personal water craft (PWC) Ė jet skis Ė can only be used by licence holders in Tasmania and the only way to get one of those is to attend a BoatSafe course. At Responsible Travel, however, we are not big fans of PWCs. Too noisy, too polluting, too dangerous and harmful to marine life. So, go the slow, cleaner way when possible, and sail or paddle.
Donít ignore responsible diving codes of practice. The best way to do this is to find a responsible tour operator for your trip. They will give strict instructions on how to dive responsibly and respect the fact that you are encountering marine life in its natural territory, and not try to dominate that with human presence. See our Scuba diving travel guide for more details on responsible diving.
Donít feed the wildlife. End of. Theyíll come up to you with cute as anything eyes. But just donít. Processed foods have led to painful and slow deaths for wallabies, for example. See the Parks and Wildlife Service for more details on this.
Last but not least, Leave No Trace. The Australian website of the organisation that created the basic principles of keeping our land and seascapes clear of our Ďstuffí is excellent. For more details see lnt.org.au.