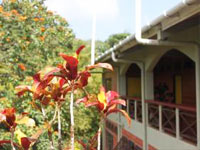 Cuffie River Nature Retreat
Cuffie River Nature Retreat is tucked away at the fringes of Tobago's Main Ridge Forest Reserve – and shares the forest's abundant birdlife. This secluded rainforest retreat has just ten rooms and included self-catering options.
Surrounded by streams and mountainous scenery, the lodge has its own seawater pool for anyone missing the ocean. The environmentally friendly design sits calmly within this landscape, harnessing natural light and mountain breezes, filtering rain water and composting or recycling waste.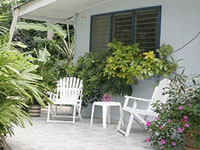 Adventure Eco Villas
Just a short drive from Scarborough and Buccoo, yet unusually isolated in its own private nature reserve, Adventure Eco Villas draws birders, photographers and artists who can follow the trails around the reserve, or admire the dozens of bird species swooping from the peace of their own veranda, attracted to the flourishing citrus, banana and other fruit trees and glorious tropical flowers. There are two self-catering villas and one apartment, staffed by local residents.