Beaches in Tobago
---
LIVELY OR LANGUID - FIND YOUR BEACH
We love Tobago's food, forests and flamboyant culture – but ultimately, this is a Caribbean island, and no matter how diverse your itinerary, you will be on a beach at some point. Fortunately, Tobago has a lengthy menu of beaches, and there's arguably a bit of coastline for everyone – from Pigeon Point's package pleasers, to remote, golden sand bays only reachable by boat. Additionally, as the island is ringed by coral reefs there's almost always a chance to snorkel – though do check how far out you'll need to swim to find the sealife.
Our top tip? Always bring your bathing suit! A cycle tour may stop off for beachside refreshments, restaurants and guesthouses overhang empty bays and even the events and festivals take place on the sand; you never know when you'll be tempted to take a dip (and remember – nudity and topless bathing are not allowed).

As a general rule, the southwest has the busier bays, while the Atlantic coastline and wilder northeastern reaches are emptier and less accessible. Popular beaches may have facilities such as lifeguards, toilets, shelters and tables, restaurants and souvenir shops, but many bays are entirely unguarded. Keep an eye out for red flags – these areas are not safe for swimming. The scalloped coast of the island means that there is a beach around just about every corner; we've picked out some of the highlights from the far-flung to the umbrella-filled.
The southwest
---
Pigeon Point, with its powder-white sand and posing coconut palms, is one of the most classically Caribbean destinations, as well as being particularly family-friendly with a roped-off area for swimmers, away from boats, which depart regularly for the nearby Buccoo Reef. However, its proximity to one of the islands few resorts, along with the abundance of sunbeds, jet skis and soca-singing stereos, mean that those in search of seclusion may wish to travel further afield. It's also the only beach in Tobago that has an entry fee; regular beach patrols check for wristbands.

Store Bay backs onto plenty of little souvenir shops with a number of kiosks serving local specialties – the beach is popular as it's right in Crown Point and is easily accessible for locals and visiting Trinis straight off the plane. Swim round to Kariwak if you fancy snorkelling the reef. Bacolet Bay, a secluded crescent close to Scarborough, has shallow waters and a children's play area. Swiss Family Robinson was filmed here in 1960 – play your own game of castaway on these palm-fringed sands.
The Caribbean coast
---
Travelling along the leeward coast, Mt Irvine Bay is more tranquil, while Grafton Bay and Great Courland (home to a section known as Turtle Beach) offer long, sandy stretches. Endangered leatherback and hawksbill turtles can be seen nesting along these beaches from March to August – keep an eye out for nests! Further along, Arnos Vale has some of the best and most sheltered snorkelling off Tobago.

Castara has a much more Tobagonian feel; overlooked by a friendly fishing community, the bay is filled with little boats and sunbathers may find themselves helping to "pull the seine" – hauling in the nets with the day's catch. It's much, much harder than it looks! Snorkelling is good at the northern end, and heading round into Emerald Bay next door.

Englishman's Bay is one of the most photographed – the classic, crescent has golden sand, a single restaurant and just the right degree of isolation to make you feel like you're truly getting away from it all. The less enticingly-named Bloody Bay, a little further up the coast, is in fact one of Tobago's most peaceful – you'll be sharing the sheltered golden sand with a few fishermen, if you're lucky.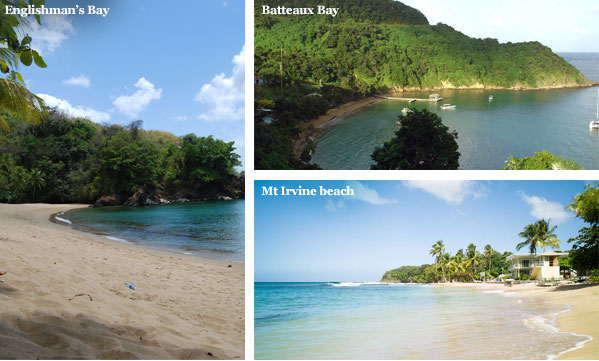 The Atlantic Coast
---
The windward shores are much less visited; the bays are less picturesque with darker sand, rougher waters and no opportunities for snorkelling, although there are still some sea stars to be found. Horseshoe-shaped King's Bay, towards the North End, rivals its Caribbean counterparts, and is one of the few on the windward side of the isle with facilities, including lifeguards and showers. This is also a traditional fishing region.
The North End
---
Batteaux Bay, near Speyside, has calm, clear waters, ideal for kayaking, paddle boarding or gazing at from your sunbed. Boat tours to Little Tobago and Angel Reef depart from the jetty. Around Charlotteville, the gaping Man O'War Bay envelops Charlotteville's own pretty beach, as well as Pirate's Bay – where Robinson Crusoe was filmed in the 1950s. It's a decent walk from Charlotteville, followed by 157 steps – but we reckon it's worth the effort, and the pristine reefs are worth your time too. Lover's Bay can also be found here, a couple of kilometres to the west of Charlotteville. It may be the pinkish, crushed-shell sand that gave the bay its romantic name, or perhaps its seclusion – the bay has no facilities and can only be reached by boat. Have a word with a local fisherman.
Top responsible tourism tip:

As you're bound to be in and out of the ocean, look into buying biodegradable sun screen – now widely available online. As many contain organic ingredients and no petroleum – they're also better for your skin!
Responsible Travel would like to thank Visit Tobago for their sponsorship of this guide
---
Photo credits:
[Top box - Pigeon Point: Tobago Tourist Board] [Mt Irvine beach: Unite images - Tobago Tourist Board] [Englishman's bay:
Paul Mannix
] [Batteaux Bay:
simonsimages
]