Where to go in Tobago
---
Make the most of your time
At just 42km long and around 14km at its widest point, Tobago is a breeze to roam around. Anyone spending more than a few days on the island will quickly familiarise themselves with the roads, bays and bends, and it will all start to feel like home. You'll never have to drive more than an hour and a half – which also means that hotel and even airport pickups may be included as part of tours. Be aware though that the easily queasy may want to limit the number of times they zigzag across the island; the roads rollercoaster along steep hillsides and motion sickness is even more of a risk than sea sickness. The reward is that every crest of a hill results in sweeping views of sapphire seas or emerald jungle; the journey really is all part of the adventure.
The Main Ridge Forest Reserve needs to be explored on foot, while several reefs, the offshore islands including Little Tobago, and some of the more secluded bays, will see you setting sail on a boat or catamaran. For a different perspective, hire a bicycle; you're never far from a beach or bar so you can cool off regularly in the heat. It's a great way to see just how compact the island really is.
Click on the blue map points below for ideas on where to go in Tobago.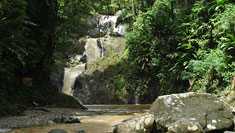 Argyle Waterfall
A little paradise within paradise, the 54m-high Argyle Waterfall is the highest on the island. Guides are available – and highly recommended – for the easy, 20-minute walk to the falls past cocoa and other fruit trees, which provide food for a whole rainbow of bird species. Cool off in the fresh water once you arrive, and hike up to the second tier for a natural Jacuzzi – or the third, which you can climb behind.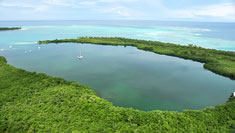 Bon Accord Lagoon
The glassy waters of this mangrove-rimmed pool make for a serene kayaking, sailing or stand up paddle boarding experience – as birds swoop through the treetops or dive for fish, and the odd sea turtle saunters past. At night, the waters glitter with bioluminescence. The castaway-esque No Man's Land is a sliver of dry land stretching into the lagoon, ideal for a picnic – or desert island photo backdrops.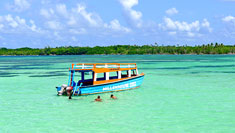 Buccoo Reef
Snorkelling at this large coral reef is one of Tobago's bucket list attractions – it was even highly rated by Jacques Cousteau! Glass-bottom boat tours from Pigeon Point, Store Bay and Buccoo make snorkel stops in this 10,000 year old reef. Nearby Nylon Pool is a mid-sea "swimming pool" just a metre deep. The ancient crushed coral flakes underfoot are said to make you look a decade younger if rubbed on your skin…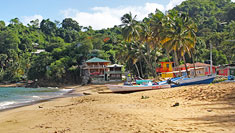 Castara
Castara is old-school Caribbean: houses tumble higgledy piggledy down the hillside into a picturesque bay, where wooden boats bob ready for action when fish are spotted in the clear waters. There are a number of locally-owned guesthouses, bars and restaurants in this little fishing community, as well as the more luxurious Castara Retreats. Don't miss the waterfall – ideal for a cooling swim.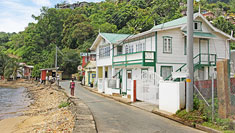 Charlotteville
A city by Tobago standards, a fishing village by anyone else's – charming Charlotteville's pastel Caribbean houses face onto picturesque Man O'War and Pirate's Bays. Most of Tobago's fish is caught here; markets line the waterfront where the air fills with scales and tails as fresh fish is swiftly filleted, cutlass-style. Walk west to the best beach spot, dine at quaint restaurants, and enjoy the tranquility of the northern tip.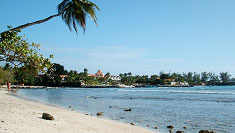 Crown Point
Tobago's unofficial capital hosts some lovely accommodation as well as pharmacies, bars and restaurants – many within walking distance of the island's only airport. Crown Point is a great place to spend a couple of nights as it's just a short hop from Pigeon Point, Store Bay and Buccoo Reef. The peaceful, palm-surrounded guesthouses offer instant tropical ambience – with all the convenience of the location.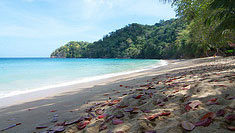 Englishman's Bay
This sweeping bay, flanked by emerald forests, provides the perfect photo opportunity for those wanting to prove they really have set foot in paradise. A short drive – or a pleasant hike – from Castara, the beach has a simple, wooden restaurant, a little souvenir stall, a toilet and… that's it. Englishman's Bay has great snorkelling, safe swimming and few crowds – so get stuck in.
Little Tobago
This forested island, 20 minutes by boat from Speyside, is uninhabited, save for marine birds including the magnificent frigate, red-footed booby and red-billed tropicbird. Part of Attenborough's "The Trials of Life" was filmed here. Most glass-bottom boat tours pause for a pleasant snorkel at Angel Reef as well as passing the nearby brain coral – at 3m high and 5.3m wide it is the largest in the world.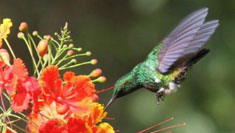 Main Ridge Forest
If evidence was needed of Tobago's commitment to the environment – this is it. The oldest protected forest in the Western hemisphere was declared in 1776, sheltering many of Tobago's 220 bird species, as well as armadillos, iguanas, agouti and a tumble of tropical plants. The Gilpin Trace is the most popular trail; good guides will help you spot motmots, trogons, manakins and sabrewing hummingbirds.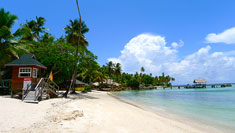 Pigeon Point
If you've seen the classic photo of Tobago with lolling coconut trees and a jetty stretching into an aquamarine sea – you've seen Pigeon Point. This powder-sand beach is Caribbean-beautiful, with restaurants, bars and sunbeds to boot. Pigeon Point is ideal for families or those who want beach activities and entertainment, though the soca, jet skis and cruise ship crowds may be less appealing to others.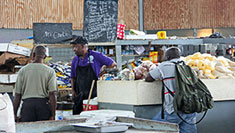 Scarborough
The capital of Tobago is a leafy low rise "city" with a population of 17,000. The esplanade has a selection of craft stalls (jewellery, leather, baskets, wood carvings) and a bandstand. Ferries to Trinidad also depart from here. The "botanical gardens" are a pleasant hilltop park, and there are several restaurants and guesthouses – though if you're planning to stay in town, Crown Point is more pleasant and convenient.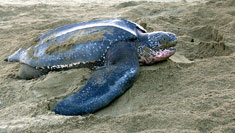 The southwest bays
Mt Irvine, Stonehaven and Great Courland Bays – with a stretch known as Turtle Beach – offer long, sandy stretches, and – more famously, the chance to see sea turtles during the nesting season. Just far enough out of town to be peaceful, but close enough for convenience, there are a number of luxury villas and upmarket hotels in this area, as well as some excellent seafood restaurants.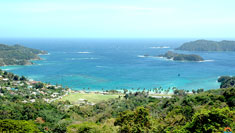 Speyside
Far from the bustle of the southwest, sleepy Speyside draws divers and snorkellers to its impressive coral reefs – some of the most pristine in Tobago. The activities and even the lodging here are centred on the underwater attractions – with twice-daily glass-bottom boat tours, reliable dive shops and snorkel equipment rental, as well as a few kayaks and stand-up paddle boards.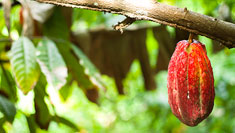 Tobago Cocoa Estate
Tobago's
only working cocoa estate
covers 10,000 acres with 23,000 trees. The island's agriculture was largely destroyed during the 1963 hurricane, so this farm aims to inspire a new generation of cocoa farmers. Tours with the owner allow you to taste the curious-looking fruit, with explanations on its cultivation and the chocolate making process. Be sure to buy some cocoa balls.
Travel times in Tobago
---
The following times give you a rough idea of the travel times between the main attractions in Tobago.
Crown Point – Charlotteville: 1hr 45 mins by car
Crown Point – Scarborough: 20 minutes by car
Castara – Pigeon Point: 1hr by car
Speyside – Little Tobago: 20 mins by boat
Port of Spain, Trinidad – Scarborough: 25 minutes by plane
Port of Spain, Trinidad – Scarborough: 2hrs 30 mins by ferry
Crown Point – Mt Irvine Beach – 50 minutes by bicycle
Responsible Travel would like to thank Visit Tobago for their sponsorship of this guide
---
Photo credits:
[Top box - pigeon point:
neiljs
] [Scarborough: Vicki Brown] [Crown Point:
Dominic Sayers
] [Castara: Vicki Brown] [Little Tobago: Vicki Brown] [Main Ridge Forest Reserve: Adventure Eco Villas] [Buccoo Reef & Nylon Pool: Tobago Tourist Board] [Pigeon Point: Tobago Tourist Board] [Englishman's Bay:
David Surtees
] [The southwest bays: Tobago Tourist Board] [Bon Accord Lagoon: Tobago Tourist Board] [Charlotteville: Vicki Brown] [Speyside: Tobago Tourist Board] [Argyle Waterfall: Tobago Tourist Board] [Tobago Cocoa Estate: Tobago Tourist Board] [Places to stay box: Adventure Eco Villas]