History & heritage in Tobago
---
FORTS & FESTIVALS
Tobago's history has a huge cast of players – from the English, Dutch, French and Latvians who spent centuries squabbling over this lush island, to the indigenous Caribs and the Africans banished here to work the plantations. The forts and canons dotted along the coast betray the battles of the past, while the Heritage Festival celebrates the influence this chequered past has had on Tobago's modern culture.
Tobago Heritage Festival
---
The Tobago Heritage Festival in July and August parades its ways around the island – with each village showcasing its own cultural highlight
. Events range from the Ole Time Wedding at Moriah, where a procession of hundreds of "wedding guests" does the characteristic brushback dance along the hillside roads to the wedding reception – all dressed in traditional costumes. Those interested in Tobago's African heritage should join Charlotteville's Cultural Treasures day. Wild, live percussion – including the thumping tamboo-bamboo – is the rootsy soundtrack to the massive procession that winds around the village, stopping for demonstrations of traditional practices. Other events around the island include conch blowing, a sea festival, the "cocoa dance", old fashioned games and storytelling.
The mystery tombstone
---
The inscription on 23-year-old Betty Stivens tomb in Plymouth has intrigued Tobagonians for over two centuries. The baffling epithet reads:

All kinds of theories abound for the meaning behind this strange riddle, and there's no better way to strike up conversation that to ask someone what they think it means. It's worth going to see, to hear more about the background of Mrs Stivens and her husband, Alex – and imagine some new stories of your own.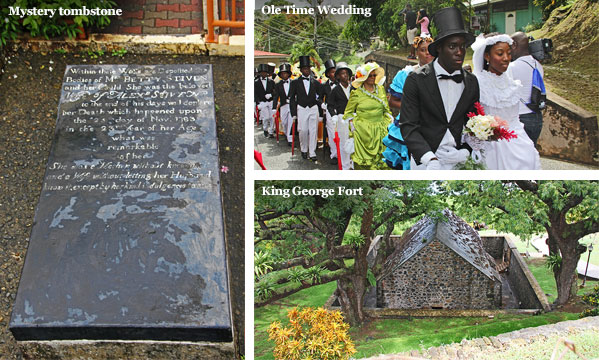 Forts
---
Numerous forts and their remains cling to Tobago's most strategic cliff tops. One of the best preserved is British-built Fort King George near Scarborough, dating back to 1777. There are several buildings to explore here, including the Officer's Mess and the Belltower, as well as ominous canons pointing seaward. The Barrack House is now the Tobago Museum, housing exhibits from Tobago's Amerindian history as well as its more recent colonial past – it's an educational and alternative look at this holiday island.

Fort James, in Plymouth, was a Latvian stronghold – hence its position overlooking Courland (Latvian) Bay. Several canons and a rather overgrown structure are all that remains today of the island's oldest fort – many visitors come for the views and tranquility. Near Black Rock, a small shelter marks the former site of Fort Bennett, of which just two canons remain. This is another scenic picnic spot. History buffs may want to visit several other sites, including Milford Fort, in Crown Point, and Plymouth's Courland Monument, a modern tribute built by Latvians on the site of the island's first European settlement.
Chapels
---
Two of Tobago's most unusual pieces of architecture can be found in Spring Garden and Black Rock. Here are two Moravian churches dating back to the mid-1800s. Remarkably, these wooden structures on limestone "stilts" survived 1963's Hurricane Flora, and have important social and religious significance in their respective communities.
Responsible Travel would like to thank Visit Tobago for their sponsorship of this guide
---
Photo credits: [Top box - canon, Ole Time Wedding, Mystery tombstone & King George Fort: Vicki Brown]