Discover the true heart of Tobago
---
Beyond Tobago's beaches
Discover the true heart of Tobago, beyond its beaches.
Who doesn't love a picture-perfect
beach
? Tobago is certainly blessed with them in abundance, which is probably what attracted you to this idyllic Caribbean destination in the first place, right? But when your camera is full of turquoise waters and palm-fringed white sands, how about adding a little cultural colour to your photographic memories? Because, unlike many Caribbean islands, Tobago's beaches are not its main attraction, but merely one element of what makes the island so appealing. The little-known fact is, Tobago's gems extend beyond its shores; indeed, for the inquisitive traveller, a multitude of hidden treats await you on this beautiful island.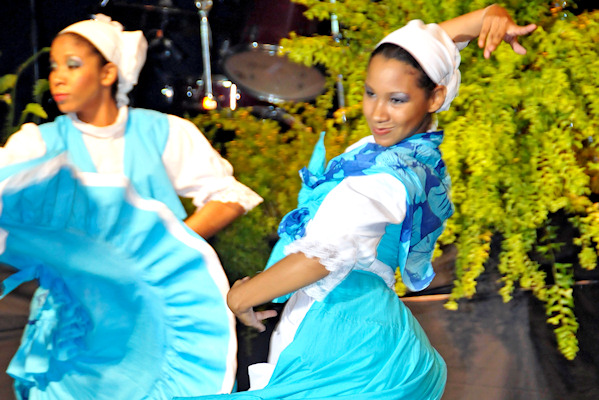 If it's your first visit, you'll be instantly struck by the spirit of the Tobagonian people and their zeal for life, exhibited through a mishmash of art,
music, festivals
, dance and
food
, all of which you're warmly invited to experience. The islanders are old hands at throwing a decent party, and nowhere more so than at the famous Sunday School; a weekly community event held in Buccoo which welcomes locals and tourists alike. The evening begins in a relaxed fashion with music, food and craft stalls, but when the locals arrive the rum punch starts flowing and the party truly begins. You'll be introduced to steelpan, Calypso, chutney and soca - all popular types of music - and if you have the stamina, the party often continues on the beach until dawn where local dancers set the limbo pole impressively low, much to the admiration of onlookers. For the softer option, try the Saturday night BBQ at Cheno's Coffee Shop in Castara Village, where you can "lime" with the locals (one of the many endearing terms in Tobagonian patois, meaning to hang out or socialise).

Cheno, manager of Castara Coffee Shop
Cheno talks about the food, atmosphere and music at Castara Coffee Shop . [00:35]
Carnival
itself, whilst less extravagant than that of Trinidad, provides a good insight into island folklore and is a colourful, joyous event. As the floats of percussionists and masquerade bands pass by, the rhythm will have you hip-swaying and belly-shaking in no time. Whilst Tobagonian music is lively and often humorous, there is also serious storytelling involved, as demonstrated at the annual Tobago Heritage Festival held in July and August; an important event if you're keen to connect more deeply with
cultural traditions, history
and community.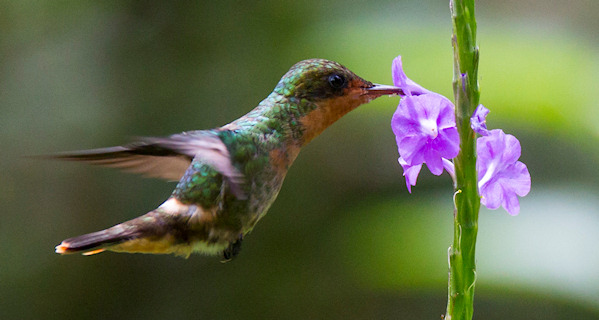 The true spirit of Tobago also lives within the
wildlife
that inhabits it. At Main Ridge - the island's physical backbone, running lengthways across two thirds of its surface area - the UNESCO World Heritage Centre welcomes 15,000 eco tourists per year. Leading the way in Caribbean conservation (which historically has sadly not been a priority) the reserve is concerned primarily with the protection of the forest's diverse ecosystem and its many endemic species of flora and fauna. A day spent at Main Ridge gives nature lovers the opportunity to spot once-in-a-lifetime wildlife, including non-poisonous snakes, lizards and the ocellated gecko, which cannot be found anywhere else in the world. The reserve also boasts some two hundred species of birds, including the rare White-tailed Sabrewing Hummingbird, whose elegance is superseded only by the vibrancy of its blue and green feathers.

Newton George, wildlife guide
Listen to Newton speak about what kind of birds you can see in Tobago. [01:40]
From Main Ridge it's a short leap into the dazzling
waters
around Speyside and Little Tobago. Whether you're a certified diver or an intrigued novice, you need nothing more than a snorkel to appreciate the spectacular underwater ecosystem created by the coral reef which fringes Tobago. Manta rays, barracudas, sea turtles and harmless black tipped reef sharks co-exist in these warm waters, along with all manner of tropical fish. Addiction alert: once you've glimpsed this underwater world, it can easily become an obsession. Jacques Cousteau wannabes should consider a trip out to the Buccoo Reef, a protected marine park just off the coast of Pigeon Point and one of the most easily accessible reefs in the Caribbean. And what's more, Jacques Cousteau himself rated it as the third most spectacular reef in the world. Choose your dive school carefully, and ask questions about the fish and environment you will see, so next time you dive beneath the surface you'll have a better understanding of the marine paradise surrounding you.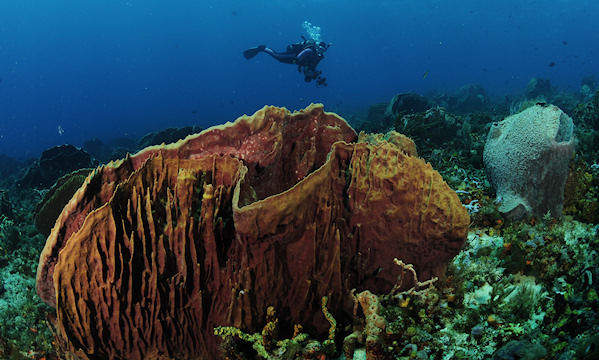 Back on dry land there are numerous ways to satisfy your hunger, and when it comes to
cuisine
the key word is local. Think seasonal produce, catch of the day, spicy influences from Africa and India, plus a whole lotta Creole soul. For an authentic bite, hit the street stalls at Store Bay Beach Facility, where kiosks sell boxes of homemade fare such as curry, roti and saltfish. Other dishes served in restaurants include crab and dumplings, slow-cooked spiced stew and every type of seafood imaginable, accompanied by plantain or coconut rice. Most menus feature curiously-named dishes like doubles or callaloo which beg to be discovered, whilst coconut bake and tropical fruit will cure any sweet cravings.

Alison Sardinha, owner of the Blue Crab Restaurant
Listen to Alison talking about her restaurant and the food she prepares. [01:41]
All this washes down rather nicely with locally-produced rum (purely in the name of authenticity, of course) and should you find yourself reviewing your holiday snaps after dinner, they will reflect an island beyond beaches, in which you discovered the true heart of Tobago, from core to coast.
Find more hidden corners of Tobago in our
guide to responsible travel
.
Responsible Travel would like to thank Visit Tobago for their sponsorship of this guide