How to choose an unusual holiday
When you set about starting to choose an unusual holiday, it can feel a bit like finding a needle in a haystack. The world is not only your oyster, it is a veritable seafood banquet when it comes to finding something unique and special. However, some people are allergic to seafood, and might opt for meat. Others are vegetarian. It's not everyone's cup of tea to sit in a classroom learning Spanish or getting up at 5am to survey beaches during their holiday, for example. Others may have dreamed about climbing Everest or wondered what it's like to live with an African tribe. Whether it's thrill-seeking or self-discovery, few people have regretted making childhood dreams come true. Here are some of the things you might want to take into consideration before you start diving for those oysters. They might help you find the quirky pearls more easily and not just take the quick route out and just book a run of the mill 'could be anywhere' resort holiday.
Going against the flow
This is when you go to a mainstream tourism destination, such as Spain or Croatia, but do something a little different to the norm when you are there. You can avoid the queues to get on board the island boats in Croatia, for example, and just spend a week island hopping by kayak. Or go walking and talking in Spain, on a language course where you also hike the hills at the same time as learning the lingo. Seeing Petra in Jordan is at the top of many travellers' list now, but doing it on a bike is the cool, cultural way to go.
Going off the beaten path
Sometimes you are just tired of the old tourism map. All the silver bits on your scratch map have been scraped off, and you crave pastures new. The media is always jumping on board the 'best new destination' bandwagon. But we like to highlight 'different' destinations because they are in a position to bring high quality, exciting responsible tourism offerings to the table. Not just because it appears in the latest blockbuster movie, or because some celeb has opened a hotel there. Some favourite places for being really different but at the same time still feel very real, are Mongolia, inland Montenegro, Haiti and Alaska.
Quirky mix
We are not only getting quirkier in our travel tastes, but we are also getting more demanding. Trekking the Camino de Santiago isn't enough anymore; we have to combine it with an intensive Spanish course. People love the idea of learning a new skill on holiday, or find breaks that exercise their bodies, minds and soul. You can do yoga just about anywhere these days, on a boat or up a mountain, with saluting the sun on a traditional Turkish gulet boat the ultimate pose. You can even go on a kayaking holiday in Indonesia with a few komodo dragons thrown in. Beware though, don't try and tick too may boxes but concentrate on one thing at a time. The last thing you want is to spend time recovering from your holiday after trying to cram too much in!
Our top Unusual Holiday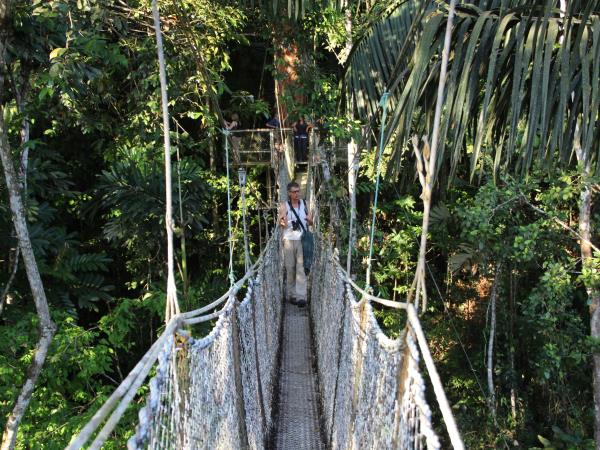 Wilderness, trekking, eco, wildlife, culture
From
£6250
14 days
ex flights
Small group travel:
2023: 14 Oct, 2 Dec
2024: 24 Feb, 30 Mar, 20 Apr, 17 Aug, 7 Sep, 5 Oct, 2 Nov, 7 Dec
If you'd like to chat about Unusual or need help finding a holiday to suit you we're very happy to help.

Do something different
These are holidays for active types, who don't just want to go off the beaten path, but want to build the path while they' re at it. Going on a family volunteering holiday with turtles in Costa Rica, learning how to cook in a Kerala homestay, sledding with huskies through Finnish Lapland, learning yoga on a gulet in Turkey or cycling around Zanzibar, are all just a few of the busy and sometimes bizarre beauties on offer, when you are looking to do something different on holiday.
Bizarre beds
Unusual accommodation is always a top of our list when it comes to unique holidays. Not only because they tick that 'got to do something different' urge, but because they are often created by people who have ambitious visions when it comes to responsible tourism. Such as an eco yurt holiday in Lanzarote, a tree hotel in Sweden, an ice hotel in Lapland, a barge in Bruges or an Ecuadorian ecolodge.
Travel & learn
Learning something new or volunteering can be a most rewarding form of travel. You'll gain so much when volunteering, whilst also giving something back to the local community or the environment. And you can now learn almost any new skill in the stimulating environment of a new country and different culture – from languages to cooking, game ranger skills to journalism.