Top 10 unusual holidays
---
THIS YEAR I AM MOSTLY GOING QUIRKY
At Responsible Travel we like to be different and, given that this is a guide to unusual holidays, we are not going to give you just the run of the mill top ten, but throw in a few extras. There are, of course, unusual holidays the world over, but these are just a few of our most quirkilicious. Think camels, canyons and camping on a glacier, and you start to get the picture of what we think can be classified as unusual.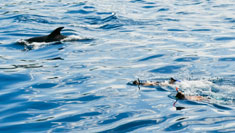 Swimming with wild dolphins in the Azores
The Azores have some of the most abundant dolphin sightings, with seven species commonly seen alongside sperm whales and orcas. This is one of the best places to swim with dolphins too, with expert guides and boat drivers who can monitor the behaviour of each species. Week-long trips offer the chance to build your confidence in the open water and use a snorkel.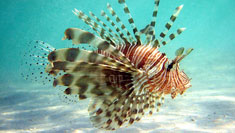 Lionfish spearing in Belize
Killing sealife may seem counterintuitive when it comes to marine conservation – but this invasive, non-native species poses one of the greatest threats to reefs up and down the Caribbean. With no natural predators, they have spread rapidly – and donning your scuba gear to spear them underwater is thrilling, educational – and incredibly beneficial.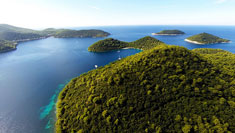 Sea kayaking in Croatia
Say 'archipelago' to any paddler and their eyes light up. With over 1,000 islands along Croatia's Istrian and Dalmatian coasts, you've a lot to choose from, and kayaking from one to another really is the most blissful way to visit this extraordinary country's coastline. Only a handful of islands are populated, and many have green interiors, so each time you come across one it is like finding another Adriatic jewel.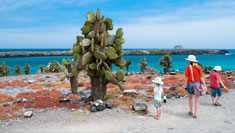 Galapagos land based activity holiday
For those who want to explore the wildlife wonders of the Galapagos Islands, but would also like to get off the boat, meet local people and have a few adventures beyond their binoculars, welcome to island idyll. Staying on three islands, this land based Galapagos holiday is also perfect for families. Swimming with sea lions, hiking to volcanic craters, and snorkelling among sea turtles.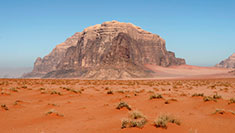 Petra & Wadi Rum, Jordan by bike
Avoid the coachloads of tick box tourists in Jordan by arriving in the UNESCO city of Petra by bike. The coaches won't be going near the olive groves and hilltop villages of the north either, nor into the small desert, nomadic communities further south where, with the help of guides, you will find unmarked goat tracks and farmers' paths that MTB'ers go mad for. And then end it all with a day in the Dead Sea.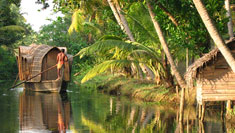 Homestays in Kerala
Take a Kerala Homestays Tour to discover a variety of homestays, most of them on small working farms. Keralites are warm generous hosts making you feel at home almost instantly. By far the best way to learn about real Kerala cuisine too, with hosts using their own organic ingredients. Don't be shy and hide behind the comfort blanket of an international hotel. These homes will wrap you in warmth and a genuine welcome.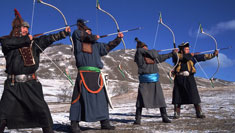 Ghengis Khan warrior training
Come on, who doesn't want to be a Mongol warrior? Led by Genghis Khan, the medieval equivalent of Bruce Willis, the Mongols are the strongest and most stealth military force in history and you can be one, if only for a few days. Try your hand at archery and lassoing, pick up riding skills and learn the secrets behind their battle strategies, all the while dressed in traditional 'deel' clothing.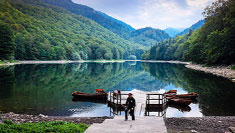 Montenegro's mountains & lakes
The unusual story behind Montenegro is that it's so much more about mountains than beaches. Yes, there are beaches, but in this tiny country, there are 63 peaks reaching heights over 1,800m, all protected by five national parks. And with mountains come waterfalls, wine producers, white water rafting and lakes.
Lake Skadar
, is a 400km² natural playground for kayaking, swimming and wildlife.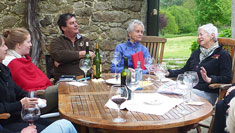 Learn Spanish and love the land
Combined
language and activity holidays
mean you can make the most of Spain's language and culture – horse riding, walking the Camino, rock climbing or dancing flamenco – learning the language as you go. Daily classes help you get by with more than just the basics, and learning in situ means you get to talk it all day. Hit the Picos de Europa to really walk the talk.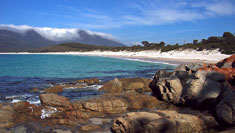 Self-drive tour, Tasmania
For mainstream do Australia. For unusual, go on a
self-drive tour of Tasmania
. Stay on farmstays, wilderness cabins and convict built cottages to garner all the best tips on where to visit on this bio-wealthy, wilderness island state, but also what wildlife lives in its habitat havens - where wine routes, waterfalls and wallabies are the norm.

Hello.
If you'd like to chat about unusual holidays or need help finding a holiday to suit you we're very happy to help.
Rosy & team.
01273 823 700
Tessa Kokkonen, from our supplier Exodus, leads Northern Lights holidays in Finland – another one of our top unusual holidays: "The traditional Lappish drums were used before to interconnect spiritual Sami life and the shamans used those. People always believed that in those drums there was living a spirit. At Basecamp, the guests can make a traditional Lappish drum themselves as an optional activity, it's a nice souvenir. We buy the hides from the Sami people in northern Lapland and the frames are handmade from birch tree. So the hide and frame are ready - but the cutting and styling and stretching you do by yourself. Then you decorate it and pick out your own symbols. I always say that because we are not Sami people and we are not shamans, we could put our holiday spirit in that drum and then choose those symbols that reflect the holiday that you've spent here. People like that quite a lot because it's something special"

Amanda Stafford of Whale and Dolphin Connection offers the experience to go wild (and responsible) swimming with dolphins – another of our top 10 unusual holidays. She feels you haven't really experienced the Azores until you've been out on the water by boat:
"The Azores are really inspiring because they're remote, pristine and un-spoilt. There's a special energy in the archipelago – it's a place where I feel touched by nature and the elements. The marine environment is remarkably unpolluted and the coastlines are so little developed, it's like going back to a bygone time!"
Tim Winkworth is a family travel specialist from our supplier the Family Adventure Company. He also has three young and very lively boys. He shares his insider tip for the Galapagos Islands – booking an unusual holiday here can actually save you money: "Most families anticipate that the Galápagos would be out of their price range - but by staying in a hotel, rather than booking on a boat with limited spaces and high demand, you can cut the cost virtually in half. The boats are fine for children, but in my opinion you can actually improve the experience by giving them space – and the parents have more space too. It's just a bit more relaxing, and definitely better to let the kids go a bit wild and STILL see all the wonderful wildlife. Traditionally it's one of those places that people have believed are out of their reach. And that's why I'm delighted that there are now tours that they can do."

Nicki Hollamby, from our supplier Audley Travel, shares her tips on staying with indigenous communities in Borneo:
"We visit a small Iban community in Sarawak. Their longhouse has 12 families under one roof. You stop off at the market on the way and get food, then you meet the tribe and the chief. You spend the evening with them, cook with them, sit on the floor in their local area of the longhouse, and the other families come in and share in the food, so it becomes a bit of a free-for-all party. You sleep in the communal area of the longhouse, on a mattress under a mosquito net. You get up the next morning when they get up at 5am with the chickens to go and see how they cook and how they used to hunt. Considering it is set up for tourists, it's really good, and you overcome that awkwardness you feel about entering their home. You have a guide who will translate, and they laugh and joke and you get your hands dirty and cook – I loved it."