It is no coincidence that unusual places to stay, such as tree houses, yurts and houseboats, have taken off in recent years. They not only appeal to that desire to biff the banal on the head, but also to the child within. They are like playhouses. The sorts of places we dreamed of as children. And so few of us have time to play anymore - except on holiday. Most interestingly, however, from a responsible tourism perspective, unusual accommodation is often created by people who are committed to sustainable builds and living. Funnily enough, the creators of these fun places to stay often come up against more planning difficulties than concrete resort developers, but they battle on because they believe in what they are doing. And we thank them for hanging on in here, because we believe in them too.
Tree houses
From the minute you start to climb the ladder to your bed in the branches, smell the leaves, touch the bark, you know you are entering different territory. And seeing life from a different perspective.
Tree houses
come in all shapes and sizes. Just like trees. Some have bathrooms – really. Showering in a tree is worth writing home about. Others have wood nymphs that climb up and leave breakfast on a branch for you. You can sleep with the breeze on Cirali Beach in Turkey, feel like you are part of the Northern Lights in a tree hotel in Sweden, and put the icing on the cultural cake in Sri Lanka by sleeping under the stars in Sigiriya. Or start closer to home, by heading to one on the Isle of Wight. No better place to spot their gorgeous red squirrels.
Homestays
You might not think a homestay is for you, if privacy is what you want on holiday, but it really is worth spending at least a couple of days of a holiday in a homestay - if not the whole shebang. Because, take it from us, homestays are holiday highlights. Apart from supporting the local economy, you are also embracing the notion that we, as visitors, are guests in a country and that the people who live there are our kind and generous hosts. In Kerala, you can go on a homestay tour, seeing different aspects of this stunning state but staying with different families throughout your stay. In Vietnam you can trek from home to home in the Tonkinese Alps near the Chinese border, with superb home cooked food at the end of the day to reward you for all your walking. Food is also a big element of homestays in Costa Rica, often hosted on farms where beans, corn, and dairy products are a very much part of the culinary experience. They're a great way to improve your Spanish, too.
Ecolodges
Ecolodges have inherited this name because they tick various environmental boxes and may even be totally off grid. And yet they are so far from tickbox territory, really, each incorporating unique designs, passions, ideas and cultural influences. They are also nearly always welcoming to families, as the creators of such unique accommodation are forward thinkers, and know that children are the conservationists of tomorrow. They're not all hardcore hemp though. Stay at our eco-guesthouse in the heart of the Portugal's Sintra Natural Park, for home from home comfort in one of the country's most stunning locations. In the rainforest bungalows in Malaysia, you can have a massage on your crisp white sheets while overlooking the Berembun Forest Reserve. And the African style huts in Gambia's ecolodge have en suite bathrooms and are cocoons of creative cosiness. Ecolodges all have something different. As well as a story to tell.
Tipis & yurts
A few years ago, people would look at you strangely if you said you were going to stay in a yurt. A what? And you have to spin out the same Mongolian history, how they are warm and cosy, many even have stoves, and show all your pics of how stunning they are as a piece of sustainable architecture. Now, these gorgeous off gridders have gone global, along with tipis which are also cool, but still not as prolific as the yurt. A yurt camp in Lanzarote has led the movement to ensure that this Canarian island is so much more green than grotty. Or stay in a yurt on a biodynamic farm in the alternative Algarve, Portugal, alongside the superb new Rota Vicentina long distance coastal walking trail. And as most of them have a (coverable) hole in the top, you can sleep under the stars in panoply of places, from Andalucia to Australia, Catalonia to the Channel Islands.
Our top Unusual Holiday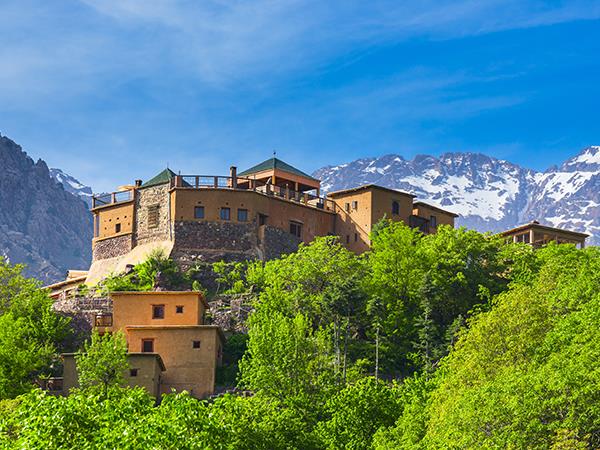 Peace and quiet only 40 miles from Marrakech
From
€145

to

€960
per room per night (sleeps 2)
Accommodation
If you'd like to chat about Unusual or need help finding a holiday to suit you we're very happy to help.

Houseboats
The ultimate in slow travel, staying on a houseboat is not only a way of taking it easy, but also entering a community of waterway users. Which is a whole other world where you learn things like lock etiquette, what a macerator is, and how it feels like to wake up with the ducks. It's like camping for water lovers and, generally, you do want to love each other, because houseboat holidays are intimate to say the least. You will, of course, have a very different experience spending time on a houseboat in the backwaters of Kerala, for example, to winding your way through Wiltshire. No matter what houseboat experience you plump for, however, you always gain that real sense of isolation and peace. Along with the opportunity to explore waterside communities that you might not otherwise find.
Ice hotels
When first built in 1989, the pioneering Ice Hotel near Kiruna in Sweden was truly cool – a startling igloo palace unlike anything else on Earth, melting away each spring and then rebuilt with new twists each winter. 25 years on, it remains a glittery oddity – but distinctive rivals in Norway, Canada, Finland, Japan, Romania and Switzerland now blunt its cachet. We recommend ice hotels that connect with the local community as well as just going for the ice cool impact. Such as the Sami holidays in Norway which include a stay in an igloo hotel.
Kasbahs & cool riads
Just like in its souks, you are spoilt for choice when it comes to choosing an unusual place to stay in Morocco. Kasbahs do rock, however. And in terms of sustainable builds, these beauties were built to last. Traditionally forts made of adobe, and usually located in the mountains, to give protection from potential invaders heading up from the desert, they are embedded into the Atlas range like architectural oases. Stay the night in one, and you'll feel protected from all your worldly worries, the most famous of which are found at Aït Benhaddou, the Kasbah du Toubkal in the Atlas Mountains and along the Dades and Draa Valleys. Riads are Moroccan town houses, with rooms built around a cool courtyard, beautifully decorated and a great way of experiencing Moroccan culture. Much more urban than kasbahs, they have less space and sometimes just a small pool to cool down in, unless you go for a luxury option.