Unusual holiday destinations
The travel media clamber every year to find the next destination. THE next place to holiday. Whatís too cool when not at school. We always have our eye on countries, regions, islands and highlands which are new and unusual because they have made their mark in the responsible travel movement. They are different and unusual because they are putting a cap on the mass tourism maelstrom. Or they are starting out in a destination that is new to the ever growing world of tourism, and are striving to do so in a way that respects local culture, supports community income and offers exciting experiences like nowhere else.

Unusual holiday destinations all have a few things in common, however. They go off the tourist trail, beyond the mass tourism machine and into places that take us out of our comfort zones. Such as spending the nights in Indian homestays, pushing ourselves up mountains on bikes in order to have the most memorable lunch ever, or trekking through the Atlas Mountains with nomads as they lead their families and livestock up to higher pastures for the summer. Here are just three suggestions for unusual holiday destinations to whet your appetite.
Mongolia
It might be Outer Mongolia, but it is also out of this world. A trip to Mongolia represents the ultimate adventure and a chance to experience true wilderness. People sometimes misconceive Mongoliaís wilderness for desolate wasteland; it isnít. Instead, it is an entire country of undiscovered beauty Ė a sea of rolling steppe, unimpeded but for the shadow of clouds for miles; a collision of mountains, forest and snow-capped peaks; and a vast golden desert of towering sand dunes and camps below the stars. There are more horses than people in Mongolia, and five times as many sheep and goats; it has almost nothing man-made to attract tourists and is an outdoor country with a strong personality. Where else can you go for Ghengis Khan warrior training? Says it all, really.

Montenegro is a like a play which has all its drama and excitement packed into one short act. Itís epic, the set is mesmerising, and the cast is passionate and engaging.

Montenegro
The unusual story behind Montenegro is that it is so much more about mountains than beaches. Yes, there are beaches, but in this tiny country, there are 63 peaks reaching heights of over 1,800m, all protected by five national parks. And with mountains come waterfalls, wine producers, white water rafting, and lakes. In particular, Lake Skadar, a 400km≤ natural playground for kayaking, wild swimming and wildlife watching.
Our top Unusual Holiday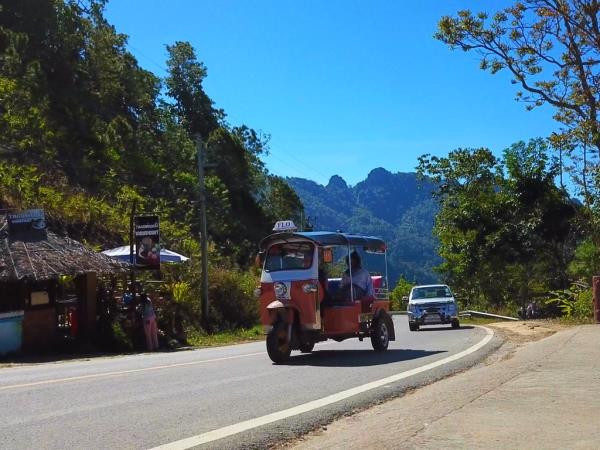 A Tuk Tuk Adventure in the stunning mountains of Thailand
From
£1395

to

£1595
11 days
ex flights
Small group travel:
2022: 15 Aug, 12 Sep, 26 Sep
2023: 23 Jan, 28 Jan, 13 Feb, 20 Mar, 27 Mar, 18 Apr, 23 Apr, 6 May, 11 May, 22 May, 29 May, 15 Jun, 26 Jun, 3 Jul, 20 Jul, 31 Jul, 7 Aug, 17 Aug, 24 Aug, 4 Sep, 21 Sep, 25 Sep, 14 Oct, 21 Oct, 28 Oct, 7 Nov, 13 Nov, 28 Nov, 10 Dec, 14 Dec, 27 Dec
If you'd like to chat about Unusual or need help finding a holiday to suit you we're very happy to help.


The incongruous images of cruise ships anchored alongside Haiti after the earthquake, with tourists dipping in pools by day and feasting on fine food by night, woke me up to the inequality of tourism. Letís hope Haiti keeps the cruisers at bay forever.

Haiti
None of us can forget the devastation of Haitiís 2010 earthquake as many of us gave a token penny or pound to help the cause. Now, we can make a real difference, however, as Haitians have started to open up their doors again to tourists who want to discover their authentic Caribbean culture, their national parks, their whale and dolphin populations and their creole charisma.