Matang Wildlife Centre in Borneo
The plight of wild orangutans runs parallel with the destruction of Borneo's rainforests. Deforestation driven by logging, mining and palm oil production has caused significant habitat loss. This is an animal that would naturally spend 80 percent of its time eating, travelling and nesting in trees. Without their natural rainforest environment orangutans are rendered homeless, vulnerable and in danger of extinction.

Kate Helliwell has worked as a volunteer coordinator in Borneo for the past five years:
"One of most current issues that Borneo's wildlife faces is the yearly forest fires that swallow up huge areas of habitat during the dry seasons. These fires are set by humans in an attempt to destroy small or large plots of land for farming. However more often than not they get out of hand due to the unique peat soils and the lack of moisture around during dry season. These fires end up spreading across vast areas of rainforest and in those areas the damage is devastating."
Illegal hunting, too, is responsible for decimating wild orangutan populations. Farmers and plantation guards have been known to kill orangutans that get too close to their crops. Local hunters kill orangutans for food or just because they're scared of being attacked. Baby orangutans are also taken from their mothers to be sold as pets. It's much easier to take a baby from its mother when the mother is dead.

Orangutans were
placed on the critically endangered list
in 2016 after research showed that almost 150,000 individuals had died in Borneo over a 16-year period leading up to 2015.

But there is a glimmer of light. Rehabilitation and rescue centres in Borneo, such as Matang Wildlife Centre, are offering orphaned, rescued and injured orangutans an opportunity to get ready for release into the wild. Community education programmes and habitat reforestation are also integral to Matang's continual conservation and rewildling projects.

It's hoped that this sort of conservation initiative will stem the tide and result in an increase in population numbers, before it's too late.
More about Matang
Less than an hour's drive from Kuching, the state capital of Sarawak, lies Matang Wildlife Centre. Set within an enclosed 1,800,851m² of natural lowland rainforest in Kubah National Park, Matang is an award-winning wildlife sanctuary whose primary aim is to release animals back into the wild.

Huge areas of regenerated rainforest have been enclosed to provide a safe environment for animals. Large cages, too, are used to house animals safely in a step-by-step approach to rewilding. Alongside orangutans Matang is also home to sun bears, crocodiles, macaques, civet cats and numerous species of birds that are indigenous to Sarawak.

Wooden boardwalks and jungle trails provide the public access to observe animals from a safe distance. Minimising interaction with humans is crucial to ensuring orangutans, and other animals, are able to fend for themselves once released into the wild. It's expensive to rehabilitate animals, with costs for food, medicine and the maintenance of enclosures all supported by the entrance fee.

A permanent local workforce is on hand to ensure the animals follow an orchestrated release programme. This takes them from cage, to enclosure, to the point of release into the wild. Sometimes animals are released into safe sites in Kubah National Park, sometimes further afield.

During their time at the centre orangutans need to learn how to be wild again. Orphaned animals, especially, have no point of reference as to what they need to do to survive.
Building nests, searching for food and avoiding contact with humans are all essential tools for wild orangutans. The local members of staff working at Matang are experts in allowing this process to happen as naturally as possible. It can take up to five years for an orphaned orangutan to be ready for release and this can still only be achieved if there are suitable areas of rainforest in which to release them. Without the help of volunteers it would be nigh on impossible for the park's staff to be able to do this, and carry out day-to-day tasks such as feeding, maintenance, cleaning and keeping animals' lives enriched.

It takes a huge amount of labour, time and money for Matang to exist.

And that's where you come in...

Matang Wildlife Centre urgently needs volunteers to join permanent members of the team as they rehabilitate and release animals back into protected pockets of Borneo. This is not your average holiday and does require hard work, dedication and a real team ethic. Durations can be anything from a week to a month with opportunities to try a variety of work depending on the length of stay. You need to be over 18, although 15-18 year olds are able to volunteer if accompanied by a parent.

"It was a highlight to see the orangutan Ganti and her baby come in from the forest – and the sun bears are truly awesome! But really it was the whole experience that I'll remember. It was a great group of volunteers and the team on the ground were terrific. Read all the information and understand that hard work in hot conditions is just what it says. Understand, also, that the focus is the animals, not your comfort." – Kim Jordan volunteered at Matang Wildlife Centre

The centre employs as many local people as possible and actively promotes educational initiatives within the wider local community. Human-orangutan conflict often arises when animals are displaced from their natural habitat and stray onto land now inhabited by humans. Namely palm oil plantations. However, there are also other areas where orangutans are still hunted or killed for food. Outreach programmes are one way of changing local attitudes and explaining how conservation, when backed up by law enforcement, can aim to avoid further unnecessary killing in the future.
Getting to know more about the local culture of Sarawak is just as important as understanding more about the natural environment. Poverty is rife in rural areas of Borneo and researching the reasons behind the
conflict between humans and animals
will serve you well when it comes to committing to a successful and sustainable future for orangutans.
"I feel that the entire program benefits local people in providing employment and education. I think that the minimal impact we had on the local environment just by being there was balanced by the education and knowledge which we received about the rainforest and its inhabitants."
– Lynne Parish worked at Matang with our wildlife volunteer holiday experts The Great Projects
Our top trip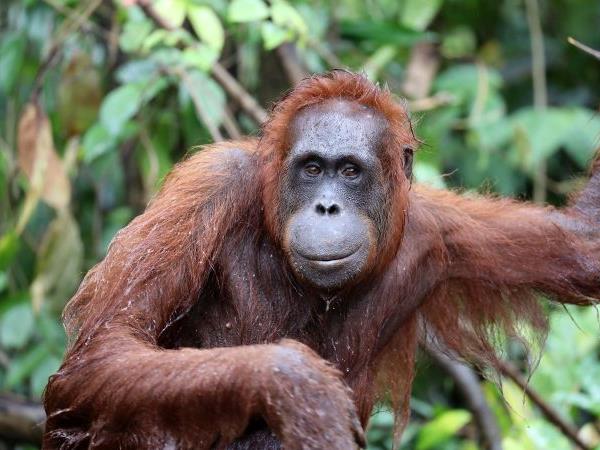 Care for stunning endangered orangutans in beautiful Borneo
From
£1195

to

£1895
13 days
ex flights
Small group travel:
2024: 31 Mar, 14 Apr, 28 Apr, 12 May, 2 Jun, 16 Jun, 30 Jun, 14 Jul, 4 Aug, 18 Aug, 1 Sep, 15 Sep
2025: 30 Mar, 13 Apr, 27 Apr, 11 May, 1 Jun, 15 Jun, 29 Jun, 13 Jul, 3 Aug, 17 Aug, 31 Aug, 14 Sep
If you'd like to chat about Borneo volunteering or need help finding a holiday to suit you we're very happy to help.

How do volunteers help?
Basically, volunteers do everyday tasks so the permanent workforce can get animals ever closer to the release stage. Cleaning out enclosures, distributing fruit and arranging branches for nesting practise are all common jobs for volunteers. Maintenance and construction tasks, too, are vital for creating enclosed environments that allow the animals' lives to be as enriched as possible. Matang is filled with animals and for more to be introduced more enclosures and feeding platforms need to be built.

Animal enrichment is an important element of volunteer life. Hessian sacks need to be filled with food like tapioca leaves, sunflower seeds, honey and peanuts before sewing the sack shut. Rather than simply chucking food over a fence, this gives an orangutan a puzzle to figure out. Enhancing the lives of individuals is essential for alleviating boredom and stimulating brains.

At no point will volunteers come into physical contact with animals but they will be able to observe them from close quarters. Face masks and gloves are often part of a volunteer's outfit, as well as old clothes and protective boots brought from home. It's a dirty, messy and sweaty job but, hey, someone's got to do it.
Where do volunteers live?
Volunteers live within the wildlife centre in jungle chalets on a twin share basis. Meals are taken together and an allowance is provided for food that can be bought weekly from the local market. Cooking and cleaning are part and parcel of day-to-day chores.

Michael is Managing Director of our wildlife volunteer coordinators The Great Projects:
"Although this is not a community based project, volunteers will be given the chance to visit nearby markets, and with two days off per week, will have the chance to explore the region and interact with people from a variety of different communities. Primarily, however, this volunteer experience is based entirely around the animals. You'll be living, working and spending time with other volunteers on-site. It's hard work but extremely rewarding."

It's really difficult to imagine Matang being able to continue without the financial and physical support of volunteers. Bridging the gap between the local community and environment is extremely important, and seeing tangible results over just a couple of weeks is a truly worthwhile reward.
More Borneo volunteering articles