TYPES OF VOLUNTEERING HOLIDAY
IN BORNEO
Mankind's encroachment into wildlife habitat continues to put many species of animal at risk of extinction, and Borneo is one of the places where this is most dramatically illustrated. Deforestation and the wildlife trade have led to precipitous declines in both orangutans and sun bears, two species that are found almost nowhere else. Volunteering holidays in Borneo see you helping to push back – restoring habitat, engaging with local communities, and providing employment and income for people that keeps them out of the palm oil industry, a major driver of deforestation. Learn more about the different types of trip available, and how you and your family can make a difference here.
Our Borneo volunteering Holidays
Wildlife
Conservation volunteering holidays in Borneo will almost always involve orangutans, but of course this large, densely forested island is home to an astonishing variety of wildlife, and the work benefits all of it to different extents. Preserving and restoring habitat for orangutans naturally also helps sun bears, who rely on the forest and like to hack into tree trunks in search of honey, which in turn leaves nesting sites for hornbills, the national bird. Dense vegetation is helpful too for everything from singing gibbons to cloud leopards, pygmy elephants and macaques.

You may also be working in the remote coastal community of Telok Serabang, a nesting site for green sea turtles, assisting with beach cleans or at a local school. Wildlife monitoring is a major part of volunteering trips. Identifying and recording animals and their location helps with research and conservation initiatives. You'll trek or journey along the river with expert guides that can spot and identify creatures in the trees faster than you can follow which way they're pointing.
Orangutans
Tragically, the 'old man of the jungle' is critically endangered, faced with the twin threats of habitat destruction and illegal hunting. Urgent conservation work in Borneo takes a three-pronged approach: rehabilitation of sick and injured animals with the hope of eventually reintroducing them to the rainforest; community awareness; and habitat reconstruction. By creating corridors of vegetation between different areas of forest, the orangutans (and other wildlife) are less likely to come into contact with humans, and their numbers should gradually increase.
Just watching orangutans as they feed, swing through the tree branches and groom themselves is a heartwarming experience. Knowing that your efforts on holiday are making a difference to their survival in the wild is another level of satisfaction entirely.
Sun bears
Borneo is home to the world's smallest bear which, there's no point denying, is incredibly cute when it's young. Unfortunately, this means sun bears are often taken illegally from the wild as cubs to be raised as pets, and as they get older and more troublesome to look after, they are frequently abandoned or mistreated.
The horrors of the wildlife trade are not the only issue putting sun bears at risk. Deforestation driven by the palm oil industry is reducing their habitat. You can volunteer with rehabilitation work at the
Bornean Sun Bear Conservation Center
in Sabah, helping with food prep, habitat construction and feeding. The sanctuary holds almost 50 bears at the time of writing, and has so far managed to reintroduce just four to the rainforest, so the scale of the challenge is not hard to see.
Family volunteering
You're never too young to develop a passion for conservation or discover new cultures, and volunteering in Borneo is a wonderful opportunity for families with kids aged eight and older to get involved. Tasks are not too arduous, but some, such as wildlife monitoring, require observers to stay silent for two to three hours at a time, while clearing vegetation may require the supervised use of tools – you need to be confident that your kids can handle this. Jungle treks in Borneo are not especially challenging for fit children, but do factor in the humidity.
Our top Borneo volunteering Holiday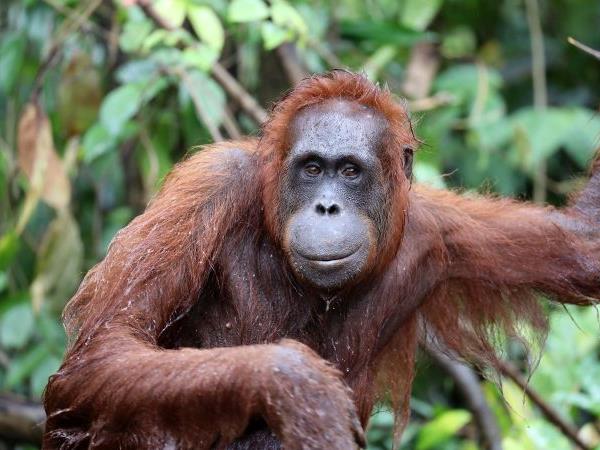 Care for stunning endangered orangutans in beautiful Borneo
From
£1195

to

£1895
13 days
ex flights
Small group travel:

If you'd like to chat about Borneo volunteering or need help finding a holiday to suit you we're very happy to help.

Volunteering in Borneo travel advice
Anne Smellie from our supplier Oyster Worldwide on family volunteering in Borneo:
"The days start early to beat the heat, around 6am. There's a hearty breakfast for energy then a few hours of work (such as tree planting or wildlife monitoring) in the mornings and afternoons, setting aside some downtime after lunch. You will be staying either in guesthouses or with villagers in their own homes, so conditions will be fairly basic and it will be local cuisine all the way – no burgers or chicken nuggets here."
Michael Starbuck from our supplier The Great Projects on the importance and experience of Borneo volunteering holidays:
Reforestation
"While protecting the existing rainforest is crucial, reforestation of areas that have been logged, burnt, mined and so forth is just as important. It allows animal species including orangutans and pygmy elephants to move freely along the river banks in relative safety. If there are areas of broken rainforest, then the animals cannot move and are therefore restricted, which in turn will affect their migratory patterns; in other instances, these open areas of land will leave the animals exposed and at risk of being poached. Reforestation is also vital of course for animals such as orangutans to be released back into the wild."
Tribal gatherings
"When joining an experience that involves spending time with different tribal communities, you can expect a number of things: long treks and sometimes small boat rides into the middle of the rainforest; a sense of 'getting back to nature', as you're temporarily removed from the modern world, and a warm welcome. The accommodation is very basic in most places - as can be expected in the middle of the rainforest - and the food on these experiences can be quite basic, too. That said, your mealtimes can be something of a communal experience, as you all sit together on the floor and share amongst yourselves. Conversation, dancing and enjoying some homemade rice wine will almost certainly be part it"
Palm oil
"Many people go home and re-examine what they are eating, especially when it comes to food items which contain unsustainable palm oil. Some volunteers have gone one step further and have written to government officials that are responsible for environmental protection; others return home and simply share their stories and what they have learnt. Whenever an experience inspires somebody to make any changes in their life or to educate others, we would certainly consider this a success!"
Who are these trips for?
"The majority of people who volunteer simply have a passion for wildlife, specifically for orangutans and also for conservation as a whole. We do have some volunteers who are studying, or those who are interested in studying conservation, but most people get involved because they want to make a posi
At Responsible Travel, we think the best people to advise our travellers are often... other travellers. They always return from our tours with?packing tips, weather reports, ideas about what to do – and opinions about what not to.

We have selected some of the most useful Borneo volunteer holiday travel advice that our guests have provided over the years?to help you make the very most of your holiday – and the space inside your suitcase.

This was a phenomenal experience, not least due to the professionalism, experience and commitment of the APE project staff on the ground. We learnt a great deal from beginning to end. It is an experience which (we) will remember forever.

– Vandna Kalia on a Borneo family volunteering holiday
"Some insect repellent attracts killer bees and hence we didn't bother to wear any in the jungle. Use other methods like taking vitamin b for a month (or thereabouts) before going and during the trip. People relying only on repellent seemed to still get bitten whereas I hardly did at all. It's a great idea to bring a sleeping bag liner or sheet. And a towel. Lots of sun protection... I felt like it was a real experience because it wasn't all 5 star. I do feel like it helps the local tribe in Batang-Ai and am pleased that some of the money goes to the Matang rescue and rehab centre (who organise the tour). Overall, an excellent trip which I am glad I decided to do. This was something I decided to do about 2 weeks before the start date and I went in 'blind' to some extent. I just went with the flow and loved it all." – Katie Beckwith on an orangutan volunteering holiday in Borneo

"Get fit before going! The machete for me was hard to master and the heat and humidity make physical work more demanding. Thinking about future generations of orangutans swinging and feeding from the trees that we would be planting was my inspiration to carry on when I felt that I was beyond exhaustion!! Take a travel plug so you can wash your clothes as you will get very dirty! Also good binoculars are essential to participate fully in the wildlife monitoring - its so much fun and when you can identify species for yourself (especially if you can find them before eagle eyed Mark!) it's really rewarding." – Sue Jarrett on a wildlife conservation holiday in Borneo
More about Borneo volunteering