Orangutan volunteering in Borneo
The orangutan, the 'old man of the jungle', is the most well known symbol of Borneo. Tragically, however, it is also the most recognisable face of worldwide species extinction. The widespread publicity of orangutans' plight, and efforts to save them, has brought the issue of
habitat loss due to palm oil production
to global attention. For this reason, most volunteering holidays in Borneo will spend at least some time at an orangutan rehabilitation centre such as Sepilok in Sabah, or Matang near Kuching.
The rate of decline is horrifying. It's estimated that between 2,000 and 3,000 orangutans are killed every year, either poached for their meat, to steal their young for the wildlife trade, or because they are simply in the way of agricultural concerns. The World Wildlife Fund thinks there are only around
104,000
orangutans in Borneo, and that their low reproductive rate combined with these threats means within 50 years they may be extinct in the wild.
Our Borneo volunteering Holidays
Why orangutans matter
Protecting orangutans isn't just the right thing to do. The orangutan is a 'keystone species' – their existence profoundly affects the survival of other species, and not just fauna. Orangutans are considered 'gardeners' of the forest, their feeding habits helping plants to disperse seeds. If such an important species is allowed to become extinct, the effects will ripple through the rainforest.
Orangutan volunteering holidays in Borneo
Orangutan volunteering trips are among the most popular trips in Borneo. Even organised tours to Borneo that are not necessarily considered 'volunteering' holidays (
orangutan watching holidays
are very popular in Borneo) will often involve a visit to a rehabilitation centre such as the Matang Wildlife Centre, which is conveniently located just outside Kuching, state capital of Sarawak, or Sepilok in the far northeast of Sabah state. Volunteering holidays typically spend a chunk of time at these centres, contributing to their maintenance, helping with the daily care of orangutans and other wildlife here, and supporting the work of full time team members.
Our top Borneo volunteering Holiday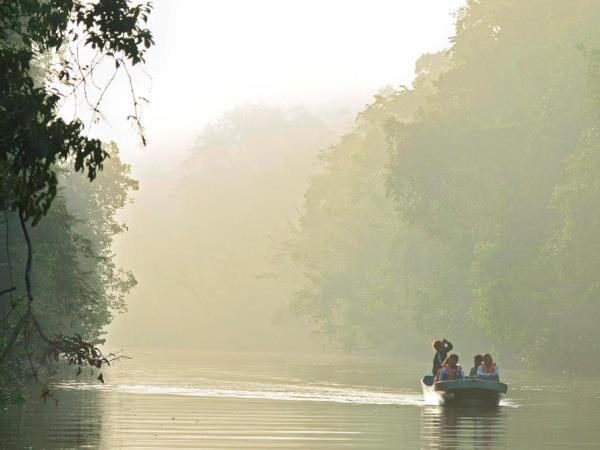 Conserve orangutans and elephants in Borneo's rainforests
From
£1285
12 days
ex flights
Tailor made:
This trip can be tailor made throughout the year to suit your requirements
If you'd like to chat about Borneo volunteering or need help finding a holiday to suit you we're very happy to help.

What does orangutan volunteering in Borneo involve?
Sustainable success in conserving orangutans and protecting them from extinction involves a multi-pronged approach: saving orangutans' remaining habitat and regenerating it wherever possible; rehabilitating sick and injured orangutans in the hope they can one day be returned to the wild; and working with local communities, industry, government and the public to spread awareness and strengthen protections. Orangutan volunteering in Borneo will involve as many of these elements as possible.

When it comes to reintroducing orangutans to the wild, a key part of this process is enrichment – teaching the apes how to forage for their own food, and to build nests in the trees. Outside of the fruiting season in the forest (November to February) orangutans that have been successfully released will often swing back to conservation centres to avail themselves of free food, and when they come down from the trees in large numbers it's a spectacular sight. You may be employed to gather fresh fruit to distribute, clean enclosures, or arrange branches for nesting practice.
Physical labour is a common part of orangutan volunteering trips to Borneo. You could be helping to construct enclosures or other facilities, especially if you have carpentry skills, but most likely you will be working on restoring habitat. That means clearing weeds with machetes and planting saplings. It may not sound very interesting, but as part of a group it can be fun and the hours fly by. And of course you come away knowing that your sweat and blisters are making a huge difference to the survival of orangutans, and by extension other Bornean wildlife. Increased jungle coverage means freedom to roam, places to hide, places to nest, feed and breed for all kinds of species.
It's worth pointing out that the amount of actual volunteer work involved differs from tour to tour. Some tours may factor in just a day or so of volunteering, while others can require six-day weeks on trips that can last anywhere between one and four weeks. For this latter, more focused type of itinerary, the minimum age is usually 15, and travellers under the age of 18 need to be accompanied by an adult.
A couple of points to note. Firstly, volunteering with orangutans in Borneo can make a fantastic family holiday. The minimum age varies, but on specific family volunteering holidays it can be as young as eight, just be aware that patience and silence are needed on wildlife monitoring treks, and children will need to be supervised by their parents when working with tools. Secondly, do not expect to have any physical contact with the orangutans. For your safety and theirs, and to keep them from becoming dependent on humans, a degree of distance is necessary.
More about Borneo volunteering