Nyaru Menteng Sanctuary in Borneo
Illegal logging has
decimated the natural landscapes of Kalimantan
in Indonesian Borneo. Not only has this left huge holes in the oxygen-producing rainforest, but it's also opened up tracks in previously inaccessible areas for poachers, settlers and hunters. Global demand for timber and inadequate local protection laws mean that loggers see this as one of the few locally available sources of income.
A lethal combination of deforestation, palm oil plantations, hunting, poaching, wildfires and flooding has led to central Borneo's natural rainforest inhabitants, orangutans, becoming an endangered species. Orangutans spend the majority of their lives travelling, eating and nesting in trees. Without this natural environment they're left vulnerable, homeless and bereft of natural resources.
Our Borneo volunteering Holidays
The passionate team of surrogate parents, vets and healthcare workers at Nyaru Menteng Sanctuary are well aware of the plight of orangutans. They've had years of first-hand experience and are experts in providing rescued animals with top quality medical care and much needed attention.

But they need your help. Without continual assistance from volunteers the permanent members of staff at Nyaru Menteng will have to do day-to-day enrichment and maintenance tasks themselves. This means that their time will be taken away from nursing, teaching and rehabilitating orangutans. In turn, the release programme will slow down, which will mean that there won't be enough space at the sanctuary to admit any more orphaned or injured animals.

Michael is Managing Director of our wildlife volunteer coordinators The Great Projects – the only company to currently offer a volunteer programme at Nyaru Menteng Sanctuary: "Our volunteer programme allows work to be entirely based around animals. You're living on-site, in the sanctuary, and although you will visit the local night market and trek to the top of Bukit Tangkiling, the main focus is on enriching the lives of individual orangutans."

Employment for local people and educational outreach activities in schools are key steps that the sanctuary takes in its bid to bridge the gap between community and conservation. Only by working together with local people and providing tangible benefits for both humans and the environment will the work of Nyaru Menteng go towards giving Kalimantan a sustainable future.
Rainforest destruction
It's estimated that more than half of Kalimantan's tropical rainforests have been lost to the illegal logging industry. That's 29,000km² – practically the same size as Belgium.
The destruction of the rainforest has also had desperate consequences for the indigenous Bahau and Iban Dayak communities, who are traditionally dependent on subsistence and small scale farming for survival. Primary rainforests provide protection as well as plentiful natural resources. In Dayak law it's the original cultivator of land that has the rights to ownership. However, this land tenure is held in little regard by logging industries or the
owners of massive monocrop plantations, such as palm oil
.
Vast palm oil plantations have turned what was once one of the world's most biodiverse tropical region into closely guarded monoculture fields as far as the eye can see. Palm oil is very profitable and approximately half of the world's supply is produced in Borneo. Plantations also use up natural water resources that would otherwise benefit local communities and natural habitat.

Opening up Kalimantan's rainforests through logging and palm oil plantations also increases the risk of wildfires. Trees become drier as they're exposed to the elements. Without the support of established roots, exposed soil becomes eroded, which leads to flooding after heavy rainfall. This can be catastrophic to villagers living alongside riverbanks downstream.

In addition to the loss of their natural habitat, baby orangutans are also being poached and sold as pets. Mothers will be shot and babies taken from their arms. They'll often be thrown out a few years after their capture and left to fend for themselves, traumatised, in what is now an alien and unsuitable environment.
Our top Borneo volunteering Holiday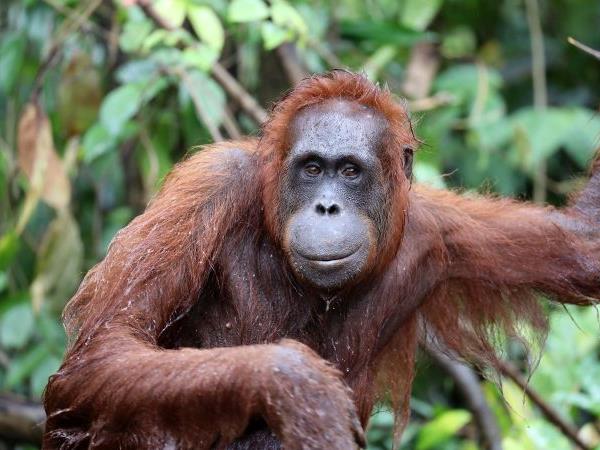 Care for stunning endangered orangutans in beautiful Borneo
From
£1195

to

£1895
13 days
ex flights
Small group travel:
2023: 2 Apr, 16 Apr, 30 Apr, 14 May, 4 Jun, 18 Jun, 2 Jul, 16 Jul, 6 Aug, 20 Aug, 3 Sep, 17 Sep
2024: 31 Mar, 14 Apr, 28 Apr, 12 May, 2 Jun, 16 Jun, 30 Jun, 14 Jul, 4 Aug, 18 Aug, 1 Sep, 15 Sep
If you'd like to chat about Borneo volunteering or need help finding a holiday to suit you we're very happy to help.

Nyaru Menteng Sanctuary
The park was established in 1999 by the Borneo Orangutan Survival Foundation (BOSF). Since then it has become a temporary and permanent home to around 400 orangutans as well as other rescued animals such as sun bears. A well-tended fruit plantation, information centre, volunteers' village and man-made pre-release islands now form the world's primary primate rescue and release centre.

The 200 permanent members of local staff at Nyaru Menteng Sanctuary provide an oasis for abandoned, orphaned and injured orangutans. It's their job to care, nurse and oversee the eventual release into the wild of animals that would otherwise not have a hope in hell of survival. They are the babysitters, the doctors and the teachers that help on the road to rewilding and release.
Often orphaned and abandoned animals will arrive in a state of malnourishment and suffering from understandable psychological trauma. They'll be kept in quarantine for up to two months to check them for TB and other infectious diseases. This sort of individual care requires time, resources and expert attention. Only when an animal is ready will they be introduced to the rest of the group.

And then begins the process of rewilding. Getting orangutans out of cages, clinics and isolation units is just the start of their journey to release. Baby nurseries, forest training schools and semi-wild pre-release islands are all part of Nyaru Menteng Sanctuary's step-by-step rehabilitation programme.
In the local community
Not only does the sanctuary provide employment for permanent members of staff, practically all of whom are from nearby villages, but it also introduces educational programmes to local schools. This is an important element in the fight for conservation as it encourages the next generation to look beyond illegal logging and the killing of orangutans in favour of sustainable alternatives.
Although Nyaru Menteng is not open to the general public, the information centre does open once a week to allow the local community to find out more about the work that's being done on their doorstep. Local people are often quite rightly proud of their remarkable natural environment and the more they learn about the work being undertaken at the sanctuary the more they want to get involved.
Permanent cleaners, cooks, animal carers, drivers, guards and work coordinators are all required to keep the centre running to its full capacity. Volunteers at the sanctuary are also invited to visit the nearby markets twice a week, and food is sourced locally to provide meals for the workers and volunteers.
BOSF also works in the community to offer ideas on alternative forms of agriculture that don't require traditional slash and burn farming techniques. Crops such as sugar palms, rattan, pineapples, beans and corn provide sustainable sources of produce. This, in turn, provides income for farmers without having to damage Borneo's fragile natural landscapes in the process.
The word is spreading that local people have had enough of environmental destruction in Kalimantan. Events such as
National Waste Awareness Day
and Car-Free Day are encouraging more and more young environmentalists to make their voices heard. Orangutans are a symbol of the fight for Indonesia's environment and endangered species. Raising awareness of how we can all work towards a sustainable future is another key element of the ongoing outreach work undertaken by BOSF.
How you can help
Volunteers provide an essential workforce that enables the team at the sanctuary to get on with the daily tasks of caring for orangutans. Cleaning out cages, food preparation and creating enrichment for the animals are all extremely important. Maintenance, construction and observation activities are also featured in volunteer programmes that last from two to four weeks.
It's very important to avoid human contact with the orangutans currently housed at the sanctuary. This is not the sort of trip where you're going to be cuddling babies. You will, however, be able to see the impact you're making as well as being able to watch young orangutans at play in their nursery playground. This is just a lovely moment where you'll watch the fruits of your labour being used to stimulate and enrich the lives of the animals.
Find out more about how you can
volunteer at Nyaru Menteng
.
Sustainable palm oil production is another key area in helping Borneo's rainforests to recover. Rather than destroying more primary and secondary forests, local farmers are encouraged to follow guidance from the not-for-profit organisation
The Roundtable on Sustainable Palm Oil
(RSPO). These guidelines protect not only the environment and wildlife but also the rights of local workers. You can do your bit by only buying palm oil products that have been certified with the RSPO logo.
Things to remember
Basically, you're going to get hot, sweaty and grubby. No experience is necessary and all training will be given. A sensible, positive and flexible attitude to work is all that's required to have a successful experience, both for you and the sanctuary. Volunteers need to be older than 17 and comfortable sharing a twin room with another volunteer of the same sex.

At least two towels, mozzie spray, reusable water bottle and a comfy pair of hiking or welly boots are all well worth taking with you. Long sleeves, hat and sun protection are also essentials. You're going to be sweating, a lot, so bear this in mind by bringing clothes you don't mind getting ruined.

Without the help of volunteers' financial and physical support it would be nearly impossible for BOSF to continue the speed of their continual release programme. Your presence matters and helps in the ongoing fight for the rainforests and the orangutans of Borneo.
More about Borneo volunteering