Volunteering holidays in Tanzania
Volunteering in Tanzania is fun, hard work and absolutely unforgettable. Placements in local villages will appeal to people who are adventurous, motivated and caring (both for people and the environment), as well as enthusiastic. You don't need to have prior experience as you'll be taught all you need to know on arrival. However, if you do have medical, educational or practical skills, such as carpentry, plumbing or construction, they will definitely be put to good use.
Typical tasks include everything from helping to construct water tanks, toilets and schools, to running sports days, youth groups, assisting teachers, fundraising and health awareness days. The work is very varied and volunteers can choose what they would like to get involved in. Projects leave a lasting impact on communities, and volunteers will be building on the success of previous volunteers.
This is a win/win break. Travellers get a hands-on, insider's perspective of living and working in Tanzania, while local people benefit from volunteer's manpower and expertise. Both sides will appreciate the cultural exchange. That's the essence of volunteering, really: it's an exchange. A chance for everyone to gain, develop and work together for a better future.
Our Tanzania volunteering Holidays
Where can I volunteer in Tanzania?
Placements take place in villages tucked between the southern shore of Lake Victoria and the plains of the Serengeti; sadly, this region has some of the poorest villages in East Africa. Volunteer organisations discuss local needs with the Tanzanian authorities and these village communities, and in this way projects are agreed upon.
Northern Tanzania is also where many of the country's main tourist attraction can be found, and free weekends allow you time to relax on the beaches of Lake Victoria, climb and hike in the surrounding area or go on safari in Serengeti National Park, for a small additional fee. Combining exploration with volunteering is a great way to experience East Africa from an authentic perspective that many tourists could only dream of.
What does a Tanzania volunteering holiday entail?
These kinds of trips are well suited to groups of friends, students who want to get hands on experience, and solo travellers – but they are open to everyone. Our volunteering holidays in Tanzania last anywhere from two weeks to three months; financial assistance and fundraising advice may be available if you're keen to stay for the maximum duration. You'll be placed with the project that is the most suitable to your interests, work experience and length of stay, with options including healthcare, education, construction, agriculture and small business support. Work can be hard and sometimes quite emotional; however, it's all worth it, as no matter how long you sign up for, you'll see tangible results. No wonder so many volunteers return to Tanzania to continue the good work.
The nearest airport is in Nairobi, Kenya. After a night in the city, volunteers will be picked up and driven across the border into to Tanzania where purpose-built accommodation awaits beside Lake Victoria. You'll be staying in a gorgeous wooden lodge that sleeps up to 38 people in shared rooms. It's rustic, with cold showers, but it's comfortable. Drinking water is supplied using a rainwater catchment system, minimising the use of bottled water, and all food is included in the cost of your trip. Your daily 'commute' will depend on the location of the village you are placed in; local drivers and guides take volunteers out to the project sites each day. At the lodge, home cooked meals and cosy communal areas ensure there is plenty of time and space to get to know your fellow volunteers; to play cards, listen to music and chat about your day.
The organisation provides a full pre-departure briefing, pre-project orientation and on the job support and training. This is vital to ensure a positive and productive experience for volunteers, communities and for full time staff.
Our top Tanzania volunteering Holiday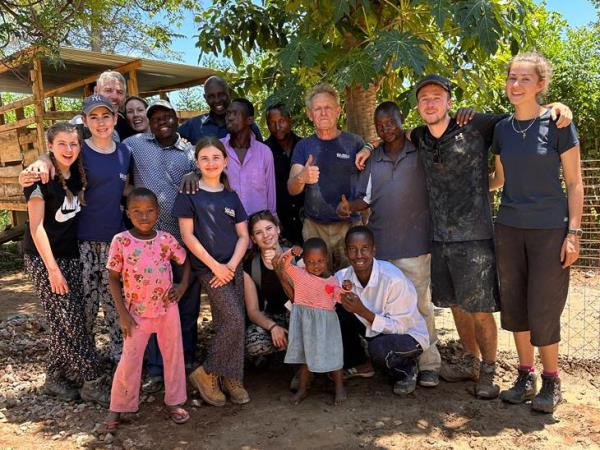 Memorable family holiday which makes a difference
From
£500
14 days
ex flights
Tailor made:
This trip can be tailor made throughout the year to suit your requirements
If you'd like to chat about Tanzania volunteering or need help finding a holiday to suit you we're very happy to help.

Responsible volunteering in Tanzania
The most ethical way to volunteer in Tanzania is to choose a tour operator that works directly with local communities. This ensures your enthusiasm and experience will be used where it's needed most. The organisation we work with sets up volunteer projects in conjunction with village residents. Long and short term strategies are discussed with local committee members, with the aim of enabling villages to become self reliant and to come up with their own business initiatives.
Volunteering with children
Orphanages, unfortunately, are abundant in Tanzania. However, we do not promote orphanage volunteering for anyone other than qualified volunteers who can commit to a long term placement. It creates a 'market' for vulnerable children, encourages the kids to get close to adults who then repeatedly abandon them, and also opens the door to abuse. Read more about
why we don't promote orphanage volunteering
.
A far more responsible way to support Tanzanian children is to assist local teachers in the classroom. And the longer you can sign up for, the better, in order to ensure continuity in the curriculum.
You can also contact your tour operator before departure to find out what items you can donate. This will ensure schools aren't deluged with stationery when what they're actually in need of is sports equipment and clothes. Better yet, buy supplies in Tanzania and support local traders. Donating locally bought gifts to a head teacher can really help volunteers make a difference, in the right way.
How volunteer projects work
The volunteer organisation we work with in Tanzania employs Tanzanian chefs, cleaners, drivers, translators and trades people, and community members are given opportunities to learn new skills through training as well as working alongside volunteers. Local people will also be trained in management and in trades such as joinery, construction and building low cost housing.

Volunteer projects also support the economy by buying produce from the local markets and paying for the services of local safari operators. Builders' merchants also benefit as they supply materials for the volunteer projects.
Advice for volunteers in Tanzania
Visit your GP six to eight weeks before departure to ensure you have all the necessary vaccinations and medication. You may be requested to show a Yellow Fever certificate on entry, and you should place plenty of sun screen and mosquito repellent.

Visit your GP six to eight weeks before departure to ensure you have all the necessary vaccinations and medication. You may be requested to show a Yellow Fever certificate on entry, and you should place plenty of sun screen and mosquito repellent.

Tanzania is a conservative country, especially in rural areas. Skimpy clothing is inappropriate, and women especially should cover their legs and upper arms. One good tip is to buy a kanga – a kind of Tanzanian sarong – which can be used as a quick cover up (even wrapped over trousers for extra modesty), as well as a towel, blanket or scarf. They are printed with local proverbs and expressions in Swahili; find one that's appropriate for you and it will make a lovely souvenir.
More about Tanzania volunteering